CHICK PEA PANISSE
Tomato Fondue & Olive puree
Canapés
Panisse
¼ onion (chopped)
2 tbsp oil
1/2  cup white wine
4 cups vegetable stock or water
2 cups chick pea flour
2 1/2 tbsp Cream cheese
2 tbsp chopped parsley
Salt & pepper
Sauté the onions in the oil on low heat continue to cook for a few minutes.
Deglaze with white wine, allow the alcohol to evaporate. Add stock , bring it to boil and season with s/p
Slowly whisk the chickpea flour into the stock in small increments.
Lower the heat and continue to whisk to remove any lumps.  Cook for five  minutes.  Add the cream cheese and chopped parsley.  Check the seasoning and add more salt if needed.
Pour the batter into a shallow dish lined with parchment paper.  Cover the batter with another sheet of parchment paper. Place a shallow dish on top of the parchment to lightly press the chickpea mixture.  Allow the chickpea mixture to cool and set in the refrigerator.
Tomato fondue
20 Roma tomatoes (blanch, peeled & deseeded)
2 meduim  shallots(chopped)
1/2 cup olive oil
6 sprigs thyme
2 bay leaves
1 tbsp sugar
pinch of salt & pepper
splash of white balsamic vinegar
In a pot of boiling water, blanch tomato for 20 seconds, chill in ice bath. Peel and deseed tomato, set aside.
In a heavy sauté pan, sauté onions in oil for 2 minutes on low heat. add the peeled & deseed tomatoes, thyme, bay leaf, sugar and season with salt & pepper. Cook tomatoes until all the liquid has evaporated about 30-40 minutes. Stir the pot from time to time so  it doesn't catch. Remove thyme and bay leaf, finish with a splash of vinegar if needed.
Olive puree
1/2 cup olives( fine chopped)
2 fresh garlic
2 tbsp shallots (chopped)
1/2 tbsp mustard
2 tbsp parsley(chopped)
1 cup balsamic vinegar
basil leaves for garnish
Combine all ingredients into a high speed blender, puree until smooth.
Place balsamic in a small sauce pan over low heat until it reduce by half .
To serve, Cut the chick pea into desired shapes.  Pan fry in hot oil for 2 minutes on each side or until gold brown, place in oven for two minutes.  (You can also deep-fry the panisse for approximately 2 minutes)
Once the chick pea comes out the oven, season with salt & pepper. Spread the puree on a plate, place chick pea on plate, place a quenelle of tomato fondue on top of chick pea garnish with basil & balsamic reduction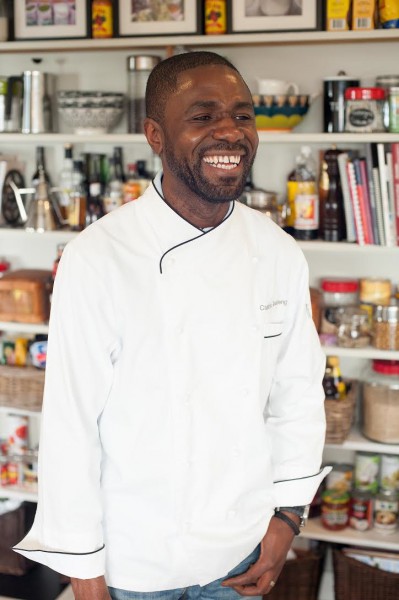 Castro Boateng, was born in the West African country Ghana, the land of the gold coast. Immigrating to Toronto when he was nine years old, he and his younger brother were raised by his father who taught respect, family values and a good work ethic – encouraging them to strive for their dreams and goals. At a young age Castro had to overcome many obstacles but he was determined and become an Executive Chef before he was 30. After graduating from culinary school in Toronto, Boateng worked under European Master Chefs Stewart Cameron and Colin Watson at the prestigious Turnberry Resort, Scotland. He then worked at The Fairmont Southampton Princess in Bermuda where the successful New Port dining room became the first Caribbean restaurant to receive the five diamond award. Returning to Canada, Castro has been Chef de Cuisine of Eden, the five diamond restaurant at the Rimrock Resort Hotel in Banff Alberta, and Executive Chef at the Aerie Resort in Victoria B.C. Castro now lives in Victoria with his wife Charlotte and two young sons Kaeden & Noah.
Chef Boateng is pleased to share his passion for food & wine through Castro Boateng Fine Catering & Private Chef Services.
Fine Catering & Private Chef
Facebook Castro Boateng Fine Catering & Private Chef
250-588-9398