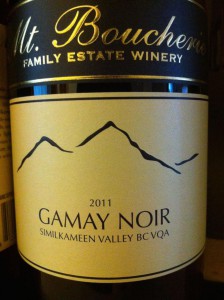 2011 Gamay Noir
Mount Boucherie
West Kelowna, BC
$15.50
Bronze Medal
The 2011 gamay is lighter and brighter than the 2010. Cherry red in colour with medium-light intensity. Earth, smoke and tangy red cherries on the nose. Good balance with medium body. Clean and bright on the palate with flavours of cherry and red currant. A medium-long finish. Serve this wine with vegetarian dishes, roasted turkey, pork tenderloin pizza, luncheons or picnics.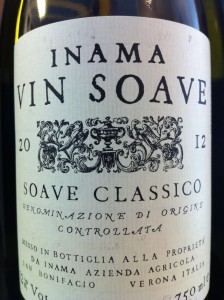 2012 Soave Classico
Inama
Verona, Italy
$29.99
Silver Medal
Straw coloured with medium intensity. Fresh cream is the first thing you notice on the nose along with citrus and white peach aromas. Good balance with good mouthfeel. Flavours of lemon meringue, oak and green bramble on the palate with a medium finish. A very good example of Soave Classico.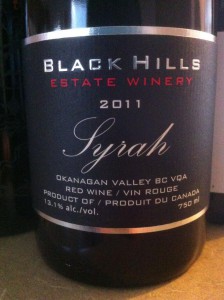 2010 Syrah
Black Hills
Oliver, BC
$34.90
Silver Medal
Garnet red with medium-deep intensity. The nose displays aromas of black pepper, earth, bramble and a hint of gaminess. Well balanced with soft ripe tannins. The flavours follow the nose with a medium finish.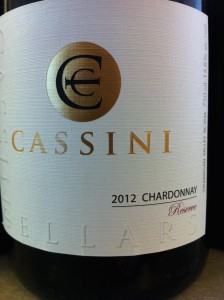 2012 Chardonnay Reserve
Cassini Cellars
Oliver, BC
$25.00
Silver Medal
Cassini's Reserve Chardonnay is golden yellow in colour with medium intensity. The nose is layered with aromas of honey, butter, pear, ripe yellow apple and toast. Well balanced. The flavours echo the nose with a medium-long finish. A very good example of what BC can do with Chardonnay.
2012 Rosé (Pinot Noir)
Saxon Estate Winery
Summerland, BC
$17.32
Bronze Medal
This Summerland Pinot Noir Rosé is salmon coloured with medium intensity. Wild strawberry, raspberry and cherry aromas on the nose. The balance is off dry. Pleasing fruit flavours on the palate with a medium finish that shows hints of mineral. A good patio wine.