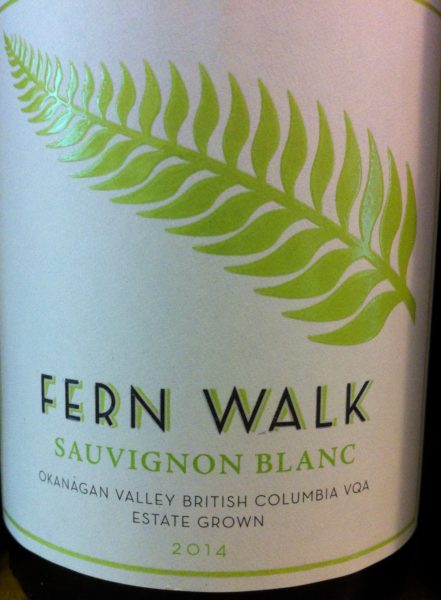 2014 Sauvignon Blanc
Fern Walk
Kelowna, BC
$16.99
A new label Mark Anthony introduced in 2014, exclusive to BC LDB stores. Pale lemon yellow with medium minus intensity. The delicate nose shows hints of tropical and citrus fruit. Good balance and mouthfeel. The aromas follow through on the palate and finish. Paired nicely with smoked maple salmon nuggets.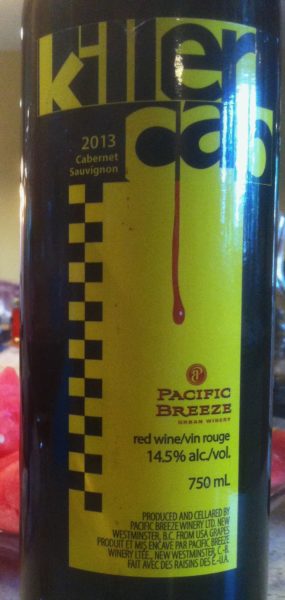 2013 Killer Cab (Cabernet Sauvignon)
Pacific Breeze
New Westminster, BC
$22.99
Garnet red in colour with deep intensity. The nose is layered with plum, black cherry, vanilla, chocolate, spice and earth. Good balance with soft ripe tannins. The flavours echo the nose with pepper notes. Spice and chocolate on the medium-plus finish. I enjoyed this with herbed pork tenderloin.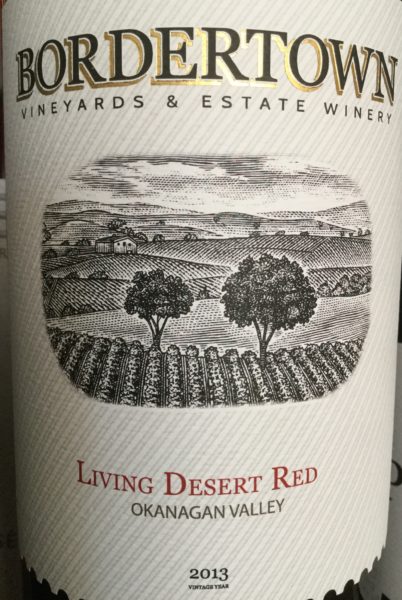 2013 Living Desert Red (Cab Franc / Merlot)
Bordertown
Osoyoos, BC
$24.99
This introduction to Bordertown winery was very impressive and improved noticeably with decanting. Garnet black with deep intensity. In this case, the winery's bottle description is pretty accurate. The nose shows aromas of red and black fruit, dark chocolate, vanilla, sandalwood and herbs. Very well balanced with smooth ripe tannins. The flavours follow the nose. A medium-long finish. This wine will continue to improve in the cellar for 5 to 8 years.

2014 Red Sky (Rosé)
Black Cloud
Naramata, BC
$22.00
This rosé is made from 100% pinot noir under license at Serendipity Winery. Salmon orange in colour with medium intensity. The nose shows aromas of wild strawberries, floral notes, dried cherries and herbs. Well balanced with good structure and good mouthfeel with a slight tannin note. Citrus and red berries on the palate. A medium-long finish with just the slightest hint of bitterness, which makes it, pair well with salmon or charcuterie.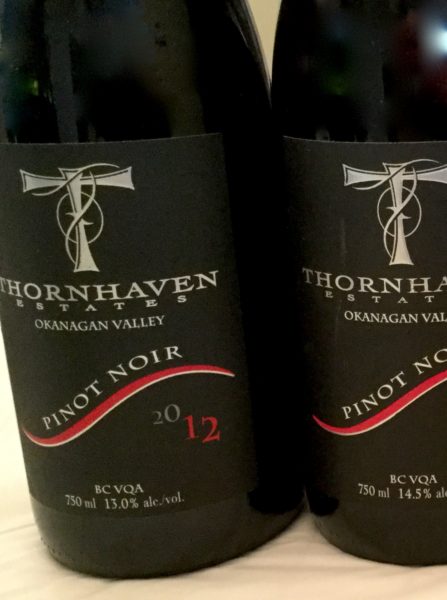 2012 Pinot Noir
Thornhaven
$19.06
Summerland, BC
Garnet red in colour with medium intensity. Plum, cherry, red currant, sweet spice and a hint of pepper on the nose. Good balance with slightly grippy tannins. Red fruit dominates the palate followed by a medium-short finish. The nose improved after being open for several hours.