This is our first Chili Challenge featuring 11 restaurants and cafes in Vancouver, Burnaby, North Vancouver, Coquitlam, New Westminster and Langley, that runs from January 8-31, 2015.
Participating restaurants and delis are showcasing Chili creations that were created just for this challenge and all will be offered in all of these establishments during the challenge period .
For our Challenges, we have 2 sets of winners. The People's Choice winners will be selected by the public who are invited to visit any of the participating restaurants and order the Chili creations and then decide on which ones they think are worthy of winning the challenge by casting their votes.
For this challenge we have 4 media judges and they are:
Joe Leary
Host of Just Here for the Beer Radio, Broadcaster, Feature Writer/Columnist for 24 Hours Newspaper, Feature Writer BC Lions Magazine
Twitter: @reallyjoeleary
Norma Reid
Journalist. CTV Breaking News Anchor & 11:30pm Anchor.
Twitter: @CTVNorma
Simone Grewal
On-Air Radio Host @Z953VAN, TV Host, Digital Content Editor
Twitter: @SimoneGrewal
Benjamin Yong
Freelance writer and journalist for @HelloVancity and other publications.
Twitter: @b_yong
These are just some of the unique Chili creations in this challenge
Morocco West
Chili Island
Price: $15
Created by: Chef Nourdine Majdoubi
Description: Beef and lamb merguez,  taktouka, cucumber yogurt, fried bread
Offered: All the time
Morocco West
795 Jervis Street, Vancouver
Tel: 604-563-8466
Twitter:  @MoroccoWest
Darby's Public House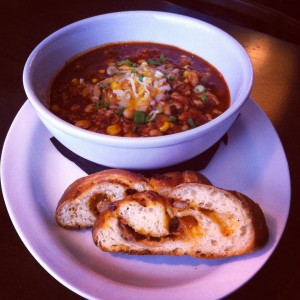 Spicy Beer Brined Turkey Chili
Price: $12.95
Created by: Chef Sue Culm
Description: A hearty but light turkey chili with a hint of spice. Served with house made cheddar bacon beer bread.
Offered: 11am-midnight everyday
Darby's Public House
2001 Macdonald St, Vancouver
Tel: (604) 731-0617
Twitter: @darbys_in_kits
The Copper Chimney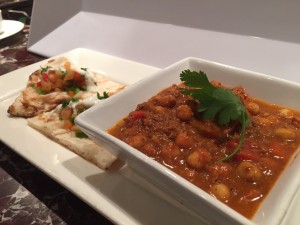 Mumbai Chili
Price: $17
Created by: Executive Chef Jaroslaw Faryna
Description: Mumbai Chili with chorizo sausage and lamb; served with Bhangra naan, raita salsa
Offered: Lunch and dinner daily
The Copper Chimney
567 Hornby Street, Vancouver
Tel: 604-689-8862
Web: http://www.copperchimney.ca/
Twitter: @CopperChimney_1
Cioffi's Cucina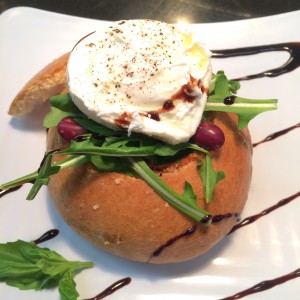 The Rinnegato
Price: $10.99
Created by: Cucina Kitchen Chefs, Del, Jose, Jeffery
Description: Grilled Skirt Steak Chili topped with a poached egg and salsa verde served in a housemade bread bowl with a Piave crisp.
Offered:  Daily from 11 am until closing.
Cioffi's Cucina
4150 E Hastings Street, Burnaby
Tel: (604) 291-9373
Web: http://www.cioffisgroup.com/
Twitter @cioffiscucina
The full list of participating restaurants can be found here
http://vancouverfoodster.com/2015/01/08/vancouver-chili-challenge/
Voting: The public is invited to order these Chili creations at the participating restaurants keeping in mind this criteria – originality, creativity, uniqueness,  traditional, non-traditional, price, value and most importantly taste. People can vote the same day after trying the Chili creation and they can vote once a day throughout the promotion. People will be encouraged to Vote for their favourites from January 8-31, 2015.
http://vancouverfoodster.com/chili-challenge/
With a smartphone, customers will be able to vote from their table in the restaurant right after they have eaten the Chili creation.
We will announce the winning restaurants and their Chili creations on February 2, 2015.
About Vancouver Foodster
Founded in 2009 by Richard Wolak, Vancouver Foodster is Vancouver's premier online "Essential Food & Drink Intelligence" guide. The site offers expert advice on the hottest restaurants, parties, and openings this city has to offer, as well as the most interesting dining trends and newest cuisines and food around the region. Vancouver Foodster also runs a series of food challenges with restaurants and chefs throughout the year!