Canada's Third Annual National Cupcake Day® for SPCAs & Humane Societies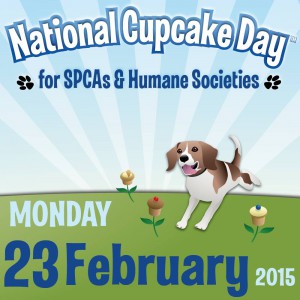 We're calling on all bakers and animal lovers to "bake" a difference for animals in need! The third annual National Cupcake DayTM is set for Monday, February 23rd and everyone is invited to host a cupcake party, bake and share cupcakes with co-workers, family and friends and collect donations in support of SPCAs and Humane Societies across Canada.
The 2014 event raised almost $500,000 and this year we are looking to meet or exceed that goal. Sponsored by Pets Plus Us®, BMO® Bank of Montreal, Hill's® Science Diet®, Reynolds® StayBrite© baking cups and Agency 59, National Cupcake Day is designed to help raise much-needed funds for all animals, big and small, that have been abused, abandoned or are in need of help.
"It's time to put on those aprons and start baking to help the animals of BC! The event is fun and easy to get involved in," says CEO of the BC SPCA, Craig Daniell. "Visit the www.nationalcupcakeday.ca website to register, then urge your family and friends to donate to your Online bakery. On February 23rd, give your donors a cupcake in thanks for their generosity. It's that simple."
The Official National Cupcake Day Recipe to Success
As a Cupcake Day Host, you will be part of an exceptional group of supporters who understand the importance of animals in our lives. Here's how you can take part:
National Cupcake Day for SPCAs & Humane Societies (cont'd) Page 2
Register for FREE at www.nationalcupcakeday.ca and select your charity of choice.
You will receive a FREE Cupcake Host Welcome Package in the mail, which includes a poster, sticker, balloons and a fundraising guide with recipes to get you started!
Plan your National Cupcake DayTM Party for home, work, school or wherever you think people would love to eat your cupcakes.
Promote your Cupcake Day Party by personalizing your Online Bakery and sending your website link out to the world.
Encourage your co-workers, friends and family to support you and the animals by donating online.
Bake (or buy) and decorate scrumptious cupcakes.
Serve and eat delicious cupcakes in exchange for donations at your National Cupcake Day Party. National Cupcake Day is February 23 but you can hold your party any day in January or February.
Submit your donations (visit www.nationalcupcakeday.ca for instructions)
Celebrate your success. The funds you raised will change the lives of animals!
Your cupcakes will help shelters across Canada give abandoned, neglected or abused animals a second chance at a new life.
"We see families get involved, kids, even companies are challenging themselves to raise funds and beat last year's donations. It's a great grass-roots way to help fight animal cruelty and to make a difference," says Daniell. "It really is a case of cupcakes coming to the rescue!"
To register or for more information, visit www.nationalcupcakeday.ca.
About the BC SPCA
The BC SPCA has been protecting and caring for the animals and advocating on their behalf for 120 years. Through shelter adoption programs, cruelty investigations, farm animal protection, wildlife rehabilitation, veterinary service, advocacy and youth programming, the BC SPCA helps over 41,000 animals in distress and need every year. The BC SPCA receives no provincial or federal government funding and is reliant on community support.
For more information, please contact:
BC SPCA National Cupcake Day Spokesperson Kristina Matisic
kmatisic@nullshaw.ca
604-732-7771
Or
BC SCPA Community Relations Manager Lorie Chortyk
lchortyk@nullbcspca.bc.ca
604-647-1316