Vancouver's Curry Cup Returns
Tickets Now on Sale for The Chefs' Table Society of BC 2015 Curry Cup
The News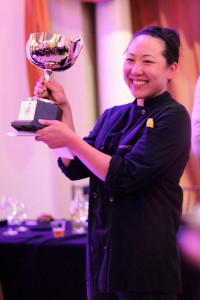 The much-awaited second annual Curry Cup competition presented by the Chefs' Table Society of British Columbia  returns as eight acclaimed BC chef teams compete for the ultimate Curry Cup Championship on March 3, 2015 at the Heritage Hall located on 3102 Main St. from 6:30 pm to 9:30 pm.
Tickets are now on sale for $60 each plus fees and available online.
More
Along with sharp-witted commentary and outlandish ingredients, each competing chef team will be challenged to showcase their culinary skills to create a unique curry dish. Every ticket includes tastes of wine and beer from R&B Brewing and eight curries highlighting unique international flavours from around the world, as served by the competing chefs. Proceeds will be given to Project: CHEF.
Joining the championship will be top chefs from competing restaurants namely Burdock & Co; Cafe Medina, Campagnolo, Cibo-UVA, Hawksworth, Longtail Kitchen, Perch and Railtown Catering & Cafe.
The event will be emceed by Vancouver's 'Man About Town'  Fred Lee; and the very difficult task of judging this friendly competition will rest on the shoulders of talented judges and experts of the food industry: Taryn Wa, last year's Curry Cup winner and owner of Savoury Chef Foods; Mijune Pak, founder of Follow Me Foodie and food columnist for WE|Vancouver; Vikram Vij, chef/owner of Vij's Restaurant; Nathan Fong, food stylist and host of Fong on Food segment on Global TV; and Sid Cross, wine and food expert.
Chef Jonathan Chovaneck, vice president of the Chef's Table Society, executive chef and co-proprietor of Bittered Sling Extracts shares " The Curry Cup competition has now become an annual fundraiser for the Chefs Table Society which supports scholarships and other charitable initiatives. This event gives us an opportunity to support the local culinary experts to come together for a healthy competition and camaraderie for the public to enjoy".
Click here to read about the event and purchase tickets
or read this news on the Chefs' Table Society website instead
About The Chefs' Table Society of British Columbia
 Founded by Jamie Maw and Sid Cross, the Chefs' Table Society of British Columbia is a registered, non-profit society composed of BC's leading chefs and culinary professionals. It is a chef-administered, province-wide collaborative dedicated to creating a foundation for the exchange of information between culinary professionals. The Society supports innovative and sustainable programs that will inspire, educate and nurture BC chefs, producers and the local food industry. The Chefs' Table Society secures apprenticeships for and bestows bursaries to emerging local chefs and also finances culinary education programs in BC schools.
For more information or to become a member visit:
Website: chefstablesociety.com
Facebook: facebook.com/chefstablesociety
Instagram: instagram.com/chefstablebc
Twitter: twitter.com/chefstableBC
The Chefs' Table Society thanks its partners: