On Tuesday March 4th, eight of Vancouver's top chefs competed to win the Inaugural Curry Cup in the presence of Vancouver's food lovers, media, and  distinguished panel of judges who sampled eight diverse curries. Presented by the Chefs' Table Society of B.C., the sold-out event was held at Main Street's Heritage Hall and each ticket included eight different international curries, selection of  BC wines from Mt. Boucherie, Perseus Winery and Dirty Laundry and craft beer from Steamworks and R&B Brewing Co.. An innovative non-alcoholic cocktail from celebrity mixologist, Lauren Mote of Bittered Sling Extracts was also offered. The event was MC'ed by Vancouver's 'ManAbout Town',  incredibly charismatic, Fred Lee.
Most curry dishes, as with the 8 curry cups sampled, have a bit of spice to them, which include but are not limited to, cinnamon, ginger, garlic, fenugreek, cardamom, and tamarind. Also, depending on the type of curry, some sauces will include turmeric, coriander, cumin and hot chili peppers, but they can include a variety of other spices as well. Curry dishes come from many different parts of the world such as India, Thailand, Sri Lanka, Malaysia and Indonesia, for instance. In addition, these fragrant dishes can be either meat-based or vegetarian and are accompanied with either some flatbread (for example, naan or roti) or rice.
The venue set-up enabled guests to go from one curry station, watch how the curry dishes were being made, and sample each type of curry which was served in an environmentally-friendly cup. Instead of sampling each of the dishes in order or at least working on sampling what was on one side before moving along to the other, I zigzagged from station to station, stopping over for a different glass of wine each time: My ultimate goal of the evening was to master the art of wine and curry pairing.
After sampling almost all the wines being poured, I came to the conclusion that there was no perfect pairing but white wines that work against the spice was the way to go. I had a chance to speak with Mike Bernando, Sommelier and Director of Operations/Wine Director at Vij's and he conveyed that one of his recommended combinations was pairing curry with champagne. "It has high acidity, cuts through the spice, and is also acts as a palate cleanser", he expressed. As I probed to get some more suggestions on other whites he added: "Gewürztraminers from the New World wine regions, or even bright Sauvignon Blancs with racy acidity and richness are also great ones". With so many options to choose from that evening, I made a list of the wine pairings that married well with the each of the wonderful curry cups that evening.
Curry Cups served by each of the Competing Chefs
Alvin Pillay, The Blackbird Public House & Oyster Bar
Red chilli curried pork shoulder, creme, pickles, lentils
My fave wine pairing: Dirty Laundry 2012 Gewürztraminer
Brian Skinner, The Acorn
South indian beet curry
My fave wine pairing: Dirty Laundry 2012 Riesling
Chris Whittaker, Forage
Lentil & stinging nettle curry with house made paneer and squash roti.
My fave wine pairing: Persus Winery 2012 Gewürztraminer
Dino Renaerts, Aura at Nita Lake Lodge
Side stripe shrimp curry with mango & okra
My fave wine pairing: Evolution White made from 9 grape varietals.
Jenifer Peters & Hamid Salimian, NEXTJEN Gluten-Free
Nextjen gluten free roti with hamid's lamb curry
My fave wine pairing: Persus Winery 2012 Gewürztraminer
Joachim Hayward, Campagnolo ROMA
Jaffna goat curry
My fave wine pairing: Mt Boucherie 2012 Gewürztraminer
Taryn Wa, Savoury Chef
Malay style lamb rendang, crispy quails egg, roti jala, sweet pickles
My fave wine pairing: Mt Boucherie 2012 Ehrenfelser
Tret Jordan, Homer St. Cafe & Bar
Chickpea garam masala
My fave wine pairing: Persus Winery 2011 Sauvignon Blanc
What was interesting about this competition was that while the chefs were reputable for their passion for food and culinary skills none were actually had cooking curry as a speciality. In the celebration of spice and winter blues, the idea behind the event was to create a space for local chefs to participate in a healthy curry competition for everyone to enjoy.
The winner of the Curry Cup competition was selected by a panel of judges which included Angus An (chef/owner of Longtail and Maenam restaurants), Jeff Hamada (Japanese Canadian artist/creator of Boooooom), Joie Alvaro Kent (food writer and restaurant award judge), Mijune Pak (founder of Follow Me Foodie and food columnist for the WE Vancouver) and Mike Bernardo (Director of Operations/Wine Director at Vij's).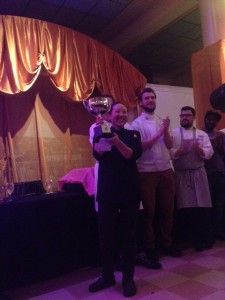 Amongst the talented chefs that participated, Taryn Wa, of Savoury Chef won the 2014 People's Choice award which guests voted for as well the the Curry Cup competition! All proceeds from the Curry Cup were given back to the Chefs' Table Society of B.C. to support their various scholarships and charitable partners including Growing Chefs – Chefs for Children's Urban Agriculture, who were presented with a cheque at the end of the evening.
Text and photos by Lana Bukvic. Follow her on Twitter @VanCityWineGirl