An incredible evening with many new dining experiences. Thanks to Chef Rick Davidson of the Beach Club Resort and  Ian Lane, Food and Beverage Director the dishes and wine pairings made for an excellent culinary experience.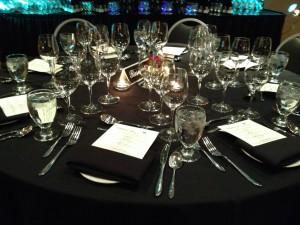 The Oceanic banquet room at the Beach Club Resort was attractively set with spacious round dining tables comfortably seating a group of eight guests per table. The tables were set with sparkling glassware enhanced by the backdrop of black tablecloths and linens.
Before we sat to dine a visit to the corner of the room, where servers were pouring a refreshing rosé to start the evening. At the opposite end of the room a backlit display of the wines of Burrowing Owl gave us a preview of wine we would be sampling at dinner.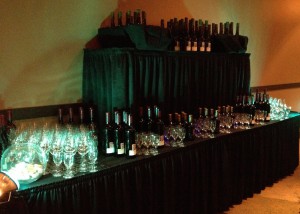 The evening got underway with an introduction to Chef Rick and his capable staff. Chef Rick explained his choices for the courses we were about to enjoy along with the wines of Burrowing Owl. Each course is selected based on the complexities of the wines.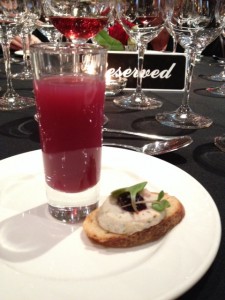 We began with a Rabbit Shoot'er consisting of Rabbit Terrine, Saskatoon Berry Jelly on a Roasted Garlic Crostini atop a shot glass of Strawberry Consomme which was light and paired well with the Calliope Rose. Next Bisque Frenzy of Salt Spring Island Mussel Bisque and Canadian Lobster Salad with Fennel crema a Cognac splash and Red Tobiko roe paired with the Burrowing Owl 2012 Chardonnay.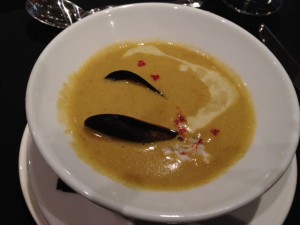 Throughout the evening FB Director Ian Lane or Bill Sanford of Appellation Wines explained the wines, the region, the process, aging and nuances. We were to learn by tasting the importance of serving a wine at the optimum temperature. The Chardonnay slightly warmer than I have drank it before, I found it surprisingly delicious. I say surprisingly because I am not a Chardonnay fan, that being said the temperature opened up the wine and it paired so well with the course that I really did enjoy it. That is what you often take away from an occasion like this, you find something new and it changes your perception. Always a good idea to keep an open mind in regards to wine.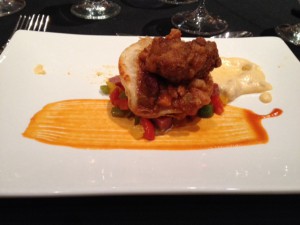 As the courses continued we next enjoyed A Couple of Crocodiles a Southwestern Crocodile chill with Beignets, Andouille sausage with Bell pepper sauté and grits and a garnish of Creole paint paired with the Burrowing Owl 2012 Pinot Gris.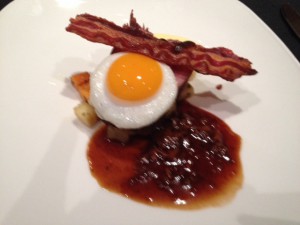 One Flew over the Cuckoo's Nest was a delightful pan seared fan of British Columbia Ostrich with wild boar bacon a quail's egg sunny side up along with a trio of Potato hash, Calvados Chanterelle mushroom jus and a Hollandaise Sauce to finish paired with the Burrowing Owl 2011 Pinot Noir.
The Pinot Noir was served chilled, and again, we were very pleased with the resulting enhanced appreciation of one of my already favourite wines.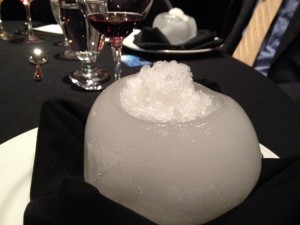 A palate cleanser that was a treat for the eye as well as for the palate. White on Ice was a chili spiced Sauvignon Blanc granite. It was both equally refreshing and attractive.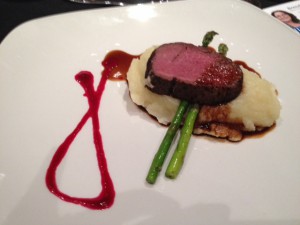 The wild game continued with the Elk Crossing a roast loin of Elk with pommel puree and asparagus, beet blood, jerky shreds and a red wine jus paired with the Burrowing Owl 2010 Meritage.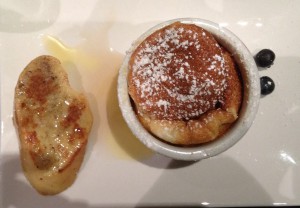 The final course The Canadian Connection was a combination of Stilton blue cheese and milk chocolate Souffle along with a slice of French Toast with maple essence, foie gras and a white chocolate Ganache paired with Burrowing Owl Coruja.
The pace of the evening was perfect and I am sure all the guests had as an enjoyable evening as I.
I would be remiss if I did not mention the members of our table whose company made the evening like much more memorable; Arthur Wong, General Manager of the Beach Club Resort; Bill Sanford, wine representative for Burrowing Owl, Appellation Wines; Brenda Gough, Parksville Qualicum News and Alan Gough; and Diana Beatty and Jim Beatty, CHEK News.
Thank you to all of you I so enjoyed your company.
Good wine, great food and stimulating conversation made a perfect evening.