This April, the avant-garde dance company, The Lovers Cabaret, who brought you shows from the essential Icon Series: Lovers of Zeppelin, Lovers of Hendrix, Lovers of Marley and most recently, Lovers of Queen, will weave a tale of the balance between Heaven and Earth and bring five goddesses of the deadly sins to life.
From intrigue, lust, and excitement, to sorrow, betrayal and heartbreak experienced in the hauntingly genuine first show of their Noir Series: "The Mistresses"; help us welcome the second show in the uninhibited and bold Noir Series: "SYN".
What will happen when the goddesses sneak past the eye of SYN, Spirit of the Doorways, and enter the mortal realm for the evening? Five pathways of downward slopes, bloodied hopes, burning fires and your desires will excite with passion, sensuality and expressive appeal for dance and movement; all compellingly tied together by the seven deadly sins.
The trendsetting group The Lovers Cabaret, led by established producer Vanessa Young and her talented team of fellow choreographers and artists, tell the daring story of sin with a variety of dance genres including contemporary, burlesque, jazz, salsa and ballet.
Join us at the Fox Cabaret (2321 Main Street) on April 1, 8, 15 & 24 as our provocative and expressive cast performs four sensual shows.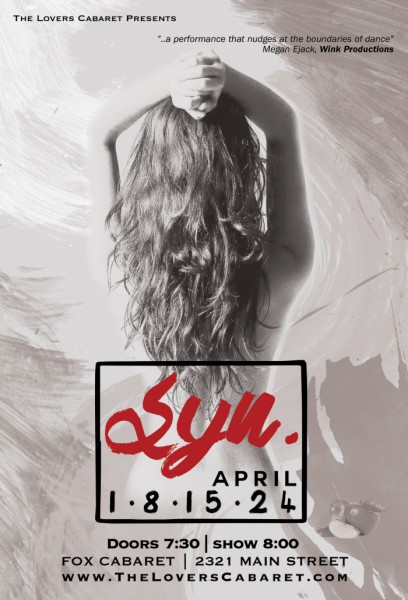 We would love to broaden our appeal to all audiences, and help "SYN" get the press it deserves! We are asking for any kind of help to get coverage and spread the word. Some examples are:
o TV or radio: Vanessa and/or the core cast would be happy to speak on-air about how "SYN", The Noir Series, and The Lovers Cabaret are bringing a fresh and daring appeal to dance in Vancouver's arts community. We can bring along a few of our talented dancers to preview a piece, and participate in a ticket giveaway and contests with your audience.
o Written feature on "SYN", the Noir Series or The Lovers Cabaret, or a specific company member.
o Show review: We would love to extend an invitation to our opening night show, on Wednesday, April 1, 2015, at
The Fox Cabaret. We will have a designated press area with a premium view of the show.
o Print or online landing page for "SYN", directing traffic to our website: www.theloverscabaret.com
o Contest advertising in exchange for tickets to give away. We would be happy to provide tickets for a social media contest for you to offer to your network.
What sets The Lovers Cabaret apart from the rest of the Vancouver arts scene?
Vanessa Young, celebrated artist, choreographer and visionary produces the show. Originally from Calgary, Vanessa has taught, performed and produced shows throughout Canada, Mexico, and Australia. She currently teaches the Army of Sass program in Vancouver, teaching over 100 women a week to have fun, be classy and feel great about themselves (www.armyofsass.com).
The show includes a local cast of all ages, backgrounds and passion for artful expression. It's about more than just dance. "SYN" will include amazing music selections from different time periods in history, and will feature multimedia and vocal performances.
The Lovers Cabaret Presents: "SYN"
April 1st, 8th, 15th and 24th
 Fox Cabaret
2321 Main Street
Doors 7:30pm | Show 8:30pm
Tickets are on sale NOW. $20 advance sale through performers; $25 online at: www.theloverscabaret.com
Please check us out at:
Facebook: TheLoversCabaret
Instagram: @TheLoversCabaret
Twitter: @Lovers_Cabaret
#SYN #NoirSeries