I dropped by the Tap and Barrel the other day after attending a function at Science World. I was hungry and wanted to grab a bite before hopping on the Skytrain and heading home. I'd been there once before, in the summer and enjoyed sitting out on the upper deck.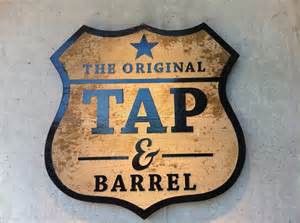 Tap and Barrel is a very popular place and even with their ample seating on two floors and an outdoor patio, it can sometimes be a challenge to get a seat on weekends. I headed upstairs and sat at the bar. Tap and Barrel carries an impressive selection of local craft beers including 6 seasonal offerings, 3 lagers, 4 IPA's, 1 hybrid, 5 ales, 1 wheat beer, 2 Stout/Porters, and 1 cider. I was pleased to see several of my favourites and opted for Central City's Red Racer IPA. I was glad to see that Tap and Barrel serves 20 ounce (Imperial) pints and not the 16 ounce (US) pints served elsewhere.
If you prefer wine, you're in luck as they carry 14 wines by the glass. The night I was there, the line up included wines from Backyard, Bartier Brothers, Blasted Church, Clos du Soleil, Haywire, Hester Creek, Joie, Le Vieux Pin, Meyer Family, Monster, Orofino, Road 13, Stoneboat and Upper Bench. A great cross section of BC wines, all on tap.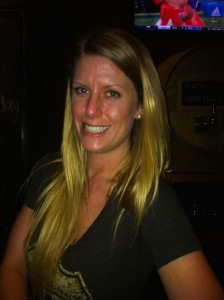 Cait was the bartender that evening. She was fast, friendly and very efficient; a true professional who knows how to read the room and is able to take care of servers and counter customers without missing a beat. The food menu also has something for everyone. I had a hard time choosing, but finally narrowed it down to two items, so I asked Cait for a recommendation. I went with the Tavern burger and it was excellent in both quality and quantity; far better than I expected, a pleasant surprise indeed. It was topped off with one of their signature deep-fried dill pickles.
Many people were likely there for the Tap and Barrel's 'Dine Out Vancouver' menu which looked fabulous and offered choices of Tomato Bisque, Ruby Beet Rocket Salad, Lois Lake Steelhead Salmon, New York Strip Loin and Roasted Portobello Mushroom Linguini along with Mom's Chocolate Cake for dessert. You could also include wine or beer pairings with your meal.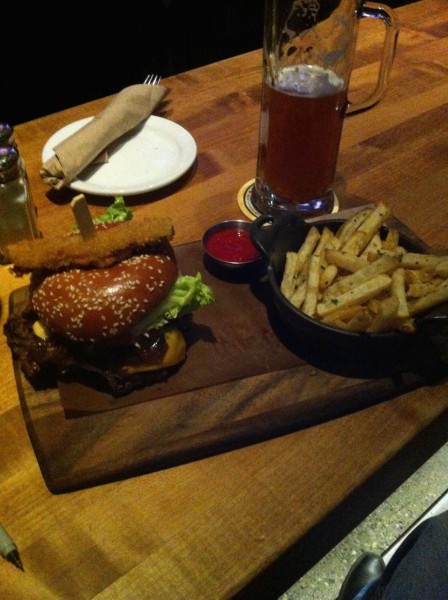 Tap and Barrel's 'Happy Hour' runs Monday thru Friday from 3-6. Daily Drink Features are Sangria on Mondays, Tuesday is Cask Night, Wine Flights are offered on Wednesdays, and Thursday's offering is called Spice and Stormy (intriguing). On Saturdays and Sundays they offer their Signature Caesars.
If you are one of the few people that haven't been to the Tap and Barrel, be sure to drop by for a meal and your favourite bevvie.