THE MIDAS TOUCH: BOULEVARD KITCHEN & OYSTER BAR CHEF ALEX CHEN TAKES TOP SPOT AT 10th ANNUAL GOLD MEDAL PLATES COMPETITION IN VICTORIA
Pairing of Local Pork Terrine with Foxtrot Vineyards' Pinot Noir Earns Chef Coveted Title as BC Representative at The Canadian Culinary Championships in Kelowna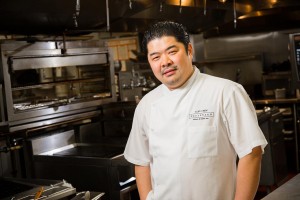 Boulevard Kitchen & Oyster Bar Executive Chef Alex Chen set the gold standard at the 10th annual Gold Medal Plates in Victoria, BC Thursday night, winning the top regional spot among 10 chefs selected to compete in the prestigious culinary competition and earning the right to represent BC at the Canadian Culinary Championships in Kelowna, BC Feb. 5-6, 2016.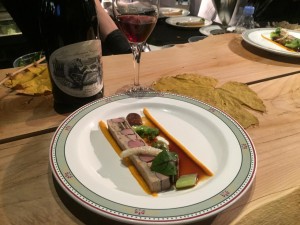 Chen's pairing of Local Heritage Warm Pork Terrine, 'Head to Tail' Chestnuts, Foie Gras, Perigord Truffles and Umami Jus with Foxtrot Vineyards' 2012 'Henricsson Vineyard' Pinot Noir from Naramata, BC impressed attendees of the event, which was the BC regional stop on the Gold Medal Plates 11-city culinary tour across Canada. The Foxtrot Pinot Noir was also crowned as Best of Show Wine at the competition.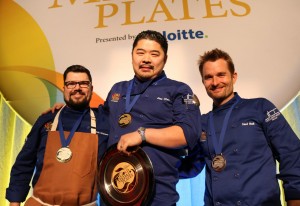 Chen was joined on the podium by Forage Executive Chef Chris Whittaker, who won silver, and YEW seafood + bar at the Four Seasons Hotel Vancouver Executive Chef Ned Bell, who took home bronze. Each dish in the competition was judged out of 100 points and based on visual presentation (20%), texture (20%), taste (30%), wine compatibility (10%), originality (10%) and 'wow factor' (10%).
"The top four (chefs) were very close," said Gold Medal Plates national head judge James Chatto, who was joined on the judging panel by senior judges Sid Cross and Andrew Morrison, as well as Gary Hynes, Sinclair Philip, Shelora Sheldan and 2014 Gold Medal Plates regional winner, Kristian Eligh. "The three that won were ahead of the pack and in the end, Alex's technique and flawless terrine showcased the best wine pairing, which really lifted him to gold. It was a very impressive year, with chefs really utilizing local products at their best."
Chen is no stranger to high-pressure culinary championships, having led Team Canada to a top-10 finish at the renowned Bocuse d'Or in Lyon, France in 2013.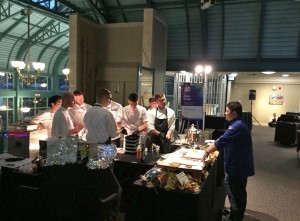 "I am extremely honoured, humbled and grateful to accept this award, but this is by no means an individual achievement," said Chen. "The real credit goes to an incredible Boulevard team that helped prepare and plate more than 400 dishes for this event. It was truly an entire team effort and we all share in this win together."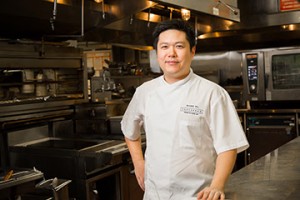 Chen wasn't the only back-of-house standout for Boulevard this week — Chef de Cuisine Roger Ma also struck gold at the 2015 Vancouver Aquarium Ocean Wise™ Chowder Chowdown on Wednesday night, claiming the crown from a field of 14 chefs for his Lobster Miso Chowder with Wakame, Miso Flakes and Clams, which was paired with Stanley Park Brewing's IPA.
"I'm incredibly proud of Roger's big win, but not surprised," said Chen. "He's a fantastic chef in his own right and he brought the gold medal home with a chowder that incorporated rich crustacean stock, oceanic clam velouté and a great surprise with the use of super umami miso crunch."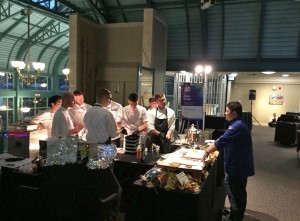 Billed as the ultimate celebration of Canadian excellence in food, wine, athletic achievement and entertainment, the Gold Medal Plates raise funds for the Canadian Olympic Foundation, supporting programs like Own The Podium and the Canadian Olympic Committee's Athlete Excellence Fund. Since 2004, Gold Medal Plates has generated more than $9.5 million for Canada's Olympic athletes.
For the latest news about Boulevard, register for the restaurant's e-newsletter at www.boulevardvancouver.com, become a fan of /blvdyvr on Facebook or follow @blvdyvr on Twitter and Instagram.
About Boulevard Kitchen & Oyster Bar | Located at the iconic Sutton Place Hotel in the heart of downtown Vancouver, Boulevard Kitchen & Oyster Bar provides a unique showcase for the culinary vision of Executive Chef Alex Chen. With an innovative approach that blends a respect for the past with a celebration of the present, Chen's seafood-focused menu is grounded in classical technique and training, while artfully infusing casual West Coast flair and creative hints of his international influences. Paired with exceptional service, a wide-ranging selection of wine and cocktails and true European ambiance in a traditional-yet-modern setting, Boulevard offers breakfast (6:30 to 11 a.m.), lunch (11 a.m. to 4 p.m.), dinner (5 to 11 p.m.) and late night service until 1 a.m. seven days a week, as well as weekend brunch from 11 a.m. to 3 p.m. and Happy Hour from 3 p.m. to 6 p.m. daily.
845 Burrard Street, Vancouver, BC V6Z 2K6 | (604) 642-2900 | boulevardvancouver.ca
Twitter: @blvdyvr | Facebook: /blvdyvr | Instagram: @blvdyvr