Wolf in the Fog named Best Vancouver Island at the 2015 Vancouver Magazine Restaurant Awards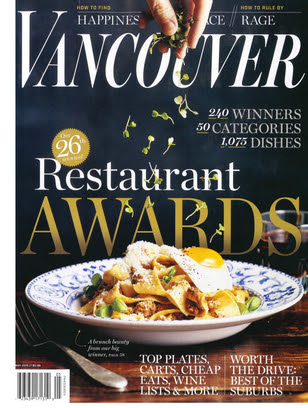 Wolf in the Fog
 is honoured to take gold in Vancouver Magazine's Best Other Vancouver Island category. Held at the Sheraton Wall Centre yesterday evening, the 26th annual 
Vancouver Magazine Restaurant Awards
 reinforce Wolf in the Fog's position as Vancouver Island's leading dining venue and the award is a great measurement of success for the team.
"We're thrilled to take home this award from Vancouver Magazine," says Chef Nick Nutting of Wolf in the Fog. "This award is shared with the entire Wolf in the Fog team and our amazing local suppliers from across the Island."
Combining an approachable and lively atmosphere with high quality and skilfully prepared menus, Wolf in the Fog appeals to both locals and tourists alike. "There's nothing kitsch or hipster about Chef Nick Nutting's lusty, generous and creative cooking," says Vancouver Magazine.
New spring dishes highlight freshly caught seafood from the waters of Tofino and locally sourced greens, meat and grains from Vancouver Island farmers. The team is gearing up for the annual 
Feast Tofino
May 8
–
24
, celebrating the town's talented culinary community and boat-to-table cuisine.
Wolf in the Fog are proud to add the Vancouver Magazine Restaurant award to their growing list of achievements, including being named 
Best New Restaurant 2014
 by Air Canada's enRoute Magazine. The team at Wolf in the Fog are humbled by these honours and grateful for the continued support of culinary influencers across Canada.
Wolf in the Fog is open for lunch 
9am-4pm
, happy hour 
4pm-5pm
, and dinner 5pm-late. Please call 1-250-725-WOLF (9653) or visit 
www.wolfinthefog.com
 for reservations.
About Wolf in the Fog 
Named Air Canada's enRoute's 
Best New Restaurant in Canada 2014
, Wolf in the Fog captures the true spirit of Tofino. Chef Nick Nutting's seasonal menu features seafood and fish in abundance from Tofino suppliers, meat and grain from Vancouver Island farmers, and wild greens and mushrooms foraged from the plentiful forests and seashores of Tofino. A focus on family-style gatherings, communal dining and share plates, encourages guests to engage with their food. Bringing a wealth of international technique and talent, the team holds a candid passion for the natural environment of Tofino and the produce sourced there – from foraging for chanterelles or cooking whole salmon for friends; Tofino is where they have chosen to be. 
www.wolfinthefog.com
Feature pic courtesy of Wolf in the Fog Facebook page.