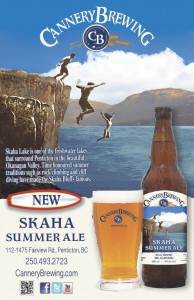 To celebrate the launch of another sensational summer, look for the re-release of Skaha Summer Ale, a summer seasonal from Penticton-based Cannery Brewing.
Cannery Brewing's Head Brewer Ross Thompson explains, "As a brewing team, one of the things we are most excited about with our Skaha Summer Ale is that each year we change up the hop profile for this beer. We use the same grain bill but modify the hops to give each version a distinct flavour and aroma. In 2015, we are featuring Azacca and El Dorado hops. These hops are very tropical in nature, so when combined with white wheat malt and German Ale yeast, the 2015 Skaha Summer Ale is soft and delicate with mango and citrus tones and a crisp, dry and refreshing finish."
Thompson continued, "Our Skaha Summer Ale is a refreshing, thirst quenching blonde ale, perfect for a hot summer day. Although it is light and summery, it's also well balanced, flavourful and complex, making this a sought-after summer seasonal for craft beer drinkers and those new to the world of small-batch, hand-crafted micro-brewed beers."
Cannery Brewing's Skaha Summer Ale pays tribute to the world-famous Skaha Bluffs, situated south of Penticton above Skaha Lake. Rock climbers, cliff jumpers, hikers, bird watchers, photographers and other outdoor adventure seekers flock to these beautiful bluffs all summer long.
Skaha Summer Ale will be available in 650ml bottles at Government and private liquor stores throughout BC and Alberta as well as on tap at select restaurants, pubs and golf courses. Thompson noted, "It will also be available later this summer as the Brewer's Choice beer that is featured in our Cannery Collection, which is our mixed can six-pack. The Skaha Summer Ale will also be available for growler fills at our brewery throughout the season.  This summer sipper is perfect on the patio, by the pool or campsite, or paired with summer dinners including summer salads, grilled veggies and BBQ meats."
For more information on Cannery Brewing or any of its fine hand-crafted ales and lagers, visit www.CanneryBrewing.com, follow them on Facebook, Twitter, YouTube and Instagram, call 250.493.2723 or drop by and see them in the brewery, which is located in Penticton, British Columbia. Stay tuned for more info about Cannery's move to its new brewery, which is located in beautiful downtown Penticton, at 198 Ellis Street.