FOOD FOR THOUGHT: CHEF DAVID GUNAWAN BRINGS FRESH, FARM-TO-TABLE DINING TO VANCOUVER'S FINANCIAL DISTRICT AT "ROYAL DINETTE" THIS JULY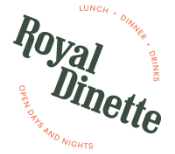 New Restaurant Combines Celebrated Chef's Focus on Spotlighting Local Farms, Ingredients with Approachability, Value
Celebrated chef and locavore disciple David Gunawan will offer Downtown Vancouver a true farm-to-table feast for the senses this July with the launch of Royal Dinette — a casual and playful new restaurant that honours Gunawan's trademark local, sustainable and seasonal approach to dining.
With a name that marries the laidback, understated approachability of a bygone diner with an air of elegance in presentation, flavour and service, Royal Dinette is located at 905 Dunsmuir St., just below the Blackbird Public House & Oyster Bar (which remains open on the second floor) and will be open for weekday lunch as well as happy hour, dinner and late-night libations Monday to Saturday.
Gunawan, renowned for his focus on featuring ingredient-driven dishes as Chef/Owner of Farmer's Apprentice and Grapes & Soda, presides over the Royal family as Chef/Owner, while former Farmer's Apprentice and L'Abattoir Chef de Cuisine Jack Chen joins Gunawan in the kitchen as Head Chef. Directing the front-of-house team are Chen-Wei Lee (Chambar, Blacktail Florist, Wildebeest, Bao Bei) and Jonathan Therrien (L'Abattoir, Café Medina, Chambar) while Wendy McGuinness (Chambar, Blue Water Cafe) takes the reins as Bar Manager.
Royal Dinette's origin results from a partnership between Gunawan and the Donnelly Group, who share not only an existing friendship but also a common goal and desire — to cultivate a new restaurant experience in downtown Vancouver where an ever-changing food and drink menu places a premium on quality, value and creativity and supports local farms and producers in the process.
With a layout and décor engineered by Beyond Beige Interior Design and Milltown Contracting, Royal Dinette will feature fresh pasta, butcher and pastry stations and seating for 80 throughout the dining room, bar, chef's table and outdoor patio.
"At Royal Dinette, we're not only bringing the concept of seasonality and true farm-to-table cuisine to downtown Vancouver," says Gunawan, "but we're also aiming to engender a new awareness in our guests about food itself — how it is produced, sourced, prepared and ultimately served."
Royal Dinette is set to open in July 2015. Further details will be revealed leading up to the official opening.
About Royal Dinette | Opening in the heart of Vancouver's Financial District below the Blackbird Public House & Oyster Bar in July 2015, Royal Dinette revolves around celebrated chef David Gunawan's signature focus on bringing together the best fresh, locally sourced ingredients for a true farm-to-table feast for the senses. With an ever-changing seasonal menu, fresh pasta, pastry and butcher stations and a bar menu offering an array of local craft beer, sparkling wine and handcrafted cocktails, Royal Dinette pairs the laidback, informal atmosphere of a bygone diner with an elegant standard of service to bring quality, value and creativity of cuisine to a whole new audience.
905 Dunsmuir St., Vancouver B.C. V6C 1A8 | www.royaldinette.ca
Twitter @royaldinette | Instagram @royaldinette