BC Place Stadium was the scene of a great foodie gathering, the culmination of a weeklong celebration of food and drink. The 13th annual EAT! Vancouver was an event that featured everything related to cuisine. There were demos and presentations as well as special exhibits including The Canadian Food Artisan Pavilion, Talk and Taste Stage and a Craft Beer Alley. Many of Vancouver's top chefs were in attendance including:
• Vikram Vij Vij's
• Chris Whittaker Forage
• Hidekazu Tojo Tojo's
• Pino Posteraro Cioppino's
• J-C Poirier Ask for Luigi
• Jonathan Chovancek Café Medina
• Andrea Carlson Burdock & Co.
• Ned Bell Yew
Also appearing were Anna Olson (Food Network Canada – Toronto), Carl Heinrich (Richmond Station – Toronto) Connie DeSousa (Charcut Roast House – Calgary), Andrew Winfield (River Café – Calgary), Jérémie Bastien (Leméac Bistro – Montreal) as well as Susur Lee, Mark McEwan and Rob Feenie.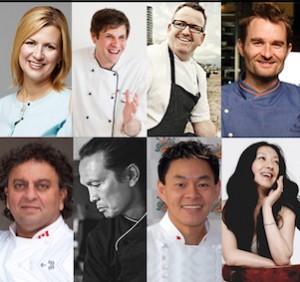 Exhibits featured custom made knives, cookware and appliances, specialty food stores, barbecue sauces, gourmet sea salt, infused oils, fresh produce, organic dairy, jerky, breads, rubs and spreads. There were also travel booths to help you plan your next, food-related, vacation. Sue White, proprietor of Whitehaven Wines was in town pouring and promoting her delicious New Zealand Sauvignon Blanc.
In the adults' only section, you could sample a wide array of wines, meads, craft beers and spirits. I was happy to see Roger Noujeim and his crew from Quini demonstrating their great new, locally developed, free wine app. If you like wine, be sure to check it out (quiniwine.com).
People came to learn about new products and cooking techniques all while having a lot of fun. If you got tired of walking around, you could take a break and grab a bite from around the world – smoked meat sandwiches, Beavertails, fries and poutine, gelato, Indian, Jamaican and Cajun to name but a few. No one left here hungry!
If you missed out, mark your calendar for next year (eat-vancouver.com)