Famoso Neapolitan Pizzeria Unveils New Urban Concept at Guildford Town Centre as Restaurant Expands to Surrey, BC
To celebrate the opening of the newest Famoso Neapolitan Pizzeria we are giving away a $50. gift certificate. To be picked up at their Guildford location. See below for details.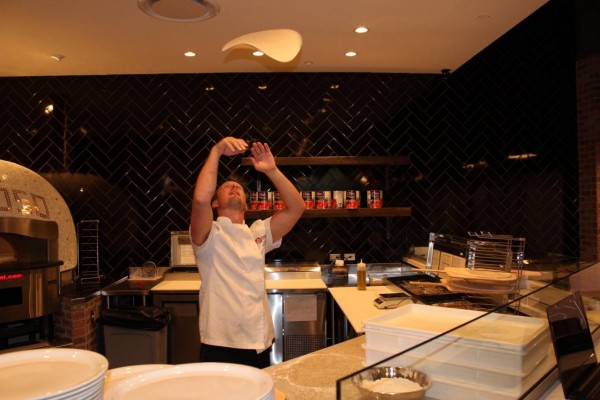 Newest location offers authentic Neapolitan cuisine in a fun, social atmosphere
Guildford Town Centre is soon going to have its own taste of Napoli, as Famoso Neapolitan Pizzeria is set to open its sixth BC location and 29th in Canada, on Monday, October 26th.
This location comes at a thrilling time in the evolution of Famoso Neapolitan Pizzeria, as the restaurant is set to unveil a revised menu, with the addition of six new pasta dishes and an updated appetizer list to reflect the culinary heritage of Italy, as well as full tableside service.
"With the arrival of our Guildford Town Centre restaurant, Famoso Neapolitan Pizzeria is excited to open our second location in Surrey, the first of our new concept," said Justin Lussier, Co-Founder and CEO of Famoso Neapolitan Pizzeria. "Our franchise owner, Gus Bajwa, has been involved in the community for more than twelve years and we are happy to bring him into the Famoso family. This is the perfect restaurant to unveil as Famoso continues to expand and evolve."
Serving an authentically Italian menu with Canadian twists made with the freshest ingredients, and honouring the pizza making methods that have been practiced in Naples since the 18th century, Famoso Guildford will offer many unique and delicious dishes that everyone can enjoy.
"As a business owner in Surrey for more than twelve years, I believe in investing in this dynamic community and can think of no better way to do so than to bring authentic, delicious Italian food with fresh ingredients," said Gus Bajwa, Franchise Owner of Famoso Neapolitan Pizzeria Guildford Town Centre. "I am honoured that the team at Famoso has unveiled its new concept with full service, a centre bar, and a new menu right here, in the heart of Surrey. We can't wait for guests to come visit and experience our fun, vibrant atmosphere."
Famoso Guildford will feature a centre bar and lounge area with big screen TVs; making it the perfect spot to watch the game, have a date night, or spend the evening among friends over some mouth- watering Neapolitan pizza. In the summer, the patio will be a relaxed and friendly area for hanging out and people watching.
To WIN a $50. gift certificate:
Like My Van City  and Famoso Guildford Town Centre on Facebook
Leave a comment on this page.
For extra entries sign up for our newsletter.
For more information, visit www.famoso.ca
About Famoso Neapolitan Pizzeria:
Famoso is your neighbourhood pizzeria where you'll find a fun and vibrant atmosphere any day of the week. It's where great food and good friends make the perfect ingredients for a memorable night. Inspired by the energy of an authentic Neapolitan pizzeria, at Famoso you'll find the delicious tastes of fresh, pizzaiolo-tossed pizzas and signature Italian dishes served with a perfect selection of wine, craft beer and cocktails.
Find out more at http://www.famoso.ca and join us on Facebook or follow us on Twitter and Instagram @FamosoPizzeria