If you thought Christmas season feasting was over, think again. The Galette des Rois, or King Cake, is a traditional French cake made of flaky puff pastry filled with almond cream and shared at Epiphany, every January 6th. Celebrating the visit of the Three Wise Men to baby Jesus, Epiphany is also a great excuse to continue eating, drinking and being merry all January long.
The family tradition is for everyone to gather together to cut the famous cake, baked with a fève (lucky charm) inside. The youngest child goes under the table and points out the guests, who are then given their portion of the cake. The lucky one who finds the fève (hopefully the child) gets to be the king or queen for the day and wear a gilded paper crown. Because who doesn't want to be king or queen for a day?
Faubourg Paris, Vancouver's trio of elegant boulangeries-pâtisseries, is pleased to offer two regional variations, as well as an individual Galette des Rois.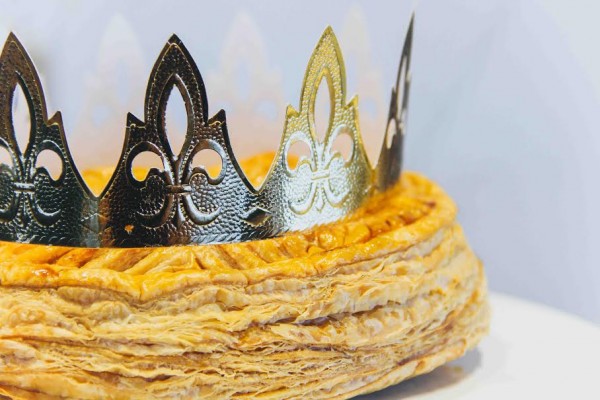 Parisian Galette des Rois (9")
Layers of puff pastry filled with a rich almond  frangipane, a cream made from sweet almonds, butter, eggs and sugar. $25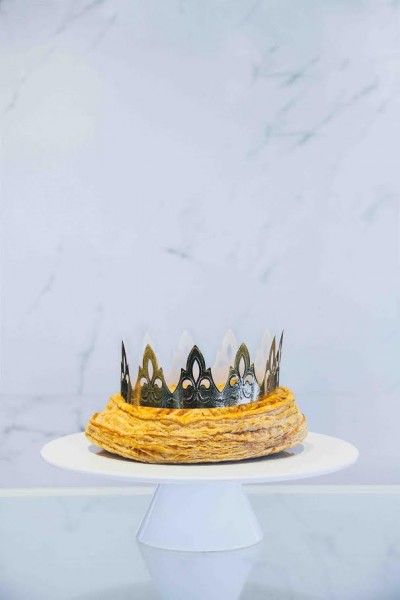 Brioche des Rois, from South of France
Buttery brioche dough flavoured with orange blossom and smothered in glaze and candied fruits. $25.00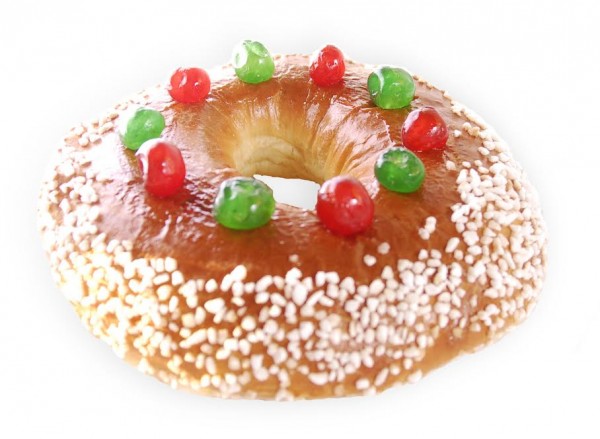 Both serve 8 to 10 people and are available all January long on weekends  at all three Faubourg locations in Kerrisdale (2156 West 41st Avenue, Vancouver), Downtown (769 Hornby Street, Vancouver) and West Vancouver (792 Main Street, Park Royal South, West Vancouver), or  by special order on weekdays. You can order any galette with or without fève at catering@nullfaubourg.com.
"I am thrilled to bring this convivial and joyful tradition to Vancouver. We shouldn't miss any occasion to gather with friends and family" says Franck Point, owner of Faubourg Paris. "Parents sip a glass of champagne while the kids pretend to rule the world wearing gilded paper crowns. I have the best memories celebrating Epiphany."
Did you know? Every year at the Elysée Palace in France, an enormous galette (measuring 1.2 m across for 150 people) is made for the President of the French Republic. However, the artisan baker and pastry chef responsible for making it is instructed not to put a fève in the cake because "it would not be appropriate to find a king in the presidential palace of the Republic".
About Faubourg Paris: Faubourg Paris, Vancouver's answer to Parisian elegance and decadent gastronomic adventures, caters to sophisticated gourmands and amateur epicures alike. With an unwavering commitment to excellence, Faubourg offers chic, contemporary settings and artisanal delights rivalling the famous boulangerie pâtisseries of Paris. Continually pushing the boundaries of perfection, Faubourg strives to inspire guests to adopt the French philosophy of experimenting with new tastes, allowing themselves to be seduced by food and indulging in the pleasures that fine cuisine can bring. Experience a taste of the good life, from the Old World to the New, at www.faubourg.com.
Galette pics: Photo credit: Park Royal http://www.shopparkroyal.com/​