A small-batch preserving company specializing in marmalade. Le Meadow's Pantry make over 30 varieties of shelf-stable jam and marmalade, cooked by hand, all natural, and using mostly local fruit. Combining old-world techniques and modern taste awareness to preserve that vibrant fruit flavour. Each season you will find unique and delectable provisions for your pantry and your enjoyment.
Marmalades
Marmalades are made with high quality citrus and we use a traditional three-day technique. This labour-intensive process is what gives our marmalades their rich and balanced flavour.  To each batch is added local ingredients such as, organic vanilla and organic cinnamon extract from Pemberton Distillery, herbs and flowers from their garden, local liquor and spirits, local honey, and sea salt from Vancouver Island.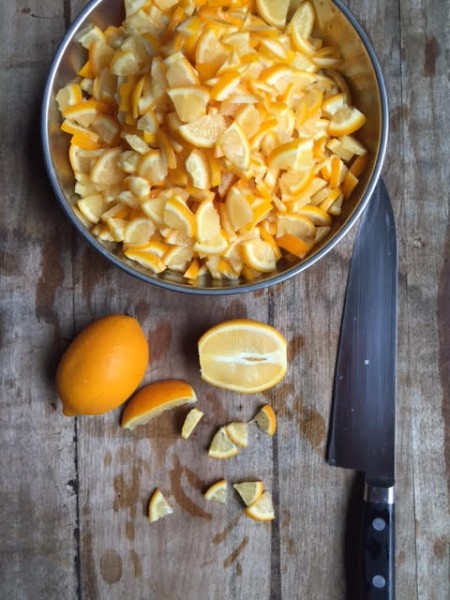 Jams
Jams are made with local fruit available in-season, and are cooked as quickly as possible to seize the pure flavour of the fruit and keep its intensely fresh taste. Making as much as they can while the fruit is perfectly ripe, their jams sell out quickly, so they may not always be available. You are welcome to inquire about your favorite flavour, and they are happy to suggest another flavour that may appeal to you.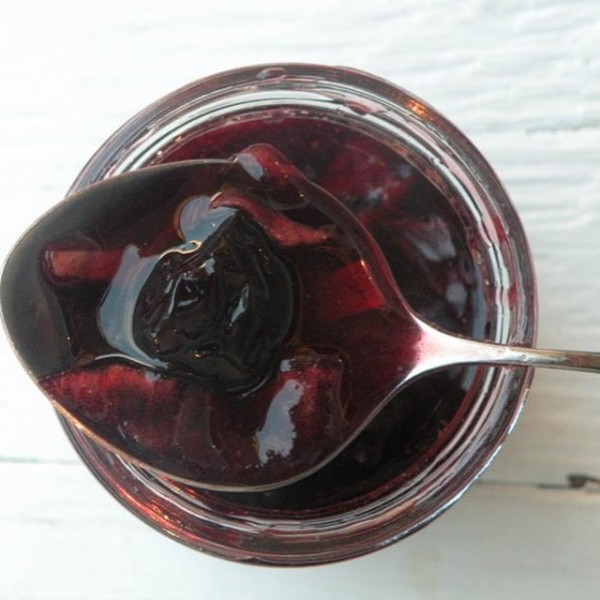 Jellies
Dandelion jelly is made with dandelion foraged in pristine land in the Pemberton Valley. For each jar, they use 365 flowers, to celebrate the 365 suns that have risen and set since last year's spring.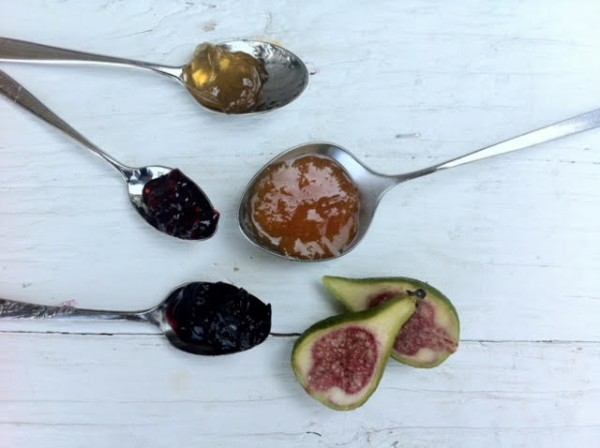 Cooking Process
All preserves are made in small batches in copper preserving pans or enameled cast iron pans. Each pan produces about a dozen jars at one time. Cooking jams and marmalades in tiny batches mean more work, but this is how to achieve such delightful and luscious preserves. Cooking smaller batches captures the bright flavours and the essence of the fruit.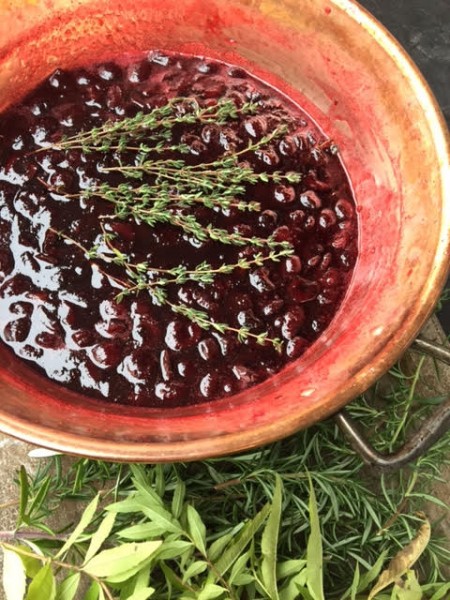 Sugar
At Le Meadow's Pantry,  using pure cane sugar and honey to sweeten the jams and marmalades counteracts the acidic taste the fruit acquires when cooked. Sugar also preserves the cooked fruit and helps thicken the final product. Using just the right amount of sugar gives a perfect texture and lets the natural flavour of the fruit burst through. They use pure cane sugar, not beet sugar.
Honey 
They also offer some jams and fruit butters that are sweetened with local honey. These products are usually lower in sugar content than their traditional jams and marmalades.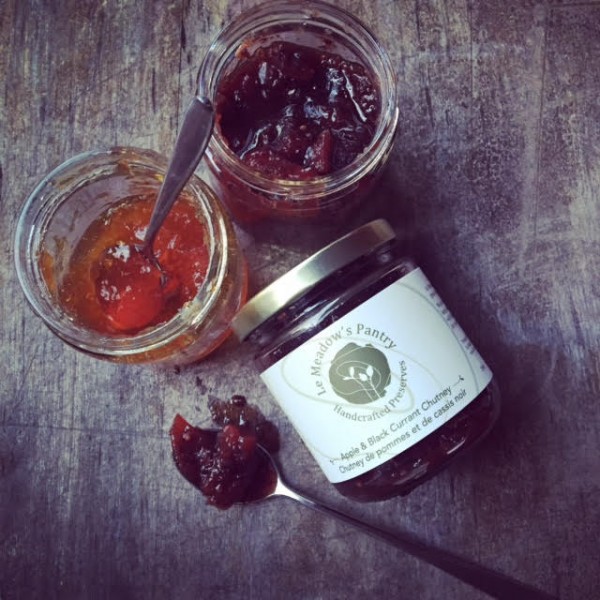 Pectin
All fruit contains pectin, a polyscaccaride, but the amount may vary widely. Certain fruit contains almost no pectin, so when needed, they use pure apple pectin or "Pomona's Universal Pectin." This is a sugar-free, low-methoxyl citrus pectin that is activated by calcium. Since it does not require large amounts of sugar to jell, jams can be made with less sugar or using honey.  At Le Meadow's Pantry, they rarely need to use pectin to achieve the right texture for their preserves. However, some preserves simply could not be made without added pectin.
Preservatives
Using fresh lemon juice, hand-pressed in their kitchen, pure cane sugar and honey. No added preservatives or food colouring.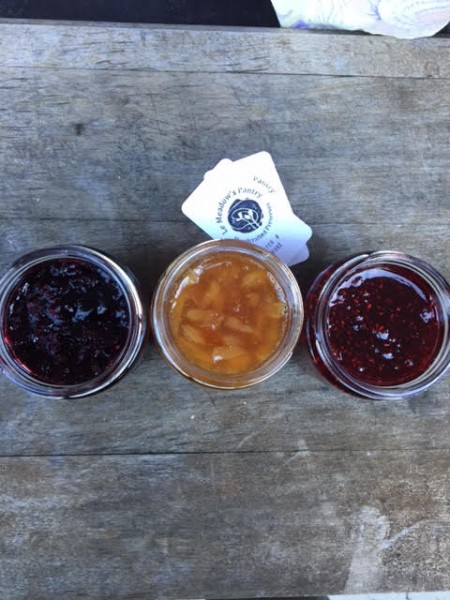 Certification 
The preserves are not certified organic, however, using local, sustainably farmed fruit is a top priority.  Almost all of the fruit is either wild, sustainably farmed without organic certification, or certified organic. The herbs grown in their garden are grown with love, in rich nutritious soil and surrounded by fresh clean air.
Vegan
The preserves are vegan, vegetarian, and gluten-free, although they are processed in a facility that handles products that contain gluten.  The pure cane sugar used is refined without the use of animal products or by-products, so the preserves are suitable for vegetarians and vegans.
FARMER'S MARKETS AND FAIRS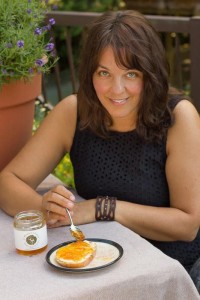 Jams and marmalades are available year-round at farmer's markets, and at selected retail locations. To purchase directly , contact  lemeadowspantry@nullgmail.com    Delivery is available in Vancouver, Burnaby and North Shore.
Winter Market at Nat Bailey Stadium:   4601 Ontario street , Vancouver, Saturdays  10:00 am to 2:00 pm
February: 6th and 20th
March: 12th
April: 9th
Hastings Park Market at the PNE Hastings Street Vancouver,
Sundays 10-2pm
February: 7th, 14th, 21st and 28th
March: 13th, 20th and 27th
April: 10th, 17th and 24th
Winter Markets 2015-2016, this schedule is subject to change
Retail locations listed here
Twitter: @lemeadowspantry
Facebook: Le Meadow's Pantry
Instagram: lemeadowspantry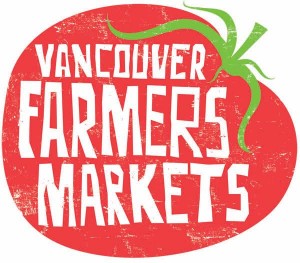 Website: eatlocal.org
Facebook: Vancouver Farmers Markets
Twitter: @VanMarkets
Instagram: @vanmarkets