VIDF Presents Hotly Anticipated Canadian Premiere of Two Action-Packed Works born from Swedish/Cuban Cultural Exchange
 Visionary co-productions from Sweden's Memory Wax and Cuba's Danza Teatro Retazos challenge perception of time, space, and belonging
The 2016 Vancouver International Dance Festival (VIDF) presents the highly anticipated Canadian premiere of two illuminating, richly complex works, co-produced by international collaborators Sweden's Memory Wax and Cuba's Danza Teatro Retazos, on stage March 11 & 12 at 8pm at The Vancouver Playhouse. Crisálida and Possible Impossible will explore the tensions between isolation and belonging, reality and fantasy, infusing the works' contemporary idiom with a kaleidoscopic of expressive mediums from video projection, masks, props, and pantomime.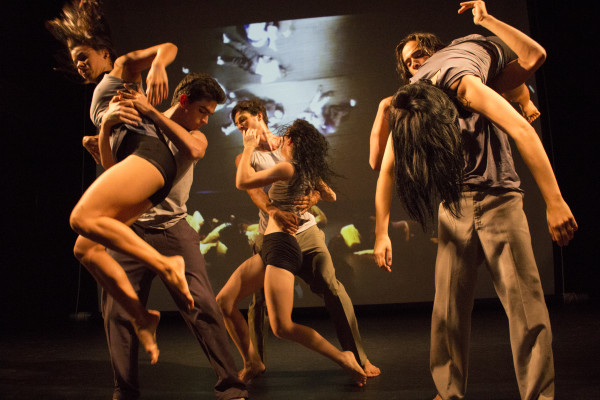 "Born out of a cultural exchange initiative between two inventive, luminary contemporary dance companies, the performances on offer promise a refreshingly lighthearted yet transformative dance experience, reflecting on the boundaries of the human condition," says Barbara Bourget, Artistic Director of VIDF. "Showcasing the rhythmic movement sensibilities of Cuba, combined with surreal, dreamlike imagery, both Crisálida and Possible Impossible will challenge our perception of reality and the power of imagination. Audiences will undoubtedly be moved by the co-productions' sense of invention paired with their spirited, highly physical contemporary attitude."
Having enjoyed its world premiere in Cuba in Spring 2015, Crisálida is a 40-minute, whimsical exploration of personal freedom juxtaposed against humanity's innate desire for belonging and sense of community. An imaginative story told with humour and lyricism, the work follows eight world-class Cuban dancers through everyday life scenes enhanced by an otherworldly dream sequence where memories and desires are intertwined. A contemporary dance piece at its core, Crisálida also features elements of pantomime, hip-hop, and folklore, creating characters that range from the cartoonish to the existential.
A celebration of Memory Wax's 10-year anniversary and long-time partnership with Danza Teatro Retazos, Possible Impossible was first presented in Europe in Spring 2014, featuring seven electrifying Retazos performers. This 50-minute, ethereal multimedia work is set in a celestial landscape, where all known laws of time, space, and power cease to exist. A meditation on the boundaries of the human condition, Possible Impossible is not only a visually suggestive feast, but it is replete with heart-pumping, rhythmic contemporary sequences.
Choreographed by Memory Wax co-founder Miguel Azcue, both works are a result of a four-year cultural exchange project between the Swedish dance company and Cuba's Danza Teatro Retazos, featuring artists from both Cuba and Scandinavia. Born in Havana, Azcue was a founding member of Retazos (back in 1987), and has danced professionally throughout Cuba, Ecuador, the USA, Norway, Sweden, and France.
Highly regarded for her distinctive lyrical choreographic style, Retazos Founder and Choreographer Isabel Bustos Romeleroux served as Dramaturg on both productions, developing an intimate and spiritual dance language through the use of vivid imagery and complex emotions. Born in Chile, Bustos Romeleroux studied classical ballet at the National School of Art in Havana as well as choreography at the University of the Sorbonne in Paris. The award-winning choreographer has presented works across the Latin and European world, in Ecuador, Mexico, Colombia, Spain, Sweden, Italy, Paraguay, and France, as well as the USA.
Tickets for Memory Wax and Danza Teatro Retazos' Crisálida / Possible Impossible are Adults: $50 and Students/Seniors: $40. They can be purchased at vidf.ca/tickets or by phoning 604.662.4966.
About Vancouver International Dance Festival (vidf.ca)
The Vancouver International Dance Festival (VIDF) is a social-profit, artist run organization dedicated to supporting and furthering the art of culturally diverse contemporary dance.
Each year the festival scours the globe, and its own backyard, to assemble a thrilling month of emotionally rich and intellectually stimulating dance expressions. In doing so, the festival functions as an important link between Vancouver and a vibrant, international community of artists, ensuring that world-class contemporary dance will always have a place in the hearts and minds of Vancouver audiences.
LISTING INFORMATION
2016 Vancouver International Dance Festival presents
Memory Wax / Retazos Crisálida / Possible Impossible
Dates:
March 11-12, 2016 at 8pm
Tickets:
Adults : $50 ; Students/Seniors : $40 or included in $70
Playhouse Pass (2 shows) or $154 All Shows Pass
(includes 4 Roundhouse shows, 2 Playhouse shows, and
FREE entry to 7pm Roundhouse Exhibition Hall shows)
Address:
Vancouver Playhouse
600 Hamilton Street
Vancouver, BC  V6B 2P1
Box Office:
604.662.4966
Website:
Feature image: Possible Impossible Cuba Markus-Garscha