Latest Work from Japan's Longest-Standing Butoh Troupe is a Fever Dream of Surreal & Spectacular Visions 
Following their Canadian premiere at Vancouver International Dance Festival (VIDF) in 2015, Japan-based ensemble, Dairakudakan, returns with their newest work – Paradise – on March 10 & 11, 2017 at 8pm at the Vancouver Playhouse. Proudly presented as part of VIDF 2017, the visual tour-de-force drives audiences on an absurd, haunting hunt for the elusive concept of paradise.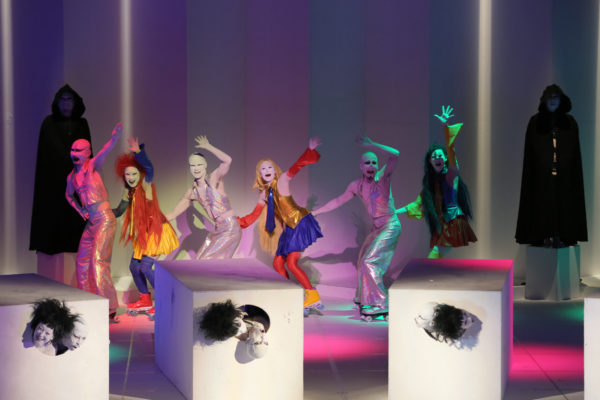 "With his last visit, Dairakudakan choreographer and director Akaji Maro brought us a hellscape vision of insects taking over the earth. For his return, he has set his sights on utopia," says Barbara Bourget, Co-Producer of VIDF. "The work's origins came when Maro realized that hell is abundantly described in literature and culture, and yet there seems to be little consensus around what constitutes paradise. This ignited a process of creation and exploration that culminated in this surreal, spectacular, and bizarrely beautiful work."
Paradise begins on a white, geometric, and deceptively bare set. From this empty space, the 21 members of the company depart on a surreal and haunting journey – filled with provocative, dreamlike imagery. Amidst visions of jungle locales, ghoulishly cheerful roller-skating gangs, and chained-and- bound masses, the work ultimately asks whether paradise is something that can only exist in the mind – and must therefore be found by tunneling within.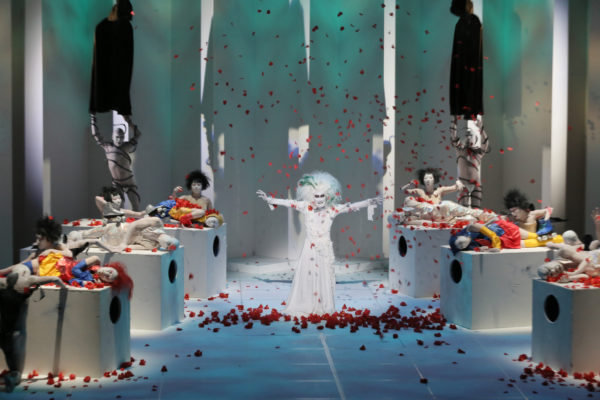 This unique work is a fresh creation from the internationally renowned ensemble, having only premiered in June of 2016 at Tokyo's Setagaya Public Theatre. Describing the choreographic style and movement vocabulary of the piece, Maro explained this dance is "not about the muscles – but the nerves."
Founded in 1972, Dairakudakan is Japan's longest-standing butoh ensemble, globally recognized for spectacular and theatrically explosive performances. The company's appearance at VIDF 2017 is held in celebration of award-winning Choreographer / Director Akaji Maro's 45th anniversary with the butoh- theatre company. At 73-years of age, Maro is a revered grandfather of the butoh genre, having studied under Tatsumi Hijikata – one of the original innovators of the art form. Since this tutelage, Maro has advanced butoh considerably through dramatic choreography and theatrics, coupled with a distinct focus on individuality within the group.
Characterized by the dancers' whitened bodies, shaved heads, and fragmented movements, butoh was first performed in post-World War II Japan in 1959. Born as a reaction to western dance styles of ballet and modern, butoh emerged in Japan in the 1960's before swiftly migrating to other countries around the globe where it continues to thrive, influence, and evolve.
Tickets to Dairakudakan's Paradise are available online at: vidf.ca/tickets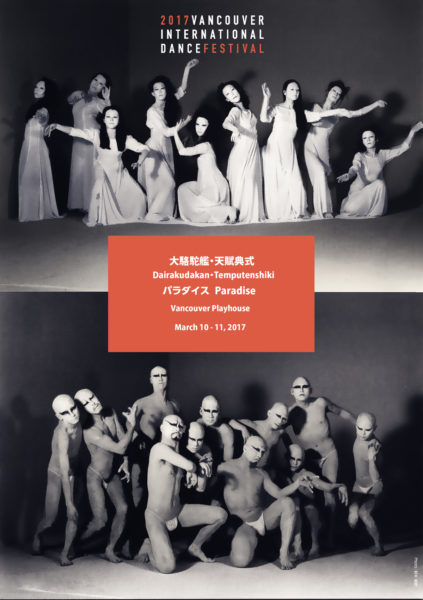 About Vancouver International Dance Festival (vidf.ca):
The Vancouver International Dance Festival (VIDF) is a social-profit, artist run organization dedicated to supporting and furthering the art of culturally diverse contemporary dance. Each year the festival scours the globe, and its own backyard, to assemble a thrilling month of emotionally rich and intellectually stimulating dance expressions. In doing so, the festival functions as an important link between Vancouver and a vibrant, international community of artists, ensuring world- class contemporary dance will always have a place in the hearts and minds of Vancouver audiences.
LISTING INFORMATION 
Dates: Tickets : Address:
Box Office: Website:
VIDF 2017 Presents Dairakudakan: Paradise 
March 10 & 11, 2017 at 8pm
Adults: $60, Seniors/Students: $50
Vancouver Playhouse
600 Hamilton Street, Vancouver, BC, V6B 2P1
vidf.ca/tickets
604.662.4966
vidf.ca
All images: Hiroyuki Kawashima