KarmaConnect is a transformational speaking and networking event for all who are curious about deepening connections with self and others
What is KarmaConnect?
KarmaConnect a non-profit organization building a network of events, resources, and support for the person who is hungry for personal growth and self actualization.
The events create opportunity to meet and connect with other like-minded entrepreneurs, luminaries, thought leaders and visionaries who are focused on creating the biggest impact on humanity.
Speakers & Presenters
Kayvon K – The Sole Focus
Lucca Hallex – Power Sorcerer
Jill Prescott – Tangent Path
Ryan John Phillips – Return To Happiness
Sue Dumais – Heart Led Living
Kevin Eftekhari – Access Your Higher Power
Tasha Simms – Conscious Living Radio
Dawna Jones – Decision Making for Dummies
Dan Harrison – eMoneyCoach
Emerson Lim – Karma Teachers
MORE TBA!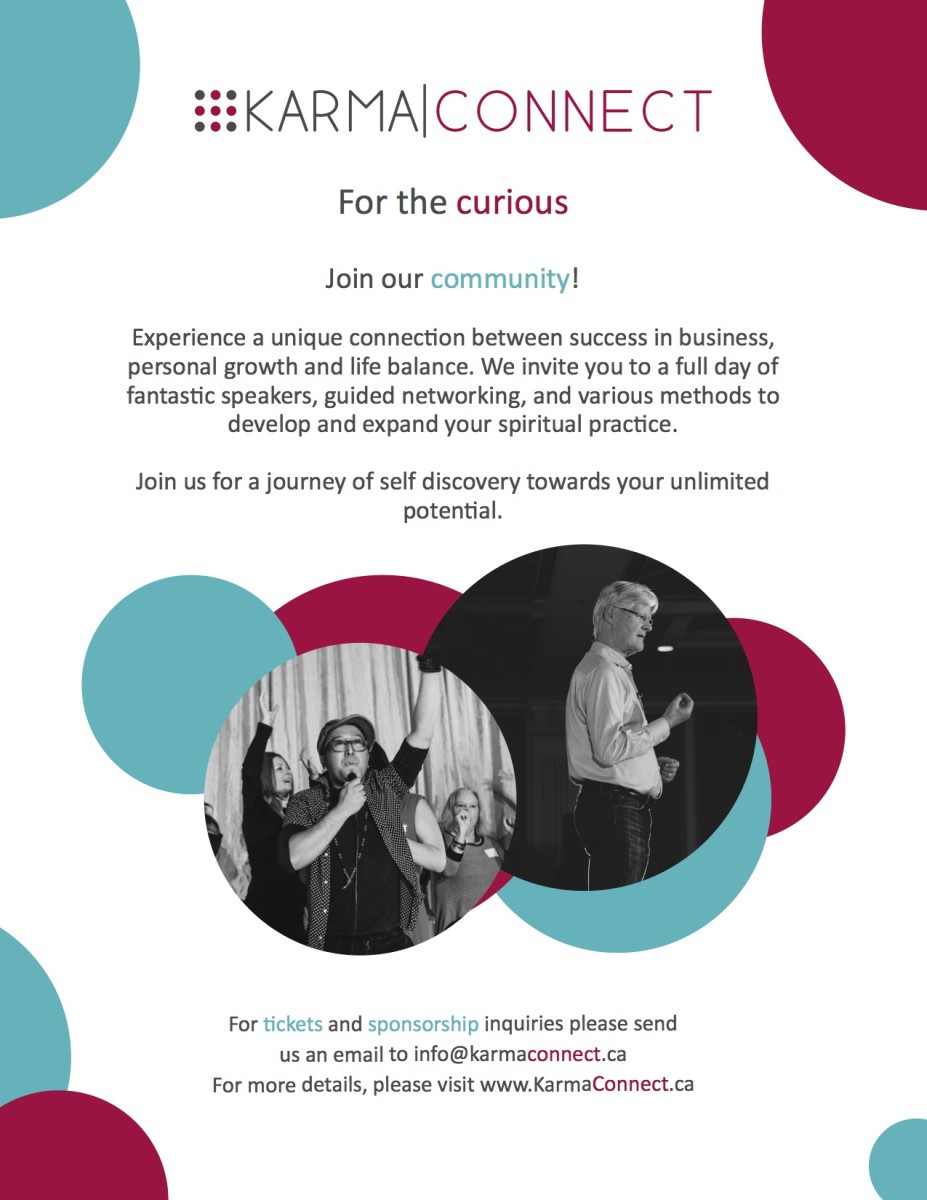 Who Should Join Us?
Anyone interested in discovering and testing the boundaries of self-mastery, business, and personal relationships!
Our full-day events provide a transformational experience comprised of inspiring speakers offering valuable takeaways, guided networking exercises within the audience, and supportive practitioners and resources for all who are curious about deepening their personal development, and connection with self and others.
Sponsorship Opportunities:
We are already attracting the best sponsors in the city, and would be honored to add your business or organization to the list. We are presenting sponsors with a premier event to connect your brands to our community. Various options and pricing levels are available. Contact us today for further information. Info@nullkarmaconnect.ca
Terms & Conditions
Tickets are non-refundable. However feel free to pass it on to someone else who would love to attend.
$45.00 CAD
General admission
$240.00CAD
Table of 6
Invite a group of friends
$450.00CAD
Sponsored Exhibitor Table
Includes 12 tickets
$60.00 CAD
Tickets at the Door March 13
Cash only