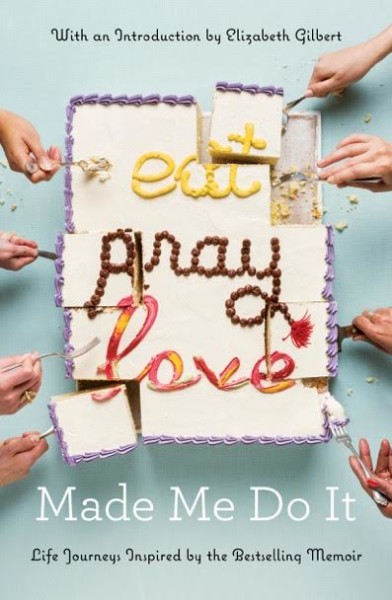 An essay by Delta, BC writer Eran Sudds is one of four dozen published in best-selling author Elizabeth Gilbert's new anthology, Eat Pray Love Made Me Do It: Life Journeys Inspired by the Bestselling Memoir," (Riverhead Books) which hits bookstores March 29th, 2016.
Sudds's candid story about her struggles to find meaning in her life and to cope with motherhood was chosen from among nearly 2000 submissions, and the only one of two essays penned by Canadian writers. 
"To be included in Elizabeth Gilbert's latest book is such a huge honour," says Sudds.  "Eat Pray Love is my own personal bible, no exaggeration.  The book changed the course of my life not once, but twice.  It gave me the strength to do things that I not only I wanted to do, but that I needed to do."
In the ten years since its electrifying debut, Elizabeth Gilbert's Eat Pray Love has become a worldwide phenomenon, empowering millions of readers to set out on paths they never thought possible. To celebrate the tenth anniversary of Eat Pray Love and to answer her own burning question, "why was Eat Pray Love such a success?" Gilbert invited her fans to share short essays about the role her story has played in their lives.
Sudds's reading of Eat Pray Love led her to quit her 9-5 job and embark on her own "Eat" journey to Bordeaux, France.  She found inspiration in the book's words a second time, after giving birth to her son.
"On the very first page, Elizabeth writes, "Tell the truth, tell the truth…" I read those words again, during a very dark hour.  And I realized then that I had to tell the truth too.  And the truth was, I was dealing with postpartum depression and I needed help," says Sudds.
The help she received from the Pacific Post Partum Support Society inspired Sudds to launchThe Good Mother Project, a global online community of mothers supporting mothers through similar hardships. "Talk about the butterfly effect," says Sudds.
Other stories in the book include one about a writer coming to terms with the loss of her mother; another leaves the seminary, embraces his sexual identity and forges a new relationship with God; while a third reels from a difficult divorce and finds new love overseas.  The journeys these writers recount are transformative, sometimes hilarious, sometimes heartbreaking, but always deeply inspiring.
EAT PRAY LOVE MADE ME DO IT is a celebration for fans old and new, and a reminder of what has made Eat Pray Love such an enduring success.