Acclaimed Vancouver Artist's Most Significant Canadian Exhibition in 20 Years
Provocative exhibition showcases polemical and playful artwork spanning influential 30-year career to spark change in Canada
The Museum of Anthropology (MOA) at UBC is pleased to present the bold, politically charged, and timely exhibition, Lawrence Paul Yuxweluptun: Unceded Territories, on display from May 10 – October 16, 2016. The celebrated Vancouver-based artist is showcased in this provocative presentation of works that confront the colonialist suppression of First Nations peoples and the ongoing struggle for Indigenous rights to lands, resources, and sovereignty. Twenty years since Yuxweluptun's first major Canadian solo show, Unceded Territories will demonstrate the progression of his artistry and ideas through hard-hitting, polemical, but also playful artworks that span his remarkable 30-year career, featuring a selection of brand-new works exhibited publicly for the first time.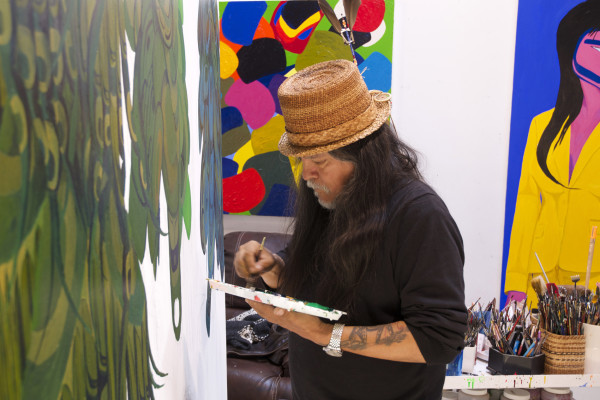 Co-curated by Karen Duffek (MOA Curator, Contemporary Visual Arts & Pacific Northwest) and Tania Willard (artist and independent curator, Secwepemc Nation), Unceded Territories promises colour and controversy through this display of over 60 of Yuxweluptun's most significant paintings, drawings, and works in other media – a critical and impassioned melding of modernism, history, and Indigenous perspectives that records what the artist feels are the major issues facing Indigenous people today.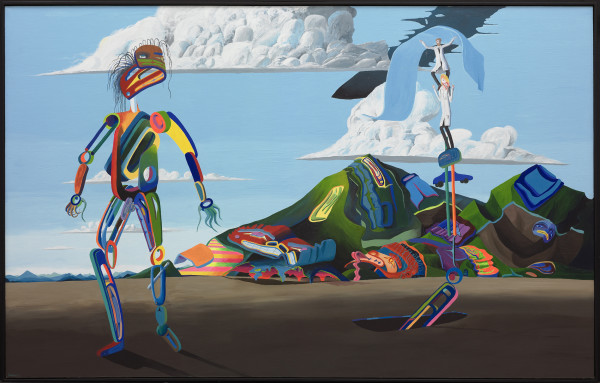 "This exhibition will undoubtedly fuel dialogue, indignation, and even spiritual awareness as it tackles land rights, environmental destruction, and changing ideas about what we can expect of Indigenous art from the Northwest Coast. The issues Yuxweluptun addresses are impossible to ignore. We expect that local audiences will find a more personal connection to his work today than they may have two decades ago," explains MOA Co-curator Karen Duffek. "Environmental concerns and debates around topics such as oil pipelines, liquefied natural gas, and fracking are no longer predictions for the future, but reflective of what is happening now in Canada. By fusing art with political action, Yuxweluptun strives to effect change."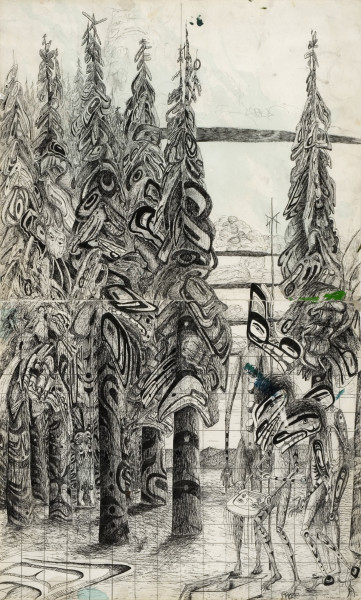 Yuxweluptun, an artist of Coast Salish and Okanagan descent, graduated from the Emily Carr College of Art and Design in BC. Influential as both artist and activist, Yuxweluptun merges traditional iconography with representations of the environment and the history of colonization, resulting in his powerful, contemporary imagery; his work is replete with masked fish farmers, super-predator oil barons, abstracted ovoids, and unforgettable depictions of a spirit-filled, but now toxic, natural world. Highly respected locally, Yuxweluptun's work has also been displayed in numerous international group and solo exhibitions, including the National Gallery of Canada's special exhibition, Sakahàn: International Indigenous Art. In 1998, Yuxweluptun was the recipient of the Vancouver Institute for the Visual Arts (VIVA) Award. He was also honoured in 2013 with a prestigious Fellowship at the Eiteljorg Museum of American Indians and Western Art in Indianapolis, where his art was featured in an exhibition and book, and was acquired for the museum's permanent collection.
A full-colour publication, Lawrence Paul Yuxweluptun: Unceded Territories, featuring essays by local and international writers and illustrated with selected works by Yuxweluptun, will accompany MOA's exhibition, and will be available for purchase at the MOA Shop. Further complementing the exhibition, MOA has programmed a series of enlightening and informative public programs. Details will be announced at moa.ubc.ca/lawrence-paul as they become available.
The official Opening celebrations will take place on Tuesday, May 10 from 7-9pm, and will include a cash bar and free admission to MOA for media and visitors.
Unceded Territories will be presented in MOA's Audain Gallery.
About MOA (moa.ubc.ca)
The Museum of Anthropology (MOA) at the University of British Columbia (UBC) is world-renowned for its collections, research, teaching, public programs, and community connections.  Founded in 1949 in the basement of the Main Library at UBC, its mission is to inspire understanding of and respect for world arts and cultures. Today, Canada's largest teaching museum is located in a spectacular building overlooking mountains and sea. MOA houses more than 42,000 ethnographic objects and 535,000 archaeological objects, including many that originate from Asia (about 40 per cent of MOA's collection) as well as from the Northwest Coast of British Columbia. The Koerner Gallery features one of Canada's most important European ceramics collections, while MOA's Multiversity Galleries provide public access to more than 10,000 objects from around the world. The Audain Gallery and the O'Brian Gallery, MOA's temporary exhibition spaces, showcase travelling exhibits as well as those developed in-house.
LISTING INFORMATION
MOA presents 
Lawrence Paul Yuxweluptun: Unceded Territories 
Date:
May 10, 2016 to October 16, 2016
Venue:
Museum of Anthropology
University of British Columbia
6393 NW Marine Drive, Vancouver, BC
Website: