An exciting new exhibit featuring a diverse display of art works created by six Coast Salish artists has just opened at the Bill Reid Gallery. Subtitled "Memory and Innovation in Coast Salish Art", the pieces are all very modern but are clearly grounded in the multigenerational traditions of the Coast Salish people.
The exhibition was curated by Beth Carter, curator at the Bill Reid Gallery, and Sharon Fortney, an indigenous scholar and curator who is a specialist in Coast Salish culture. It features two or three pieces from each of the artists, as well as a video, during which the artists spend three to five minutes telling their stories, describing their medium for expression and explaining the purpose of their creations.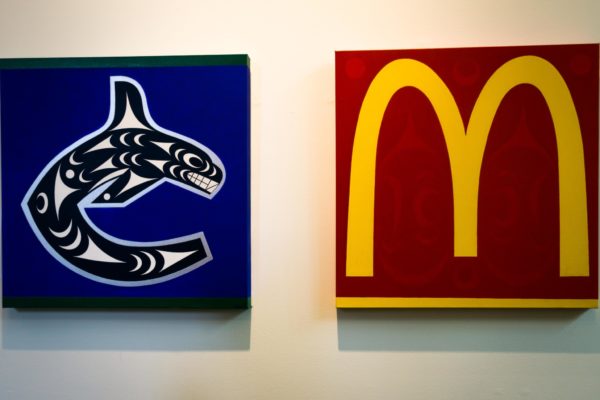 lessLIE (Leslie Sam), a member of the Cowichan tribe, creates striking works with subtle themes. "Culturally Correct Canucks" appears, at first glance, to be a replica of the Canucks logo. On closer examination, one is able to see the changes in the mouth of the fish and the addition of the sea which combine to make the logo 'culturally correct', while asking its own questions. A second painting "DIEt of dEATh", juxtaposes traditional organic food inside a logo which looks more than a little like a McDonald's sign, evoking questions about land, ownership and stealing.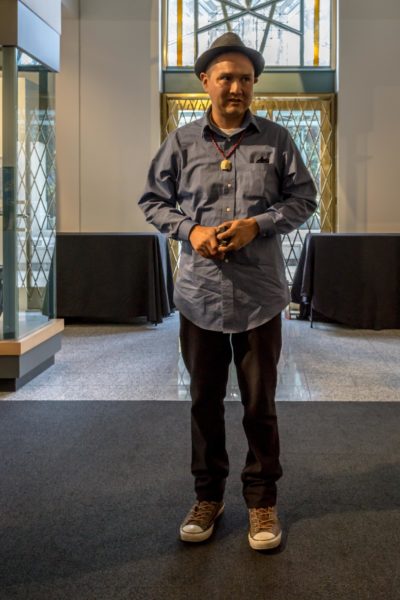 Ostwelve (Ronnie Dean Harris) born in the Sto:lo territory of the Fraser Valley, is a performance artist and videographer who produced a video for this exhibition. To create it, he went and sat at his grandparents' places and talked about what he understands about his indigeneity. He says that the Coast Salish have had a difficult time placing themselves in this world but that now they are finding their space and will decide what they believe.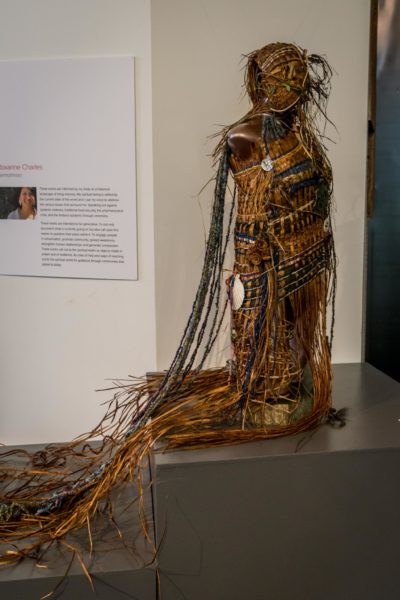 Also included in the exhibition is Roxanne Charles, of the Semiahmoo tribe, whose fibre weaving and other installations speak to the issues of indigenous women, including those who are missing and those affected by the fentanyl crisis.  "Silently Suffocated" is pictured above.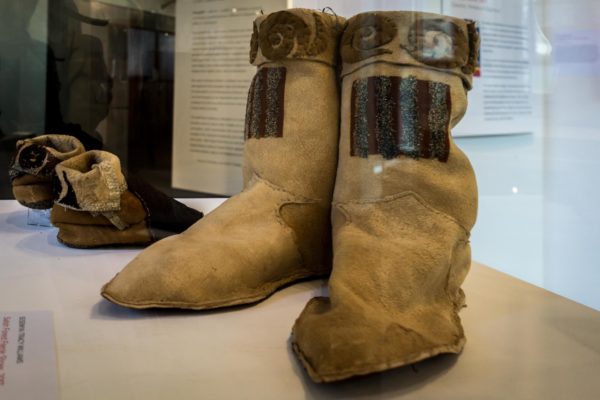 Tracy Williams (Sesemiya), a well known Squamish weaver, experiments with traditional materials, including fish skin, to create beautiful objects such as these Faerie Shoes, as she works to preserve aboriginal traditions and pass them on to the next generation.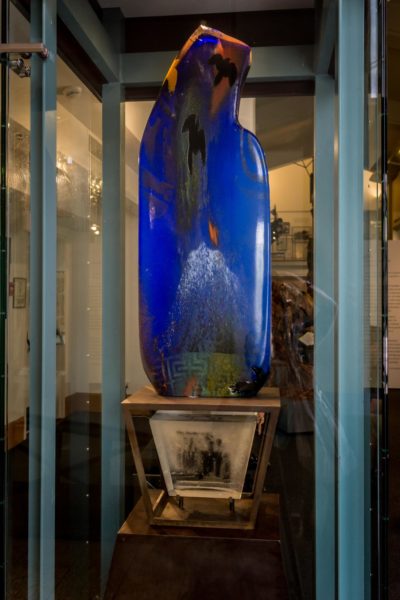 Marvin Oliver, of Quinault/Isleta, is a sculptor who works in many mediums and has chosen three blown glass pieces for this exhibit.   His towering Spirit Board is immersed in tradition, but extremely modern as well.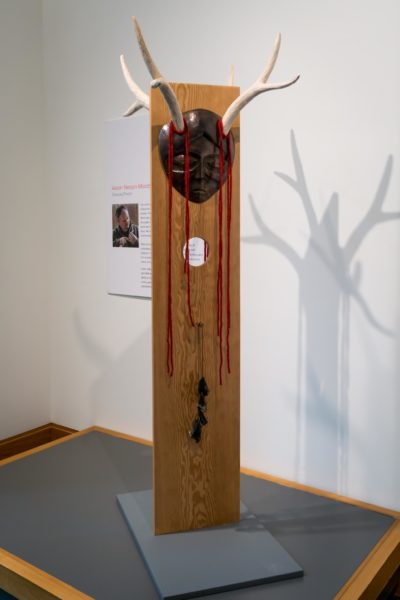 Aaron Melson-Moody (Tawx'sin Yexwulla), of the Squamish nation, is a master jewellery maker. His contribution to "Intangible" is called "One Bullet" and tells the story of his grandfather, whose family had no food, and only one bullet left.
This engaging and thought provoking exhibition will be on display at the Bill Reid Gallery (639 Hornby Street; Vancouver) from September 13 – December 10, 2017.
For more information, check the website:  Bill Reid Gallery