Winemaker Phil McGahan and the CheckMate Team are well into the 2017 Harvest and Vintage.  We have begun with Chardonnay from our eastern vineyards on Osoyoos Lake Bench and Black Sage Bench which will become Capture, Knight's Challenge and Little Pawn.  Our grapes are hand-picked at night, chilled, hand sorted and gently pressed to preserve the quality of the pristine fruit. 
2017 Fall Harvest Dinner
Join Winemaker Phil McGahan for our premiere Fall Harvest Dinner, Saturday, September 30, 2017.  This unique dining experience will take place in The Installation, our bespoke tasting room, designed by Seattle based Starchitect Tom Kundig.
Enjoy our Chardonnays and Merlots in this intimate space amongst the autumn colours, paired with a four-course farm to table dinner created by Joy Road Catering.
Dinner begins at 6:00 pm
Upcoming Events
We are excited to share our 2014 Merlots with you later this fall.  Stay tuned for Merlot Launch events in your area.  Don't forget to follow us on social media for the latest news, harvest updates, and upcoming events.
@checkmatewinery on Instagram and twitter, also on Facebook
The Installation Tasting Room is open 10:30am to 6:00pm daily through the Fall Season.  Reservations are appreciated email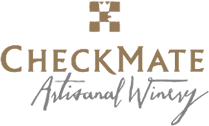 CHECKMATE ARTISANAL WINERY
4799 WILD ROSE STREET, OLIVER, BC CANADA, VOH 1T1
T: (250) 707-2299
E: info@nullcheckmatewinery.com