I just enjoyed the most unique, entertaining theatre! Murder on the Improv Express – A Killer Comedy!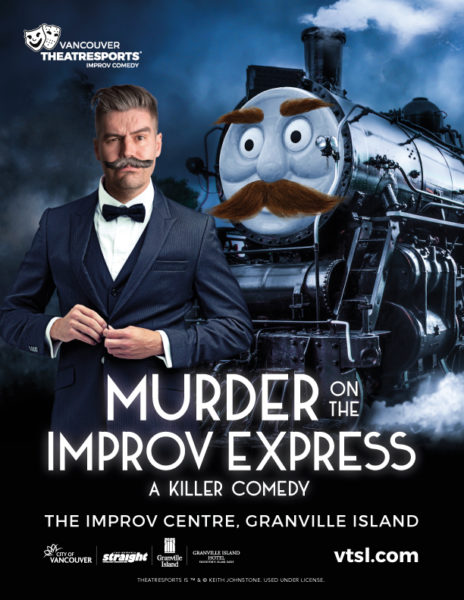 Since 1980, Vancouver TheatreSports™ (VTSL) has entertained an average of 60,000 people a year, 11 performances a week, 52 weeks a year. 
I was not one of those who had attended. 
Fear of the unknown, of possible embarrassment, and stepping out of my comfort zone had caused me to choose more classic theatre. 
This year, I finally attended a performance of Murder on the Improv Express – A Killer Comedy. I was amazed, entertained, delighted, and thrilled by and with the whole experience.  
From the moment you walk into the wonderful facility in a picture-perfect setting on Granville Island and relax pre-theatre with drinks in the Neil MacRae Bar and Lounge, you are surrounded by decorations that evoke Hercule Poirot. 
Clever quotes from Agatha Christie's character hero are used on vases in the bar and restaurant and similar wall posters. Inside the theatre, a vintage film clip identifies people and places onto a screen.  
One does not need to have read or seen Murder on the Orient Express to enjoy this unique trip across Canada. 
Improv uses suggestions from the audience to create the character and setting details. The descriptions come thick and fast and cruelly from people hoping to make it as difficult as possible for a skilled cast. 
This allows a trip to be different each and every time. Sometimes you have a young boy who cannot close his mouth and you admire his ability to successfully maintain this disability and attempt his lines or an aging movie star with a crazy byline or a burlesque dancer with a shady past or even a deposed Communist party member dealing with a gummy bear salesman. Throw in a clever detective attempting to solve the murder and laughs are non-stop. 
A volunteer from the audience died for us so we could relax and enjoy!
Stars Pearce Visser, Margaret Nyfors, Denise Jones, Angela Galanopoulos, Andrew Barber, and Allan Morrison as Hercule created the successful company of "strangers" on the journey. 
The company not only entertains but also teaches and trains aspiring improv performers.  They are an integral part of the theatre community in Vancouver. I am sad that I have not attended before, but will definitely be back. 
Please try to get to Murder on the Improv Express – A Killer Comedy, running to May 26, at the Improv Centre on Granville Island.