Anoushka is the daughter of the late Ravi Shankar. She began playing sitar with her renowned father at the age of nine and has appeared with him on stage many times. Anoushka released her first solo album when she was just seventeen years old. She fuses her traditional Indian music with western influences. Anoushka has also collaborated and played with musicians as diverse as Jethro Tull, Philip Glass, Nitin Sawhney, Sting and Nora Jones (her half sister).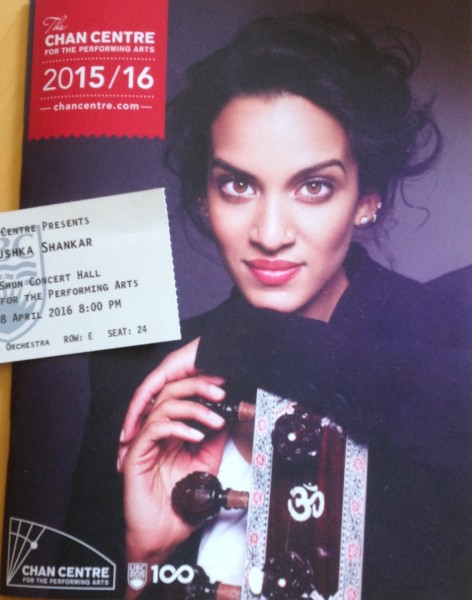 Anoushka was in Vancouver to perform songs from her new album, Land of Gold, which was inspired by the recent refugee crisis and the plight of refugees around the world. The music is her way of expressing her reaction to what she saw in the world around her. It must have been a very cathartic process given the masterpiece she has created. With titles such as Boat to Nowhere, Reunion, Dissolving Boundaries, Last Chance and Crossing the Rubicon and others, it was clear to see how she felt. Anoushka told the audience how proud she was of Canada's response to the Syrian refugees.
I sat in the theatre mesmerized as the music transported me to faraway places. Spellbound, I closed my eyes and was carried away on a journey of the mind. The haunting music seemed to stir deep emotions as if memories from a past life. During some songs, Anoushka's nimble, lightening fast fingers flew up and down the fret board and at times, it was if one instrument was racing against the others in a frenzied race to the finish line.
You cannot help but be moved with music like this that evokes one emotion after another, hope, love, sorrow and loss. At times the music is soft, floating and almost mystical. Sometimes, wailing and steeped in desperation. Other times it is majestic, instilling the listener with hope and redemption. The interplay between the percussive rhythms, the ethereal sitar and the melancholy shehnai was hypnotic.
Anoushka's music seems to be grounded in nature; sounds that evoked raindrops on a pond or the wailing of an aching heart. I could feel the tension as it built between the tug-o-war call and response of one instrument to another.
At times, the music was haunting, intense and riveting. Later, soothing and reassuring as it wrapped you in a beautiful embrace that you didn't want to end.
In the second, post intermission, half, her music was more uplifting and it painted pictures that reminded us that hope was not lost. After a thunderous standing ovation, the musicians were brought back to the stage for an encore. "Say Your Prayers" was a lullaby that was both soothing and dreamy.
The evening was an emotional journey and one could not help but be moved. No wonder it was a sell-out concert.
The instrumental quartet was composed of Sanjeev Shankar playing shehnai (oboe like horn) and tanpura. Co writer Manu Delago playing percussion and the hang, a steel drum-like instrument that resembles two clamshell woks. Tom Farmer was on acoustic bass and piano.
The Chan Centre, which holds just over 1300 people, has excellent acoustics. The sound is near perfect and there is not a bad seat in the house. You are wholly engaged in the experience and it is hard not to be overwhelmed. The Chan Centre is simply one of the best places in Vancouver to see and hear a concert of any type.