Award-winning Bartender to Showcase Top-shelf Local, International Spirits in Cocktail Program That Complements Restaurant's High Standard of Food and Service
Boulevard Kitchen & Oyster Bar has added another industry all-star to an already well-established front-of-house roster by naming JS (Jean-Sebastien) Dupuis to the role of Beverage Director.
Originally from Quebec, Dupuis headed west to Whistler in 1999 and spent more than a decade as a mainstay on the resort town's hospitality scene in the roles of Bar Manager at Garfinkel's and Beverage Director at Bearfoot Bistro. In 2011, Dupuis relocated to Vancouver to oversee the beverage program at Tableau Bar Bistro and was part of the opening team at Homer St. Cafe and Bar where he presided as Bar Manager before joining Charton-Hobbs Inc. in a sales and promotions role in 2014.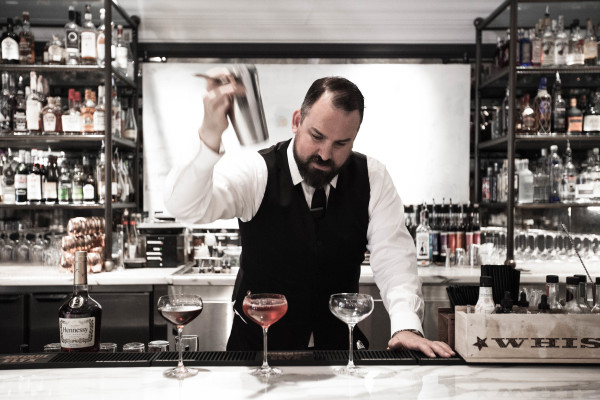 Dupuis, who takes the reins of the Boulevard beverage program from Justin Taylor — who helped open the doors of the restaurant in 2014 — is an award-winning bartending talent in his own right, having won Bearfoot Bistro's Belvedere Vodka Bloody Caesar Challenge in 2012 and the title of Bombay Sapphire's Most Imaginative Bartender BC in 2013.
Dupuis lends his talents to a powerhouse front-of-house team at Boulevard that includes accredited sommeliers Steve Edwards (Director of Operations) and Brian Hopkins (Maître d') as well as Service Manager Nicholas Bertoia.
"I'm looking forward to putting my own twist on an already solid cocktail program at Boulevard and continuing to complement the high calibre of food and service that we pride ourselves on here," says Dupuis. "I'm privileged to have the opportunity to work with so many top-shelf products and am truly excited to join an amazing team of industry professionals."
For the latest news about Boulevard, register for the restaurant's e-newsletter at www.boulevardvancouver.com, become a fan of /blvdyvr on Facebook or follow @blvdyvr on Twitter and Instagram.
ABOUT BOULEVARD KITCHEN & OYSTER BAR | Located at the iconic Sutton Place Hotel in the heart of downtown Vancouver, Boulevard Kitchen & Oyster Bar provides a unique showcase for the culinary vision of Executive Chef Alex Chen. With an innovative approach that blends a respect for the past with a celebration of the present, Chen's seafood-focused menu is grounded in classical technique and training, while artfully infusing casual West Coast flair and creative hints of his international influences. Paired with exceptional service, a wide-ranging selection of wine and cocktails and true European ambiance in a traditional-yet-modern setting, Boulevard offers breakfast (6:30 to 11 a.m.), lunch (11 a.m. to 4 p.m.), dinner (5 to 11 p.m.) and late night service until 1 a.m. seven days a week, as well as weekend brunch from 11 a.m. to 3 p.m. and Happy Hour from 3 p.m. to 6 p.m.
845 Burrard Street, Vancouver, B.C. V6Z 2K6 | 604-942-2900 | www.boulevardvancouver.ca