Look out Vancouver, Che Malambo is coming to town! This powerhouse all male company of 14 dancers brings their wonderfully wild spectacle of drumming and foot stamping dance, for one night only, to the Vogue Theatre, May 20 2016! Vancouver is just one of the stops on Che Malambo's first North American tour. You can see some video footage of the company here.
Win two tickets for May 20th – leave a comment on this page
Caravan World Rhythms, in collaboration with New Works, presents  Che Malambo, fiery Malambo traditions and virtuosic dancing in an exhilarating and entertaining show perfect for the entire family!
Argentine dance company Che Malambo excites audiences through  precision footwork and rhythmic stomping, drumming  of the bombos, and singing and whirling boleadoras (lassos with stones on the end). Presenting a thrilling percussive dance and music spectacle, the company's work celebrates the unique South American cowboy tradition of the gaucho. This powerhouse all-male company of 14 gaucho is directed by French choreographer and former ballet dancer, Gilles Brinas.
Danced solely by men, the Malambo began in the 17th century as competitive duels that challenged skills of agility, strength, and dexterity among the gaucho. It soon evolved to include its hallmark zapeteo, the fast-paced footwork inspired by the rhythm of galloping horses. In addition to zapateo, Malambo features the drumming of traditional Argentine bombos and whirling boleadoras, a throwing weapon made up of intertwined cords and weighted  with stones.
Renowned dancer and choreographer, Gilles Brinas performed with prestigious dance companies throughout Europe including Ballet de l'Opéra de Lyon and the Ballet of the Twentieth Century, founded by Maurice Béjart. In addition to founding the Ballet DEA in 1979, Brinas has choreographed works for Beinnale de la Danse. Amongst his many honours are awards from the Bagnolet competition and the Charles Oulmont Foundation.
Founded in 2000, Caravan World Rhythms provides high quality, engaging live cultural entertainment with artists from a diverse range of cultures and backgrounds from Canada and around the world.
Choreographed by French choreographer Gilles Brinas, former dancer with Maurice Béjart's Ballet of the Twentieth Century, Gilles saw some dancers performing Malambo in Europe, and was so taken with the dance form he immediately flew to Argentina to investigate. And so began Che Malambo!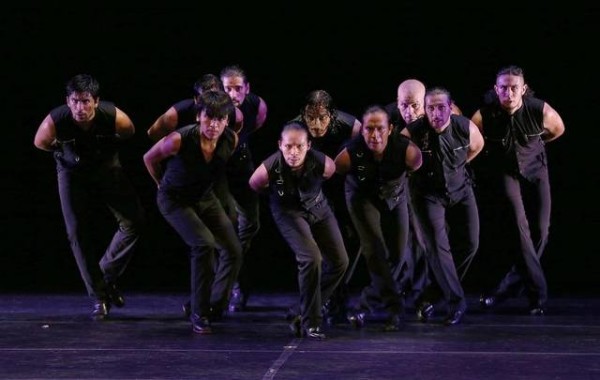 "Fourteen stomping, drumming, roaring men pounded rapid-fire rhythms into the ground with many surfaces of their feet … with spinning boleadoras, floor-skimming stones attached to lassoes… a rousing group spectacle!" New York Times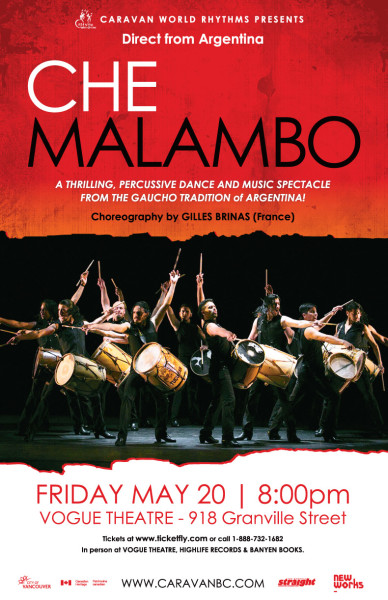 Vancouver has not seen anything like this – audiences thrilled at Che Malambo's rousing performance at New York City Center's Fall for Dance festival in 2015. You can check out some video footage here.