Just because it looks Italian, doesn't mean it is Italian!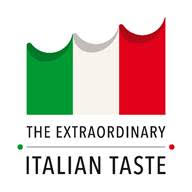 Italian food heritage is unique in the world for its wide range, variety and quality excellence. The production processes and distinctive areas of origin which characterize the Italian food and wine products have become their essential and remarkable elements.
Unfortunately, misleading names and marketing phrases misinform consumers around the world who often end up buying products with labels, phrases, images or brands that evoke Italy or that resemble authentic Italian products but actually have not been made in Italy or produced in Italy from Italian ingredients.
In Canada, for example, consumers spend $3.6 Billion on food products with images and brands that look or sound Italian whereas they spend just $950 Million on actual authentic Italian agri-food products.
"The Extraordinary Italian Taste" project, promoted by the Italian Ministry of Economic Development and developed by the network of Italian Chambers of Commerce in North America (along with many other relevant partners), is part of a national campaign which main goal is to promote awareness about the authentic and certified Italian agri-food products among consumers and food professionals.
Italy is the country with the largest number of officially certified food & wine products; along with 523 wines certified as DOC, DOCG, IGT, there are 275 food products certified as DOP (PDO, Protected Designation of Origin), IGP (PGI, Protected Geographical Indication) or STG (Traditional Guaranteed Specialty).

"Within the project, our main goals for 2016-2017 are to educate the Canadian consumers about the unique characteristics of authentic Italian DOP and IGP products" explains Giorgio Puppin, Executive Director of the ICC in Canada West. "At the same time, we'd like to develop and strengthen the presence of Italian quality products in the Western Canadian market."
Project's activities will be implemented during the next 12 months through a series of initiatives such as Trade Missions, Educational Tours to Italy, Masterclasses for food professionals and students, Cooking Demonstrations, Culinary Events.
A series of Media Dinners are scheduled for June and November 2016. Journalists and media professionals are invited to dine in some of the 13 restaurants in Vancouver awarded with the "Ospitalita`Italiana" trademark. 
Ospitalita Italiana' is a complimentary, voluntary and yearly renewable certification process which highlights the importance of the quality and authenticity of Italian Restaurants around the world.
Dinners feature only DOP and IGP Italian products. 
General public will have the opportunity to taste these special menus during the week following the Media Dinners.
For additional details about the program, please contact: francesca@nulliccbc.com / 604 682 1410.
How to get in contact with us:
#ExtraordinaryItalianTaste  #ItalianTaste