The night was cool but that didn't prevent the throng of foodies from enjoying the delectable bites on offer at this year's Fresh Fest. Fresh Fest is the signature event of the BC Shellfish and Seafood Festival, and for good reason. The line-up of chefs was amazing and the dishes nothing short of spectacular.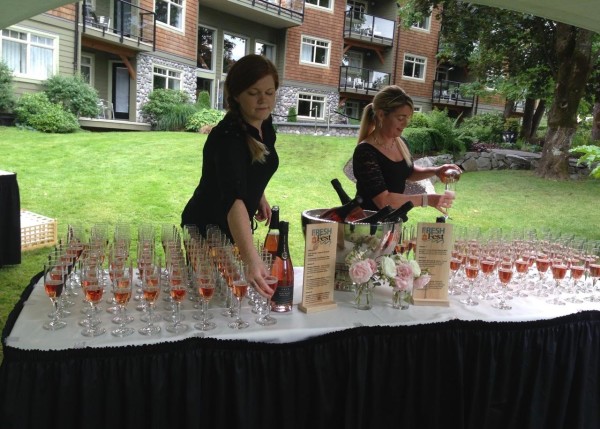 • Chef Ned Bell – Founder of Chefs For Oceans / Yew Restaurant, Four Seasons Hotel, Vancouver
o  Ned Bell's famous Coho Salmon Mini Burger  – served on a sesame brioche bun with fennel, lime & vanilla mayo
• Chef Ronald St. Pierre – Locals Restaurant, Courtenay
o Pan Seared Sablefish Salad  – Pattison Farms & Eatmore Sprouts organic spring greens mixed with
Bates Beach Farms fresh strawberry, basil salsa & Cider Press organic apple cider vinaigrette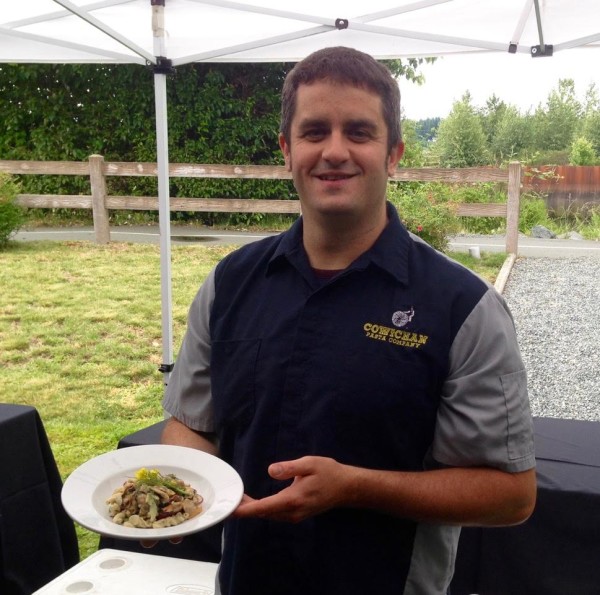 • Chef Matt Horn – Cowichan Pasta Company, Cowichan Bay
o Marinated Mussels & Clams  – tossed with Khorasan Gemelli Pasta, early summer vegetables & Tree Island Yogurt herb vinaigrette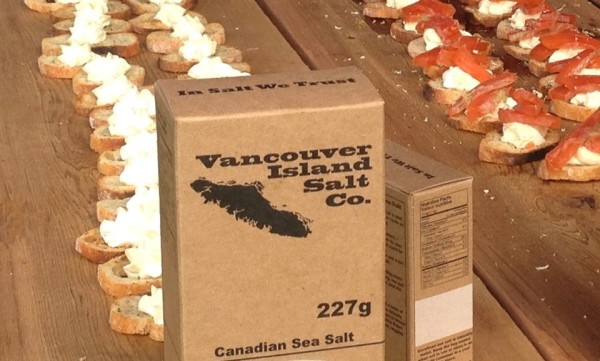 • Chef Andrew Shepherd – Vancouver Island Salt Company, Cobble Hill
o B.C. Steelhead Gravlax  cured with Vancouver Island sea salt – served on an ancient grain wood fired crostini with a tequila, lime infused cream cheese & seasoned with local hazelnut oil & fresh pepper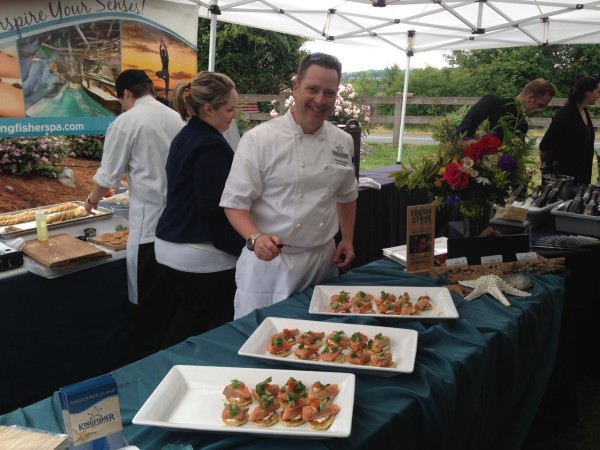 • Chef Nyle Petherbridge – Kingfisher Oceanside Resort & Spa, Courtenay
o Cold Smoked Organic Chinook Salmon
o Champagne Cured Salmon Roe  – served on a blini with crème fraiche
• Chef Nathan Tymchuck – Steamship Grill & Bar, Victoria
o Sturgeon Mousse – lightly smoked sturgeon wrapped in vodka infused cucumber with chive foam and garnished with sturgeon caviar
• Chef Siddharth Choudhary – Siddhartha's Indian
Kitchen, Vancouver & Chef Laura Gosnell – Clandestine Dining, Vancouver Island
o Coastal Coconut Barbequed Salmon Delight  – Cumin and cilantro marinated BBQ salmon, served with steamed rice cake on a banana leaf & drizzled with a mustard coconut dressing
• Additional menu items will include:
o Shucked Oysters – served with condiments
o Hardy Buoys smoked salmon
The lawn of the Old House showcased the talents of the province's top chefs and featured B.C.'s farm-raised seafood paired with B.C. VQA wines.
As the largest of its kind in Western Canada, the BC Shellfish and Seafood Festival is celebrating ten years with the greatest offerings of events to date. From June 9th through 19th attendees can participate in 11 days of chef demonstrations, gala dinners, educational seminars, aquaculture tours, and more – showcasing the best of B.C.'s seafood industry, producers and its bounty.
For more information visit BCShellfishFestival.com.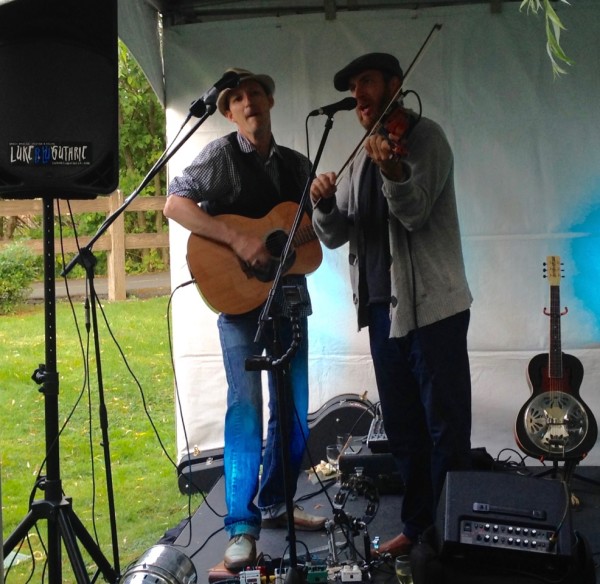 Vancouver Island's talented Luke Blu Guthrie entertained the crowd with live music.
The gourmet grazing event has become one of the favoured of the entire Festival and rather than just tell you about the dishes and the wine pairings I think the pictures speak for themselves.