RIDER'S GALA
An evening of music, food and fundraising in support of the Sumac Ridge Riders Ride to Conquer Cancer team!
We invite guests to join us June 23 for our RIDER'S GALA at Federico's Supper Club in Vancouver.
An evening of music, food and fundraising in support of the #SumacRidgeRiders on The British Columbia Ride to Conquer Cancer team. Bring a full wallet and your generous spirit for loads of great silent auction prizes, 50/50 draws and an amazing wine auction.
Join our team and help us achieve our $100,000 fundraising goal! 100% of the funds raised from the evening will be donated to BC Cancer Agency to fund leading-edge cancer research. Your generous donations will have a direct impact in improving cancer care for those in our community and across the province of BC.
Tickets $60 – Includes two glasses of wine, delicious Italian fare (food stations and passed canapes), and live entertainment by Federico himself!
Key Note by Robyn Murrell-Jones of the BC Cancer Foundation
**Price includes all taxes, tips & fees**
Tickets: https://www.eventbrite.ca/e/riders-gala-tickets-24758602647
WHEN
Thursday, 23 June 2016 from 6:00 PM to 11:00 PM (PDT) – Add to Calendar
WHERE
Federico's Supper Club – 1728 Commercial Drive, Vancouver, BC V5N 4A3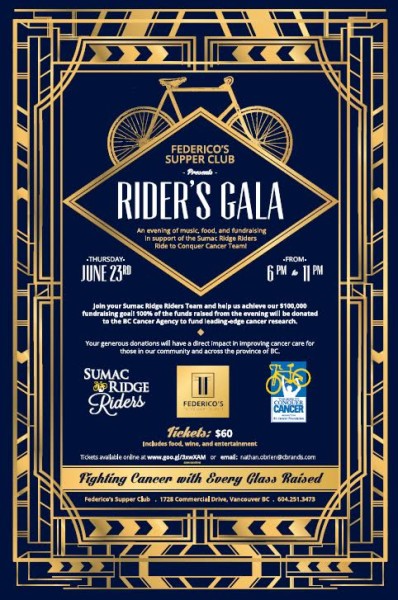 We are a team of 21 dedicated men and women, the SUMAC RIDGE RIDERS, who are inspired to ride for many friends and loved ones who have been affected by cancer. Cancer affects us all, and we are doing something about it. We have HOPE and are riding for a cure in our lifetime – we want to be a part of this journey!