Whether it's the Vesper Vodka Martini from Casino Royale, the French 75 in Casablanca or The Big Lebowski's White Russian, cocktails have played an iconic role in movies throughout the decades. The name Sex and the City immediately conjures up visions of its signature Cosmopolitan. In fact the popular movie and TV series was instrumental in the resurgence of current cocktail culture.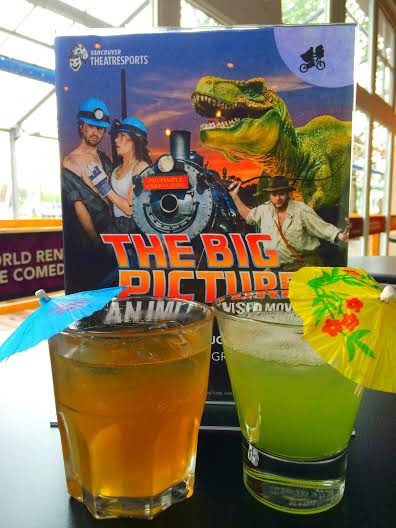 It only seems fitting that Vancouver TheatreSports™ League's (VTSL) new summer show The Big Picture – An Improvised Movie, should also have its own signature cocktails. Neil Macrae Bar & Lounge Manager Paul Belsito and Assistant Manager Alannah Wright have designed a cocktail collection that, like the show itself, pays tribute to the movies with all their glitz and glamour.
Value-priced at only $8, these limited-edition drinks are available to VTSL patrons only during the run of The Big Picture – June 30 through August 27.
Walk of Fame: "If you like film noir or films the way they used to make 'em, then this is your drink," says Belsito.  A classic creation of Johnnie Walker Red Label, Cinzano Rosso, and Limonata.
Golden Globe: This cocktail is simple, refreshing, spicy, and goes down easy. Award-winning Goldschlager liqueur, 7Up and golden flakes will make you feel like a star.
Studio Ghibli: Named for the Japanese animation studio famed for its anime feature films (five of which have received Academy Award nominations), this is VTSL's version of Japanese sangria – Gekkeikan Sake, Japanese Plum Wine, BC Merlot with a splash of San Pellegrino Orange.
Yes Oui Cannes!: An ode to international films, this drink exudes European sophistication with herbal hints of juniper berries and vanilla – Bombay Gin, Vanilla Galliano, and sparkling San Pellegrino Lemon. Delizioso!
Picture yourself sipping one of these on The Improv Centre's deck over-looking the False Creek Marina. It's enough to transport you to the Boulevard Croisette without the jet lag.
About VTSL's Neil Macrae Bar & Lounge
Tucked away at the back of VTSL's The Improv Centre on Granville Island (1502 Duranleau Street), the fully-licensed Neil Macrae Bar & Lounge is a convenient place for theatre patrons to meet for pre or post-show drinks. Patrons can also take their beverages into the theatre with them to enjoy during the performance. The Neil Macrae Bar & Lounge is open for theatre patrons Wednesday through Sunday evenings from 6:30 p.m. More information on Vancouver TheatreSports™, The Improv Centre and the Neil Macrae Bar and Lounge visit vtsl.com. 
Vancouver TheatreSports™ appreciates the support of its season sponsors: City of Vancouver, CMHC Granville Island, The Georgia Straight and The Granville Island Hotel.