Summer theatre returns to The Bernie Legge Theatre with an Alchemy Theatre and Vagabond Players co-production of William Shakespeare's The Taming of the Shrew, running from August 4th to August 21st.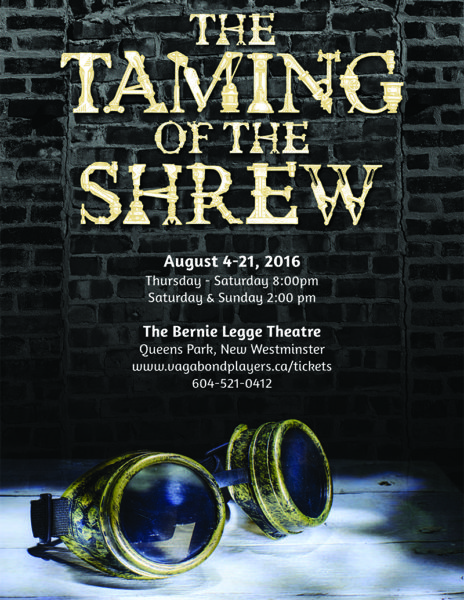 About Taming of the Shrew
In this gender swapped rendition of one of Shakespeare's most popular plays, two brothers are being married off. Bernardo, the youngest, is hell-bent on marriage and can't wait to fly the nest, while his older brother, Kristopher, balks at the thought of losing his independence and struggles to think of anything worse. While that is all well and good, there is one hitch. Kit has to marry first in order for Bernardo, who has no shortage of offers, to be allowed to wed. But who will marry Kit, the spirited and ungovernable shrew? Perhaps Petruchia might take him on for a bet; she's a gold-digger and as wild and rebellious as our Kit.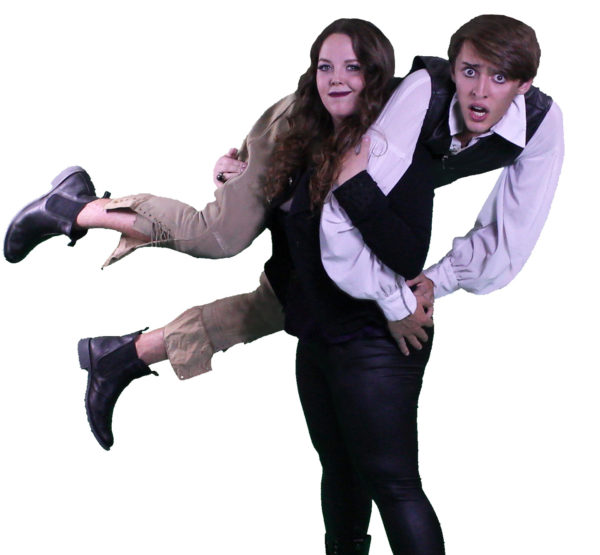 A hilarious classic with a diesel punk, gender swapped twist, this Alchemy Theatre and Vagabond Players co-production of The Taming of the Shrew stars Boris Bilic as Kristopher, the shrew, and Carly June Friesen as Petruchia, our would-be tamer. Adam Beggs plays as Bernardo, Kristopher's younger brother, who is carefully watched over by his mother, Baptista, played by Tiffany Markwart. Bernardo is being courted by Arthi Chandra, Emily Wheeler, and Carissa Gagné as Lucentia, Hortensia, and Gianna. Confusion abounds as the suitors depend on their friends, Allegra Wright as Talia, Kelsey Cunningham as Grumia, Michelle Cyr as Bernadetta, to carry out their plotting to win wagers and of course Bernardo's hand in marriage.  This stunning cast is rounded out by Meg Collins as the Pedant, Meghan Nordquist as Vincentia, mother to Lucentia, Jermey Heynan as the widower, and servants, Amy Gohen and Michelle Kerry-McKenna whom are all caught up in the chaos as the quest to tame our shrew unfolds.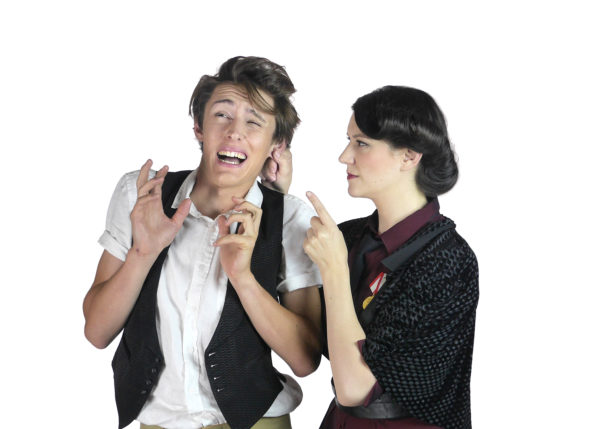 August 4th to August 21st, 2016
Thursday – Saturday at 8:00 PM and Saturday – Sunday matinees at 2:00 PM
The Bernie Legge Theatre, Queen's Park, New Westminster
Tickets: Adults – $15 Seniors/Youth – $13
$10 preview nights on August 4th and 5th at 8:00 PM
Reservations: 604-521-0412 or www.alchemytheatre.ca/tickets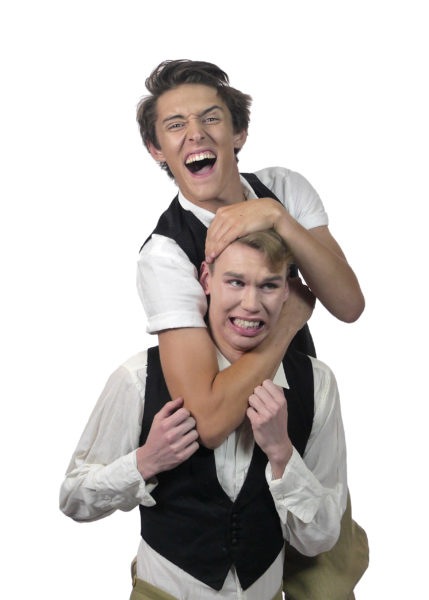 About Alchemy Theatre
Alchemy Theatre is an innovative, emergent theatre group, and the amalgamation of the talents and dedication of a group of young actors from across the Lower Mainland. Having met while working together on the Vagabond Players' production of Goodnight Desdemona (Good Morning Juliet), the group created something magical – and it wasn't just the magic on the stage. This production brought together a pool of talented actors whose chemistry was undeniable and who were drawn together through their mutual desire to produce alternative theatrical works, as well as old classics with a new spin.
After officially forming their own theatre group in the spring of 2014, Alchemy Theatre staged their summer theatre productions of Twelfth Night and A Midsummer Nights Dream at The Bernie Legge Theatre, a befitting choice since this is where Goodnight Desdemona (Good Morning Juliet) was performed. After performing the critically acclaimed Agnes of God at the Pal Theatre in Vancouver and the hilarious 3 man show of The Complete Works of William Shakespeare at the Columbia Theatre, Alchemy Theatre is once again returning to The Bernie Legge Theatre for a third time with this summer's Shakespearian production of The Taming of the Shrew.
Facebook: https://www.facebook.com/AlchemyThtr/
Twitter: @AlchemyThtr – https://twitter.com/alchemythtr
Instagram: https://www.instagram.com/alchemythtr/
Alchemy Theatre is the operating name of Alchemy Theatre Society, a registered not for profit organization in the province of British Colombia.
About Vagabond Players
The Vagabond Players is the oldest community theatre in British Columbia. The origins of the society go back to 1922 with the Unity Club at St. Aidan's Church. In 1937, the members of this club formed the current society, picking the name "Vagabond Players" to avoid their being confused with the St. Aidan's youth group and because they didn't have a permanent home for their productions. In 1950 the City of New Westminster furnished the Vagabond Players with its current home, which was a run-down former Fisheries Provincial Exhibition Building. Initially intended for theatre storage, the members of the club decided to fix the building up as a theatre, and in January 1951 the first production, Strange Bedfellows, was staged.
During the past 78 years, the Society has presented over 350 productions, including many classics and premieres of locally written plays. Several well known people have trod these boards including Dolores Kirkwood, Ed Harrington, Bruno Gerussi, Bernie Legge, and Raymond Burr. Constant improvements have been made to the theatre over the years, all done through the volunteer efforts of members of the club with assistance from the City of New Westminster. The jewel of a playhouse you see today is the result of thousands of hours provided by several generations of Vagabonds all fully committed to the theatre that they love.