Now that class is back in session, making school lunches is again part of the daily routine.  Oyama can provide plenty of inspiration, including Ham Mortadella, Turkey Lyoner, Roast Turkey, Roast Beef, and many different hams and cold cuts for sandwiches.  Our pepperonis and other snacking sausages are great sources of protein for the lunch bag too!  Here's the scoop on our upcoming events and pre-order info.
Thursday September 15th to Sunday 18th – Oyama Garlic Fest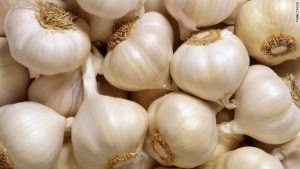 Oyama will celebrate BC-grown garlic with a variety of versatile sausages including Garlic Smokies, Garlic Parsley Toulouse, Saucisse D'Arleux with Smoked Garlic, Petit Cru a L'ail, and Basque Garlic Chorizo. We also make a wonderful Terrine Landaise just for the occasion.
Friday September 23rd to Sunday, 25th Swedish Ham Tasting, Boudin Noir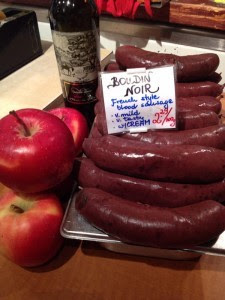 This weekend we will introduce Oyama's first-of-the-season Boudin Noir, our version of the French blood sausage. Production is limited so please contact our store to reserve yours! We'll also be offering free samples of Swedish Ham at our Granville Island store over the course of the weekend, and will start accepting Swedish Ham orders for Thanksgiving. Customers may purchase a whole ham, or just a half.
Thursday September 29th to Saturday October 1st & Thursday October 6th to Sunday October 9th – Harvest Haus at Oktoberfest
Oyama is pleased to announce that we'll be one of the vendors at this year's Harvest Haus, which is an Oktoberfest celebration at Vancouver's Queen Elizabeth Theatre Plaza. We're looking forward to selling handmade bratwurst on-site to many thirsty patrons.
Charcuterie & Wine Pairings  with Kurtis Kolt

Now that we've passed Labour Day, we're going to start seeing heartier fare at the table, and likely opening a few more bottles of red wine. Lately I've been smitten with Sandhill 2014 Estate Vineyard Syrah, coming out of Oliver in British Columbia's Okanagan Valley. Year after year, the wine is a consistent gem and this vintage is no different. From vines planted in 1997 comes a Syrah that's well-balanced with black currants, blackberry, and blueberry compote, along with a smattering of baking spices like clove and nutmeg, and just a hint of fresh sage. But what to go with it? Oyama's Rioja Chorizo is a lightly-smoked and mildly spiced, cured with plenty of Rioja red wine and garlic. The richness of the Chorizo will fit the bill with ease. No need to stop there, though. Do go ahead and try Oyama's Finocchiona, air-dried with wild fennel, red wine and garlic. That fennel will dovetail with the sage component of the wine perfectly.
You can pick up the Rioja Chorizo and Finocchiona at our counter. 
The Sandhill Syrah is available at BCLDB stores ($17.99)
Oyama Sausage Co.
1689 Johnston Street #17, Granville Island Public Market, Vancouver
Open Daily 8:30am – 7:00pm
About Oyama Sausage Co.:
John and Christine Van Der Lieck opened Oyama Sausage Co. in 2001.  Located in Granville Island's Public Market, the shop carries a wide selection of fresh sausages and handmade pâtés, as well as cured salamis and hams.  John, whose ancestry includes five generations of Dutch and German charcuterie makers, has cultivated partnerships with local farmers and suppliers to ensure he works with only the best ingredients.  He experiments with fusions between traditional charcuterie (including recipes that have been in his family for generations) and international cuisine, drawing from the rich diversity of food cultures in Vancouver to create modern and exciting flavour combinations that reflect the multicultural mosaic of the city.
Follow Oyama on Facebook and Twitter.