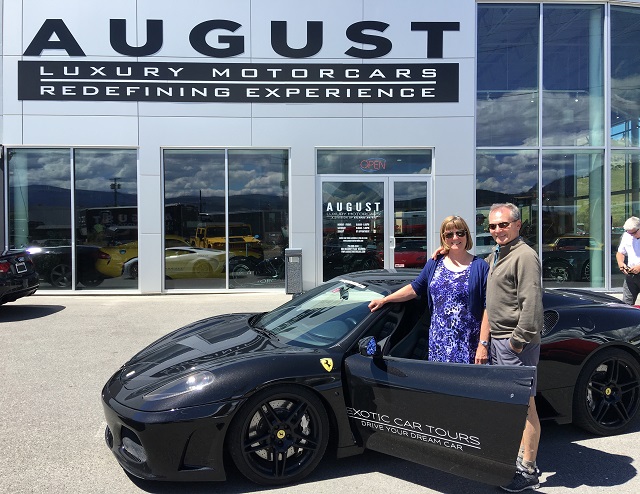 As I try to capture into words the experience of driving a dream car with August Exotic Car Tours & Rentals, I can't wipe the grin off my face. Even as my fingertips tap my computer keyboard, they share the tactile memory of the fine feel of the steering wheels of those sexy supercars. Yes, I meant steering wheels in plural because in this outstanding Okanagan adventure, we got to drive four marvelous machines. You can, too, given this seductive "self-drive" tour that lets you enjoy the journey as much as the destination is now available here in wine country.
When Kristian Sharkey arrived in the Okanagan, he noticed the options to rent luxury cars were limited and soon partnered with Matt August to create a new branch of August Luxury Motorcars. The concept takes the old idiom "where the rubber meets the road" about testing a new business model to a visceral experience tourists and locals can enjoy. It's an adult focused attraction and yet, if you think of how many children are supercar crazy, it isn't hard to imagine how exciting it would be to ride along as passenger with a parent.
For me, it was kind of like winning a lottery when Charm Casson of Beautiful Mind Marketing contacted me about August Exotic Car Tours & Rentals. I was invited to bring my husband Mark along – I can't even begin to tell you the brownie points I've earned from him – to take in the Half Day Tour, that starts at $499 per person in its introductory launch.
When we awoke to a spectacular morning in Penticton and had a gorgeous drive to Kelowna, I just knew it was going to be a great day. We arrived at the dealership in Kelowna not sure what to expect and were quickly put at ease by the professional team.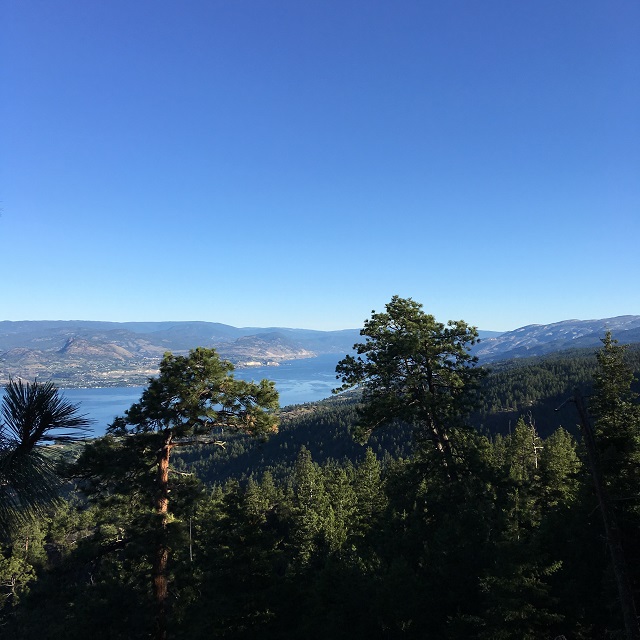 Of course, there were waivers and liability forms to fill out and it was through this process that I was mortified to learn my driver's license had just expired on my birthday. Red-faced and ready to be relegated to the passenger seat, I was blown away with how quickly the August team moved into a problem-solving mode. I was dispatched to the local Services BC branch to remedy the situation by securing my temporary license before the rest of the guests arrived.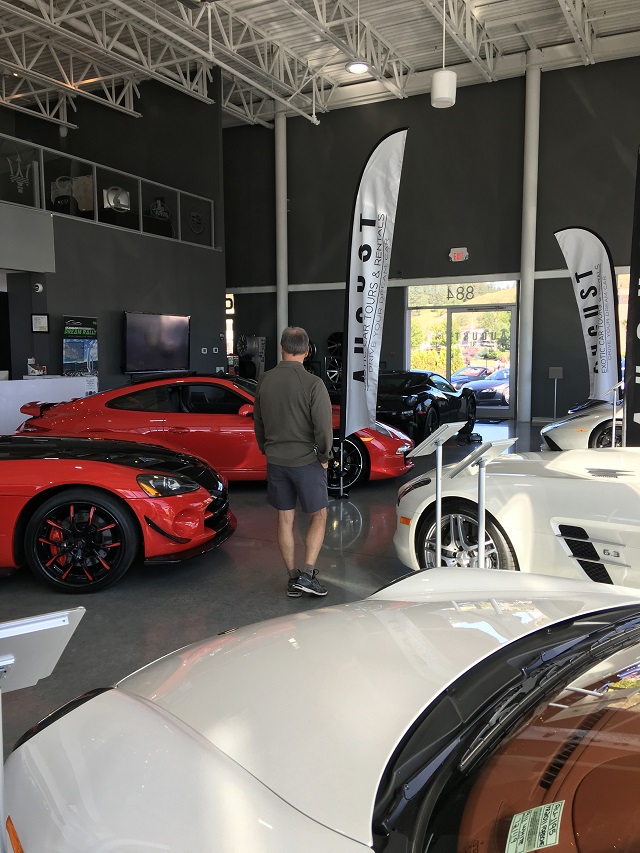 When we returned from my embarrassing detour, our exotic car tour companions Manteo Resort's General Manager Heather Schroeter, and Director of Sales and Marketing Dana Crichton, had just completed their paperwork and were ready for the vehicle orientation. In my wildest dreams, I had not anticipated checking out so closely a Lamborghini Gallardo (2012), Ferrari F430 (2005), Aston Martin Vantage Spyder convertible (2008), and an Audi R8 (2009) let alone entertained the idea of driving one.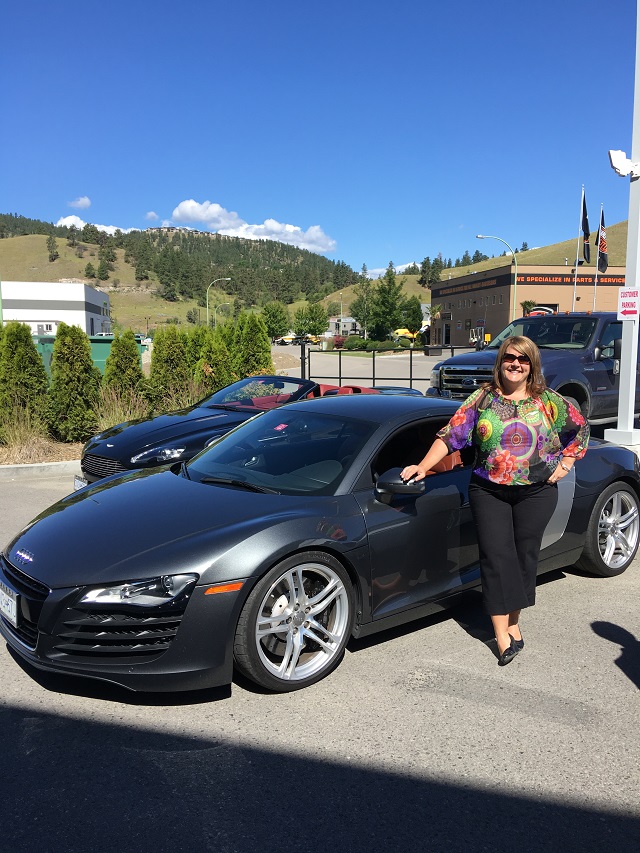 It was when I selected the Aston Martin as my first ride and my husband hopped into the passenger seat that we learned that four guests and four cars meant all of us had the option to be in the driver's seat. Ka-Ching, Ka-Ching, inside my head like the sound of a pinball machine I heard those hubby brownie points skyrocket! Once all the women had selected their exotic cars to start out the tour, Mark jumped into the Lambo.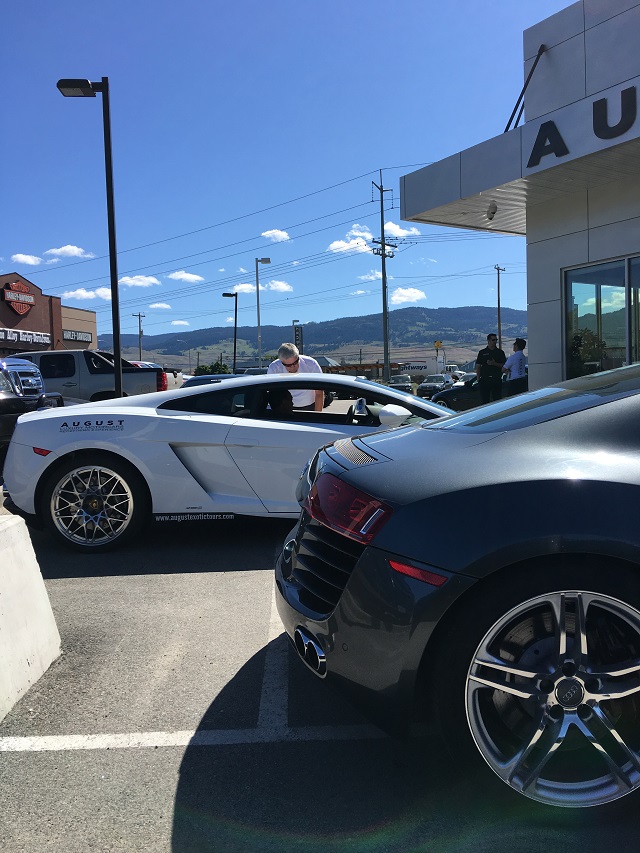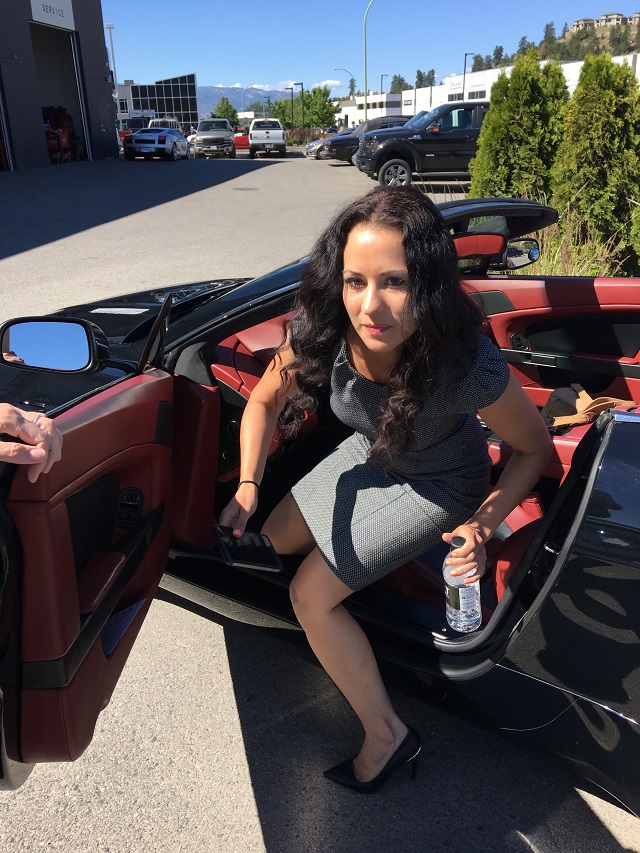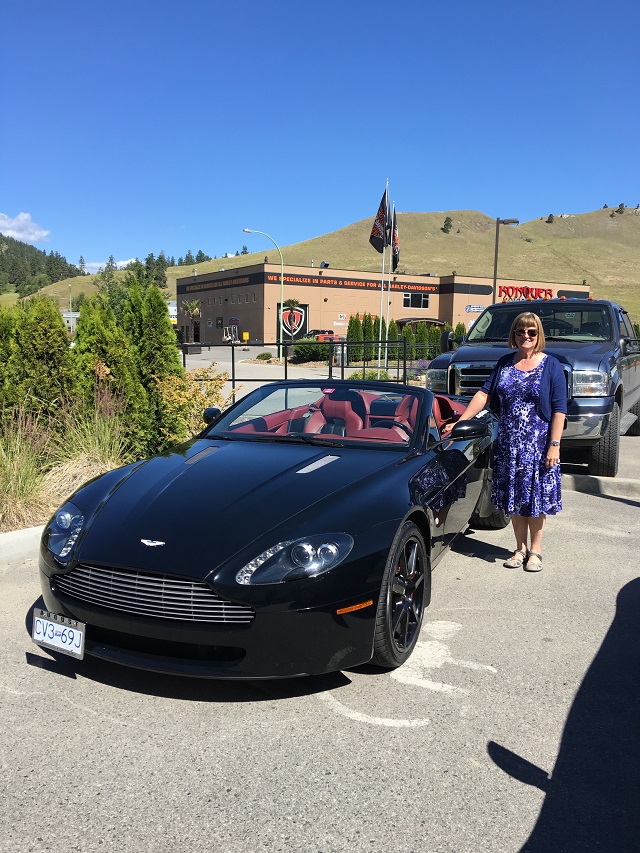 Led by a Jeep Grand Cherokee, we headed out Highway 97 to divert to the backroads of Lake Country. Instead of rubbernecking to take a closer look at hot cars going by, I found myself in the driver's seat and watched with delight as folks in other vehicles ogled our classy convoy.
If you've ever toured Okanagan wine country, you know how idyllic it is to take to the country roads winding past orchards, vineyards, and beautiful properties with glimpses of the lake. Add the roar of a supercar to that equation and it's touring on steroids.
Our first stop along the Scenic Sip area was the magnificent modernist creation that is 50th Parallel Estate where the tasting room team along with Sheri-Lee Turner-Krouzel (Co-founder of 50th with husband Curtis Krouzel) greeted us with sparkling peach non-alcoholic beverage. After an exclusive tour behind the scenes of the winery, we had the opportunity to buy, at industry discount, some of 50th Parallel's luscious vintages to enjoy later.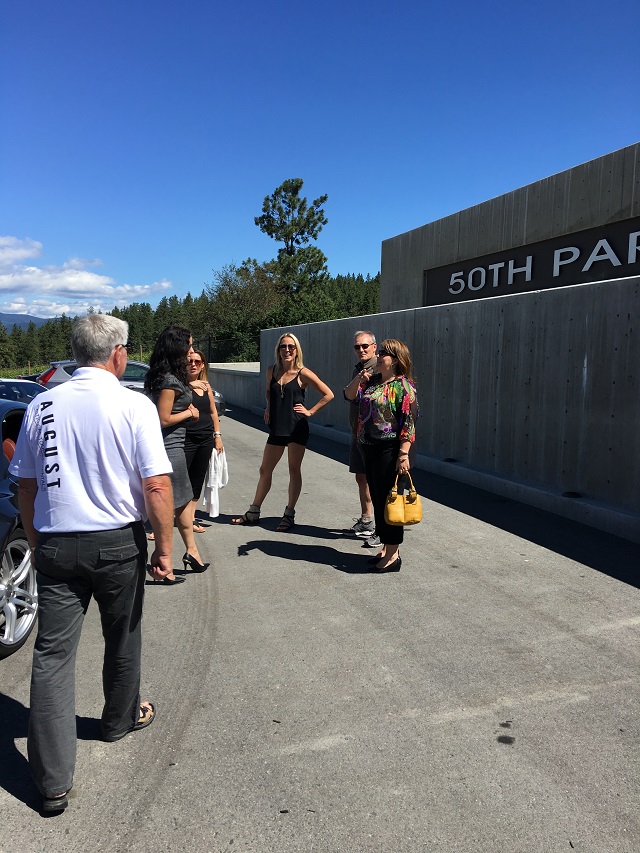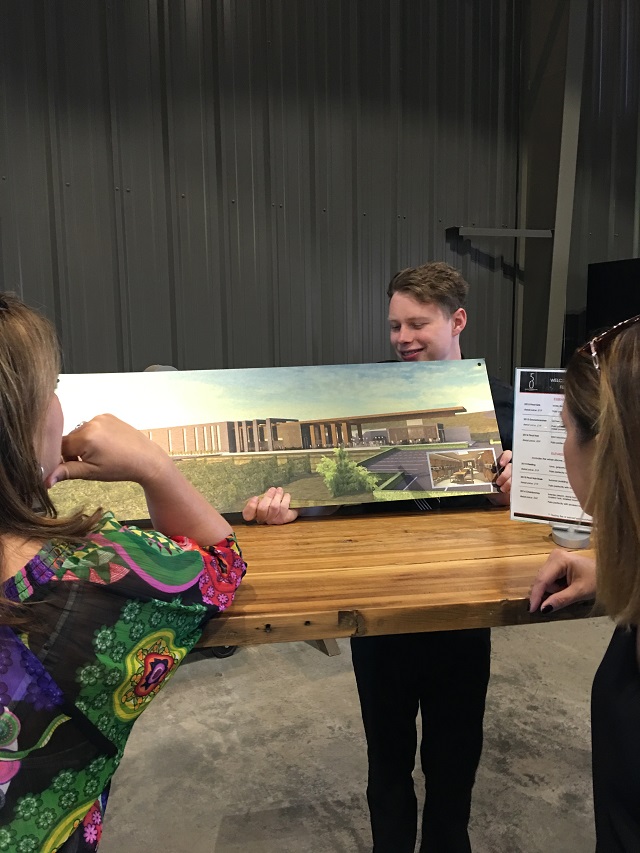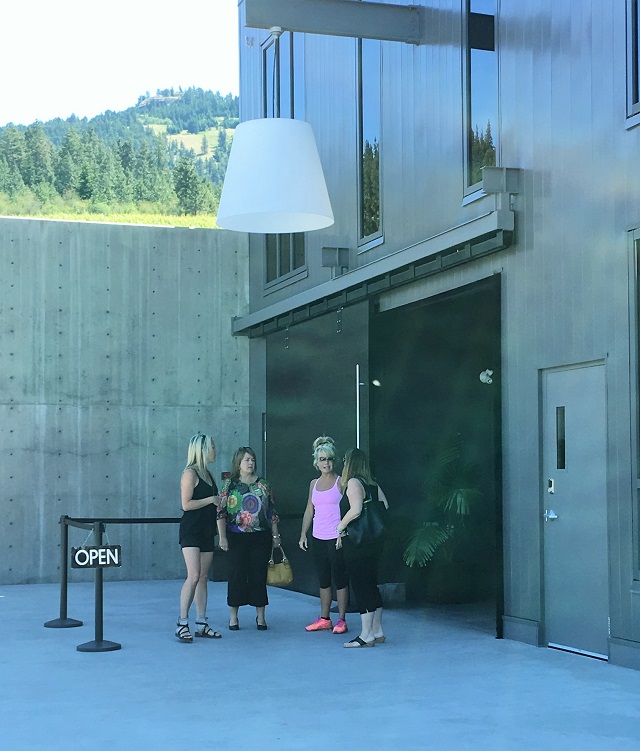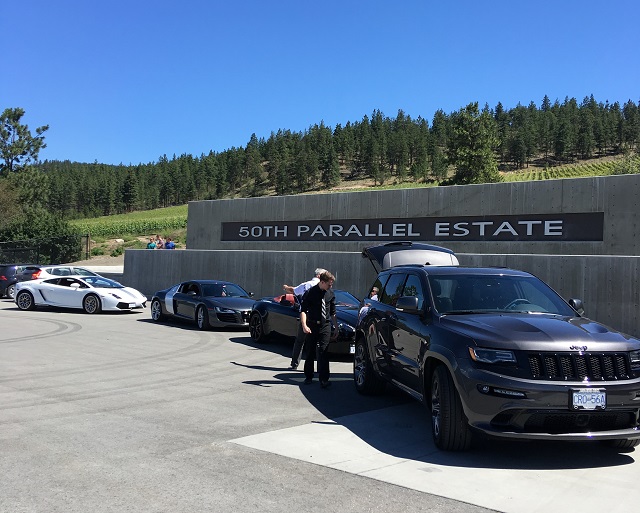 Next up it was musical chairs for grown-ups as we switched into a different sweet ride before hitting the roads less travelled to Sparkling Hill Resort & Spa. After a brief pit stop and photographic moments, we traded vehicles yet again and winded our way to Ex Nihilo Vineyards.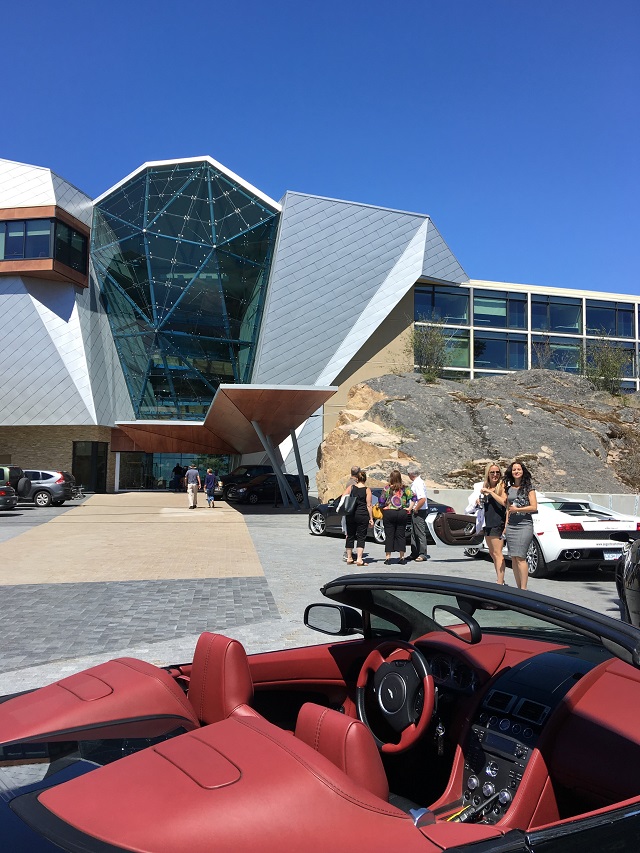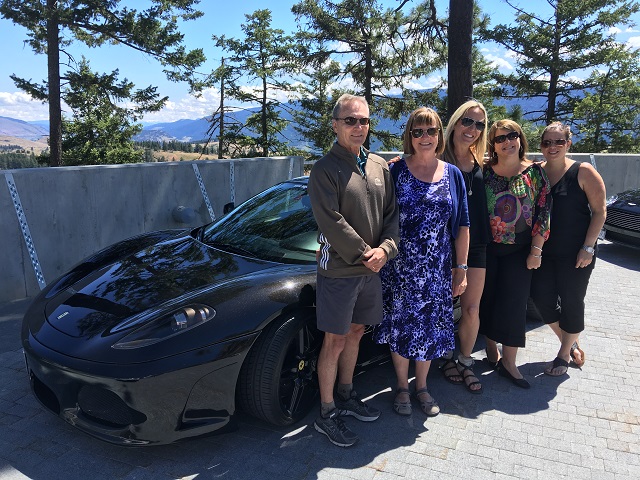 On Ex Nihilo's picturesque patio, we feasted on delectable salads and perhaps the best wood-fired pizzas of our lives from its Chaos Bistro. In addition to sharing our personal perspectives on those magical machines, it was fun to meet Decoa and Jeff Harder and be led on yet another personalized winery and cellar room tour. Once again, the delicious wines were made available to us at industry discount.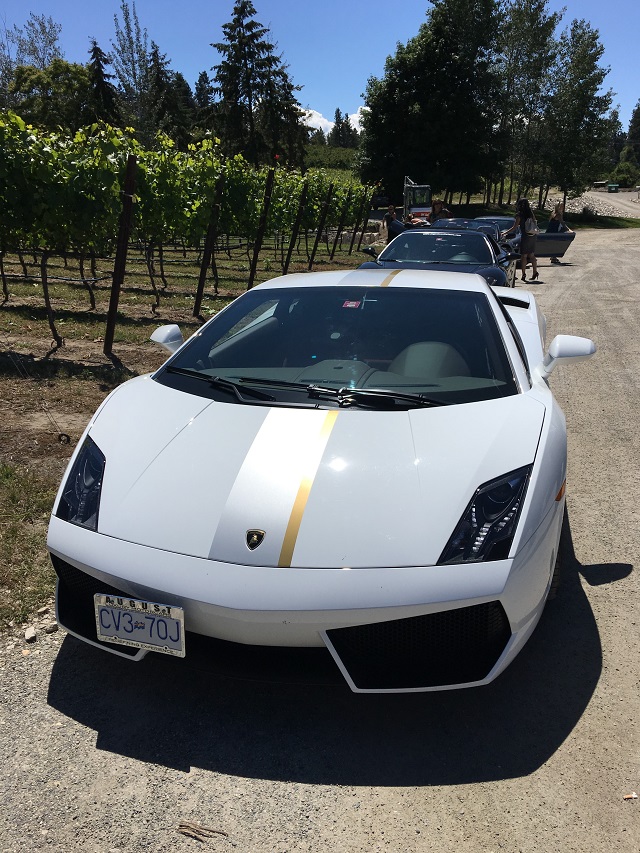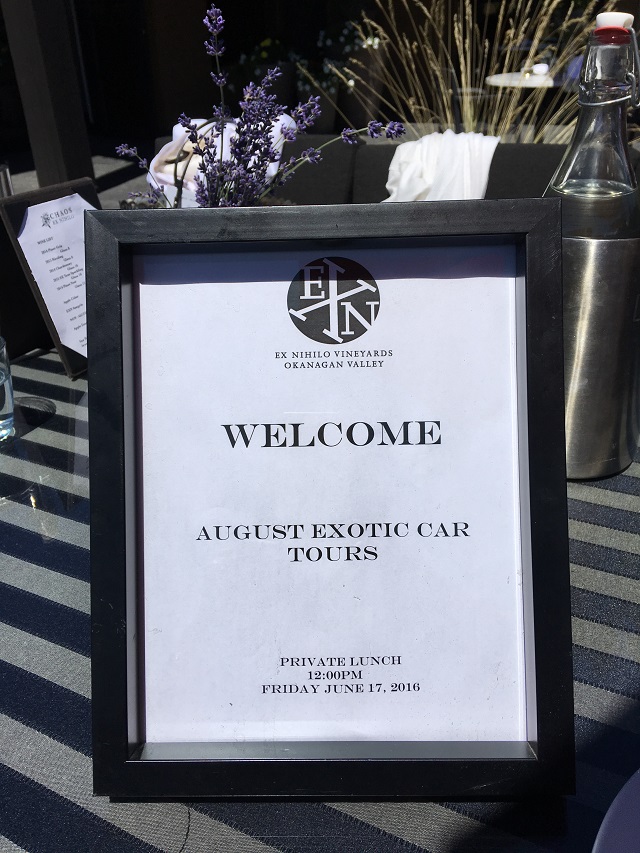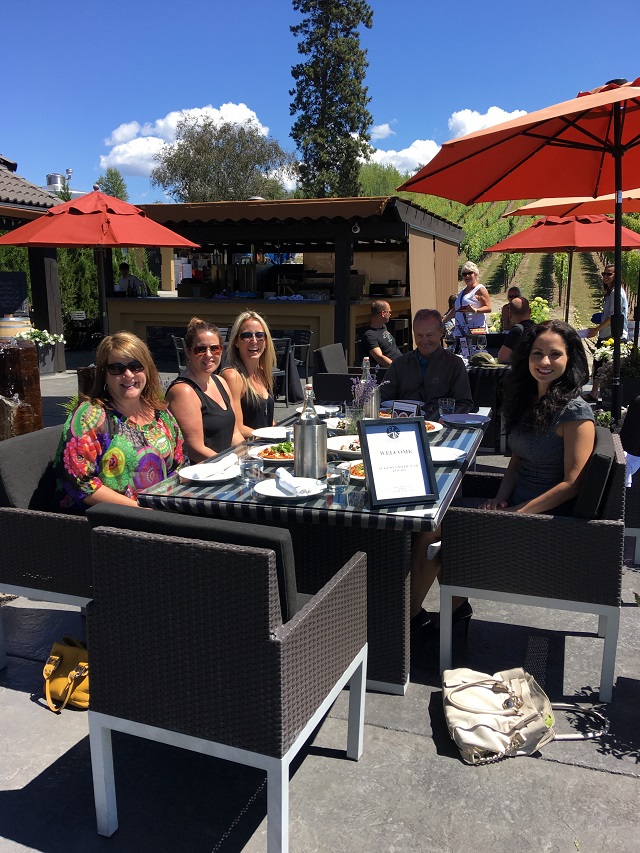 As the time to switch cars and head back into Kelowna arrived, we were torn between the excitement of driving our fourth supercar and the realization that it was the last leg of our automotive adventure. Back at August Luxury Motorcars, we lingered to capture more photographic memories, to swap stories on our motoring moments, and to declare a favourite.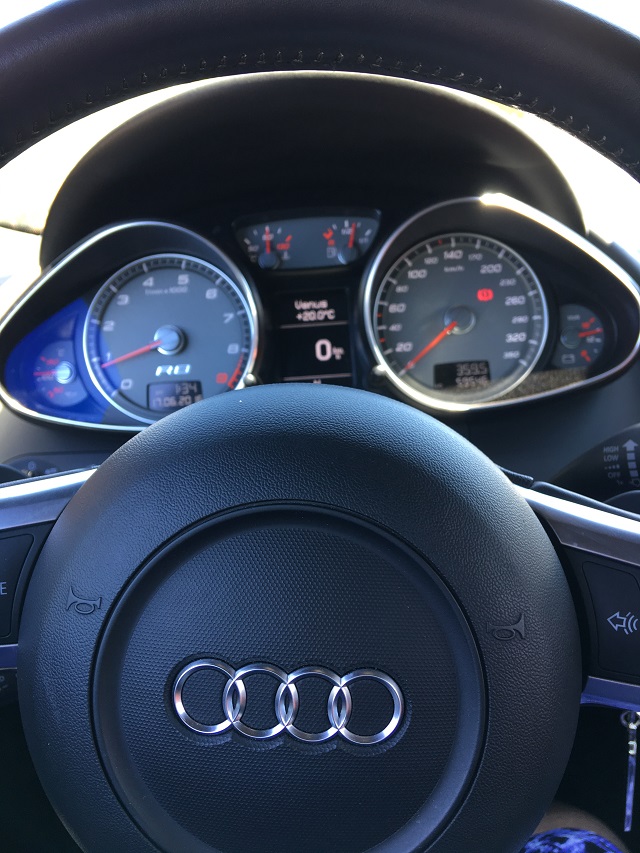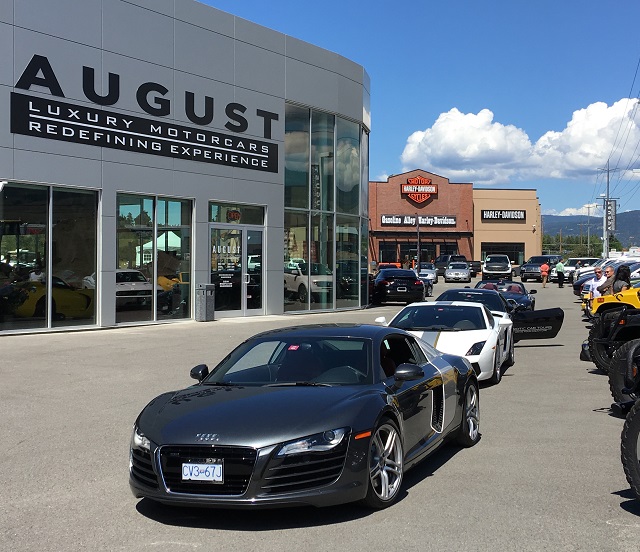 For me it was surreal as I announced the merits of each and proclaimed the Ferrari as my top ride. Just a few weeks prior, I would've seen this as purely the privilege of the ultra-rich. Thanks to this branch of August, a new option exists to drive your dream car and relish a heightened view of the Okanagan. What a perfect splurge for that special someone if you're looking for a unique way to mark a special occasion.
August Exotic Car Tours & Rentals provide several choices from hourly rentals, half day and full day tours, to packages that include a flight from destinations like Calgary, golf, helicopter touring, and dinner. Check http://www.augustexotictours.com/ for the latest prices and selections.
Rather than telling you all about each vehicle's feel and handling capabilities from my perspective, just let me urge you to drive this experience for yourself. Whether it's a once in a lifetime reward or something you can routinely enjoy as a vehicle enthusiast, you've got to try it!
–          Roslyne Buchanan