September 11 to 13, 2015 in Kelowna – Early Bird Rate to July 31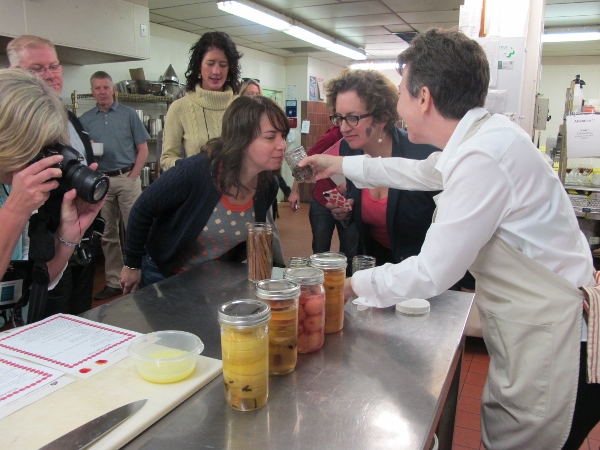 Let's get this out of the way at the outset: I am an Okanagan Food and Wine Writers Workshop (OFWWW) junkie! When I first returned to Penticton in 2009, I heard about the inaugural OFWWW too late to enrol in the entire program.
Founder and coordinator Jennifer Cockrall-King let me pay a session rate for a couple of the sessions that weren't number sensitive and then offered to have a coffee with me to bring me up to speed on the ones that I missed.
Who is Jennifer Cockrall-King
By the way, if Jennifer sounds familiar that's because you've probably heard of her before. She has been a food and culture writer for many years and established her foodgirl.ca blog before many people even knew about blogging. She contributes regularly to a number of magazines and is author of Food and the City: Urban Agriculture and The New Food Revolution, which has been translated into Korean, Japanese, and French. Her next book Food Artisans of the Okanagan (and Similkameen) is due to be published by TouchWood Editions in Spring 2016.
Those first sessions I attended that OFWWW were powerful motivators to dig deep and get writing. Even though they were held in a classroom setting, the approach was experiential and went well beyond anything you could pick up in a textbook. I was hooked.
Then there was that coffee break with Jennifer that stretched a few hours where she generously shared course notes and her perspective on the lessons. She also opened the door for me to write for Savour Magazine. A labour of love for Editor-in-Chief Chytra Brown and her husband Publisher Craig Brown, it was a gorgeous and thoughtful gourmet food magazine. It had a strong focus on the Okanagan and BC with coverage on the Pacific Northwest and was published from 2009 to 2013. Based on her recommendation, I wrote my first piece for Savour in 2010 and was in every issue until the end. As you might imagine, that freelance work was springboard for many more assignments and my approach was strongly influenced by what I learned each year at OFWWW.
Consistently since I missed that opportunity to take in the whole workshop, I have been first to register when the notice comes out to announce registrations are open. It really doesn't matter the specifics on the agenda or the credentials of the faculty. Like many conferences, it is usually held in the shoulder season either spring or fall. Based on every OFWWW I have attended, I know the experience will be invaluable.
Workshop Faculty
This year the faculty includes Marcello Di Cintio, author of three travelogue books, most recently, Walls: Travels Along the Barricades; Claudia Cusano, editor for NUVO magazine; Jill Foran, editor of WestJet Magazine; and Jennifer herself.
Past faculty includes Anita Stewart, founder/creator of Food Day Canada and senior editor of Taste and Travel Magazine; Neal McLennan, Food & Travel editor at Western Living Magazine; Julie Van Rosendaal, best-selling cookbook author and CBC radio food and nutrition personality; Nancy Wise, owner of Sandhill Book Marketing Ltd.; Amy Rosen, food editor and author; Shelley Boettcher, editor, writer and wine columnist; Curtis Gillespie, editor/co-founder of Eighteen Bridges magazine and book author; Jennifer Schell, food and wine writer, editor of BC Food & Wine Trails, and author of best-selling cookbook The Butcher, The Baker, The Wine & Cheese Maker; Scott Morrison, founder and editor of Scout Magazine; Bruce Kemp, photographer; Liane Faulder, food columnist, Edmonton Journal; Dianne Jacob, writing coach, editor and author Will Write for Food: The Complete Guide to Writing cookbooks, Blogs, Articles, Memoir, and More; Rhys Pender, wine educator, freelance wine writer, wine judge and consultant; Taryn Boyd, publishing industry editor; and more. (Even I did a session last year!)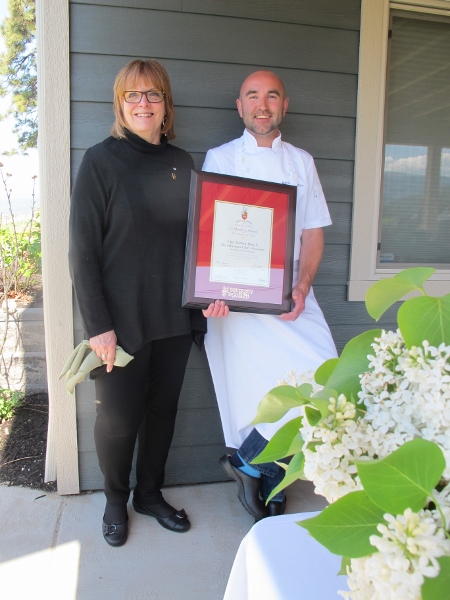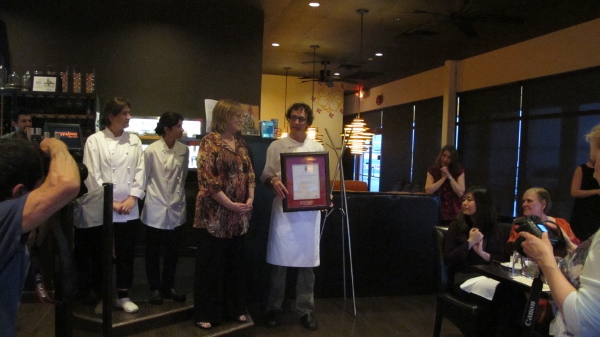 Beyond "how to"
What sets OFWWW apart from other "how to" sessions is how organizer Jennifer engages the local tourism expertise and outstanding food and wine artisans of the area. You'll learn writing and photography techniques and be provided the opportunity to exercise those skills during the workshop as you are immersed in true Okanagan wine country experiences. It's like a media familiarization trip with writing and photography coaches along for the ride to help you capture it.
Over the years, there have been outstanding sessions. Think delectable long table dinners in stunning settings or wine blending led by the principles of a winery. One year we did a hands on lesson in canning apple slices led by the nutritionist and team of BC Tree Fruits in the commercial kitchens of the Delta Grand Okanagan. How about a demonstration on knife techniques and collectors' knives by Knifewear? A bicycle tour learning all about bees at Arlo's Honey, lavender at Okanagan Lavendar Farm, then an al fresco wood-fired pizza lunch at Sunshine Farms. I can hardly wait to see what we'll do this year!
Open to writers of all levels, full registration of $750 includes all professional development sessions, incredible winemaker dinners, breakfasts, special lunches, tastings, and touring. It's worth it, just for the standard of cuisine you'll taste! Act quickly before midnight (Pacific Time), July 31, for an early-bird discount of $100.
Accommodation
Host hotels for 2015 are Okanagan gems, Manteo Resort Waterfront Hotel and the Hotel Eldorado Kelowna. Participants are eligible for special rates for "Okanagan Food & Wine Writer" and are responsible to book their own rooms for the duration of their stay. (These discounted room-blocks are available until August 12, however, room selections sell out quickly. See further details at OFWWW workshop-registration.)
In the comfort of the host hotels and through the many informative sessions and tours, you'll find your muse and be inspired to take your food and wine writing to the next level. For me, the OFWWW is always inspirational, updates me on latest writing and photography trends, and keeps me current on what's best in the Okanagan!
See you there!