Whether you've never been, or it's a while since you went to Penticton's Craft Corner Kitchen, check it out now. Owner Jonathan Cote is proud to present a fresh concept, updated menu, and new chef.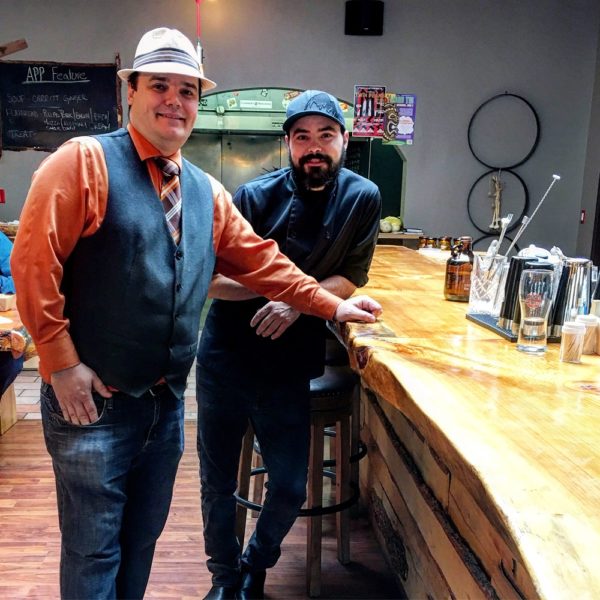 Says Cote, "While we're pleased with how we launched, we've been listening to our customers – and potential customers – and felt it was time for some changes. We're moving toward a Gastropub concept to incorporate our craft beer, local wine and cocktail program with our menu in our casual and comfortable setting."
Friend/colleague food writer Jennifer Cockrall-King*, my husband Mark, and I were fortunate to be invited recently to sample some of the menu selections and meet new Chef Ian Stilborn.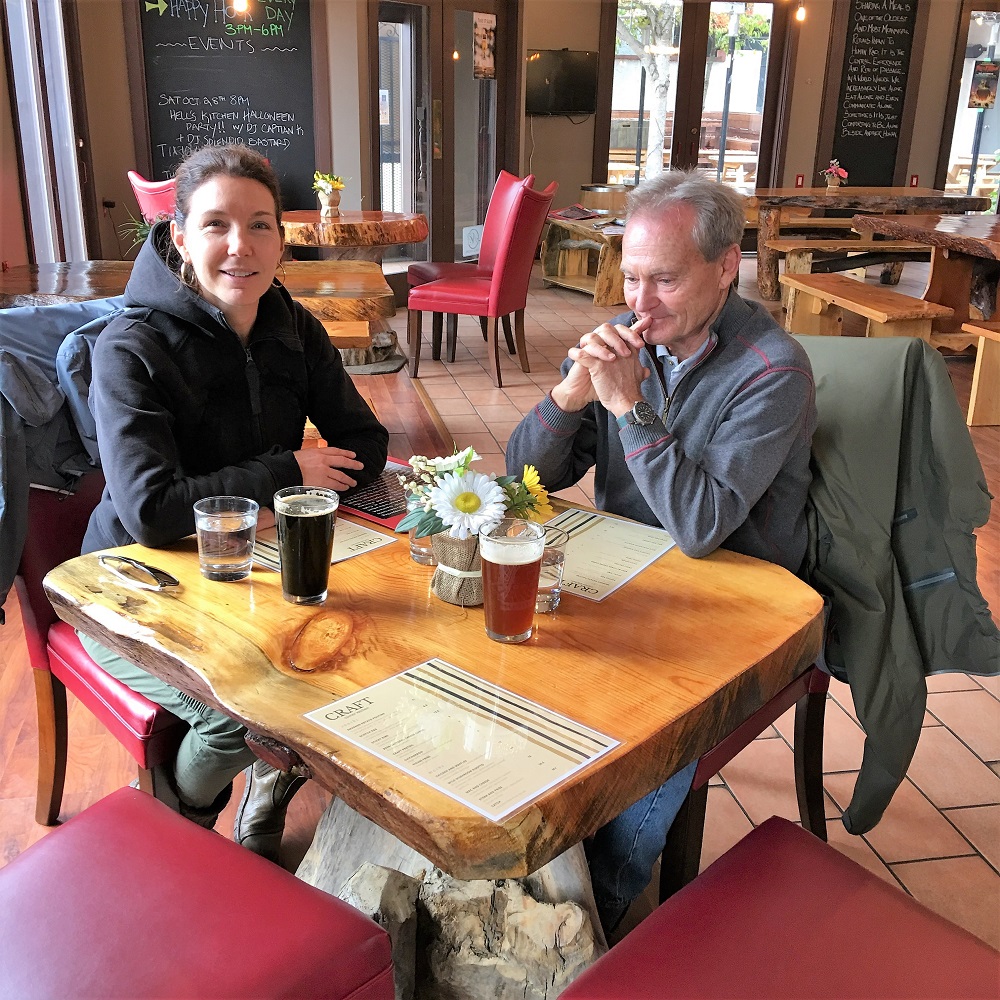 While this is Chef Stilborn's first opportunity to lead his own upscale kitchen, and despite his youth, he has a wealth of culinary experience including working for Vintage Hospitality and spending a season at Liquidity Bistro with Chef Rob Walker. (Chef Walker is currently Executive Chef, Big White Ski Resort, Kelowna.) Says Chef Stilborn, "In that role, I learned so much about using the Okanagan's local products to the fullest, and gained even greater respect for the quality of each ingredient used in a dish."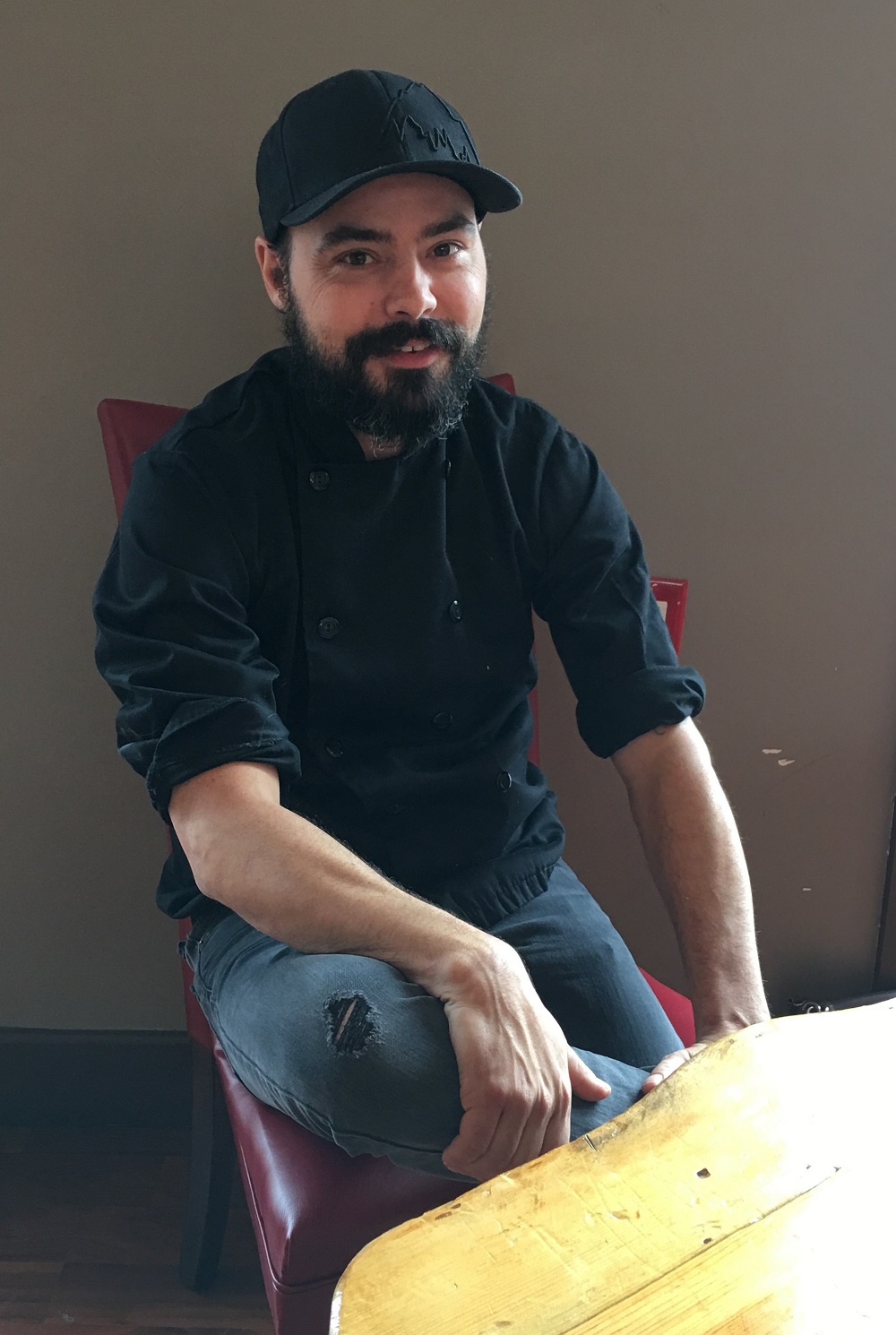 You'll find Chef Stilborn roaming the Penticton Farmers Market seeking out its best and getting to know the local farmers and producers. His commitment to such excellence shines forth in his dishes and is true to the gastro-pub model that basic menu items remain true to what we think of as pub food, however, are elevated to higher standards.
In addition to the well-curated and reasonably priced, small menu divided into snacks, mains, breads, salads, doughnuts, and sides, the chalkboard indicates daily specials dictated by locally grown, seasonal choices. Daily craft beer choices and drink specials complement the regular beverage list and are posted, too, on a chalkboard. There's so many reasons for a return visit!
Menu October 2017 (subject to change)
For our introductory chef's table, we were treated to the Scotch Egg, Craft Pretzel, Wild Mushroom Risotto, and Winter Vegetable Salad. Each selection was expertly presented and layered with complementary flavours.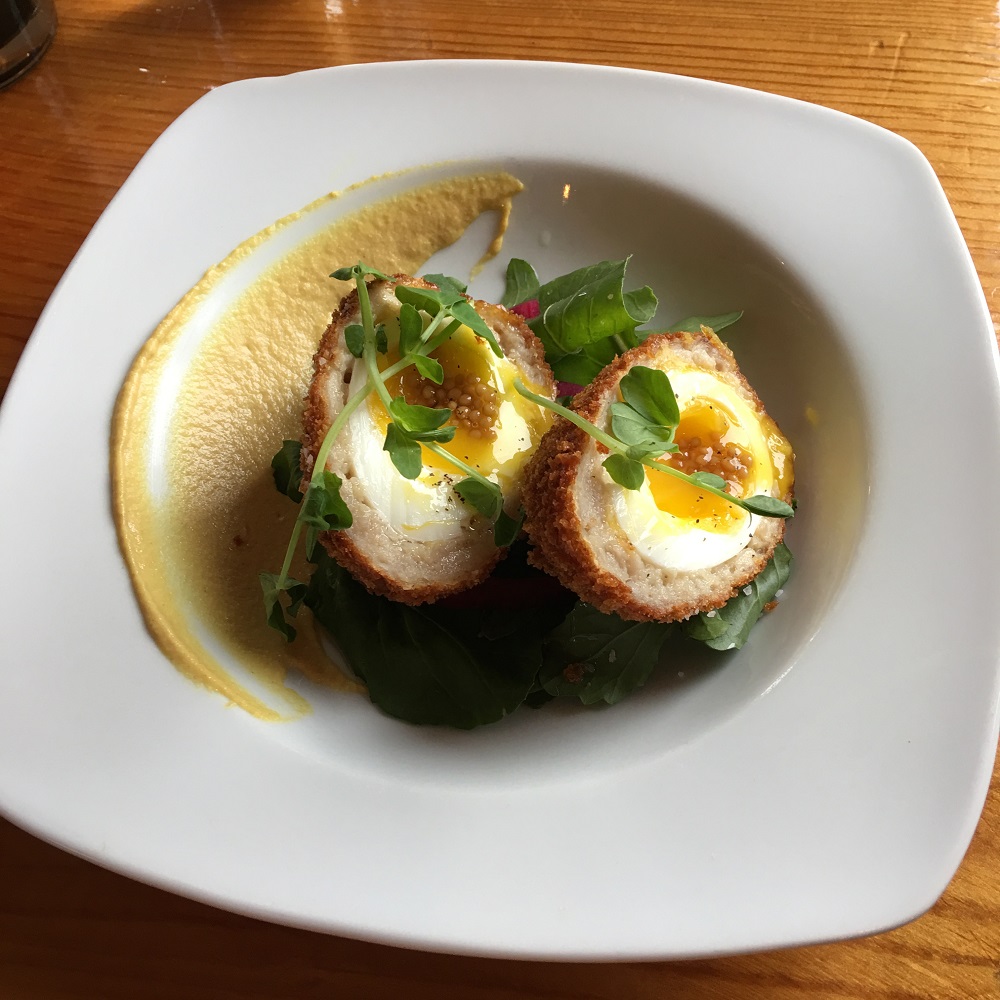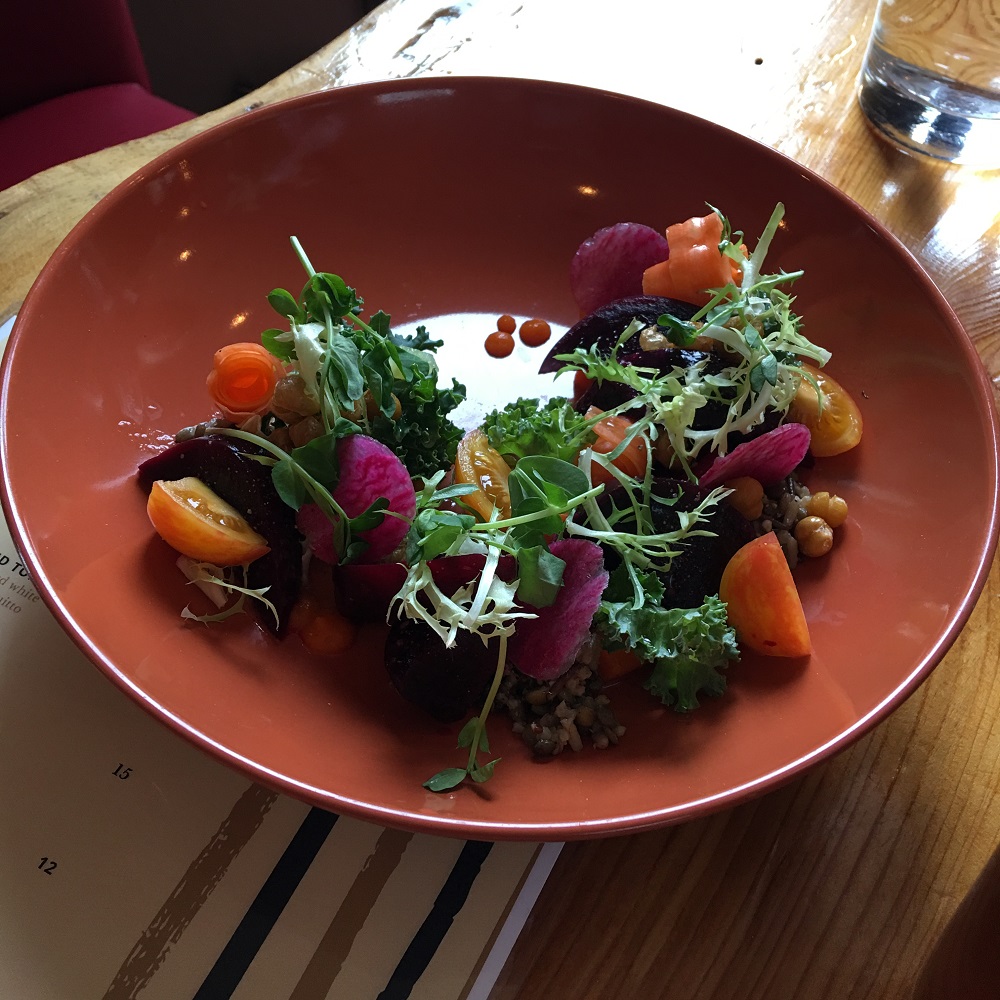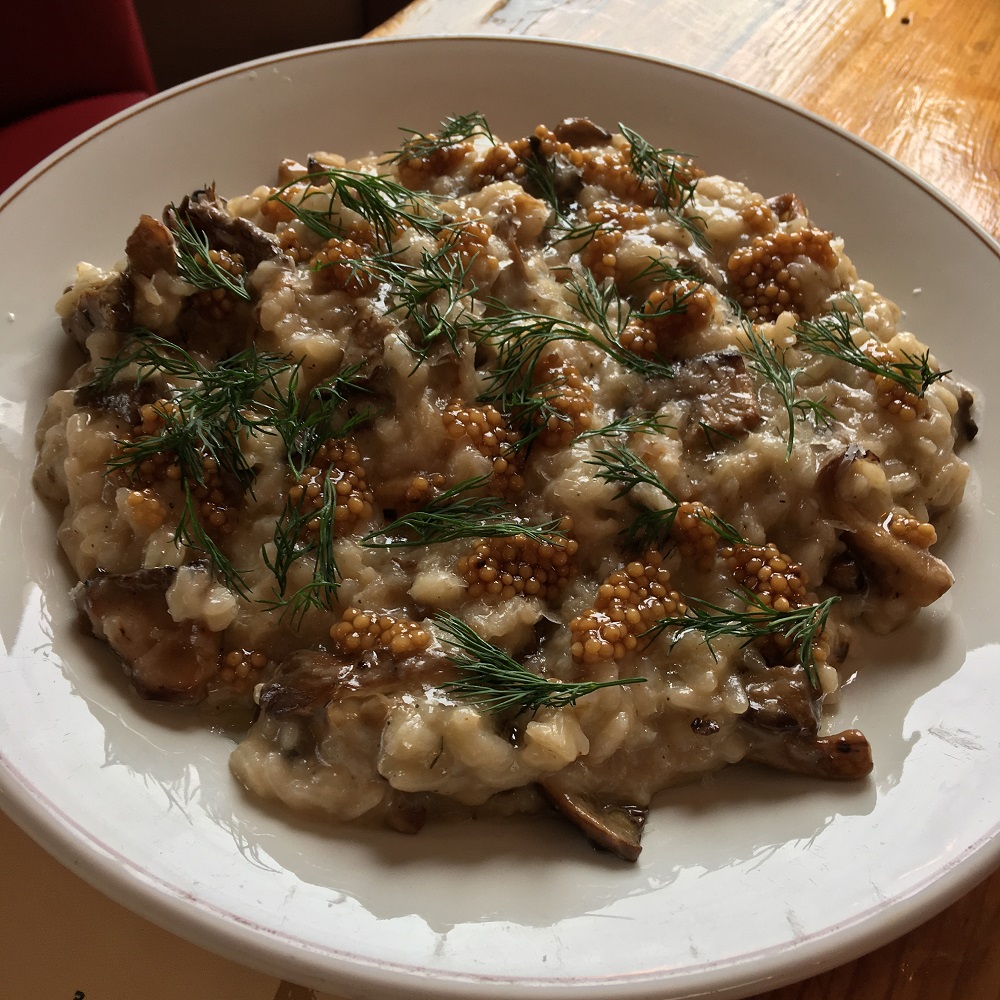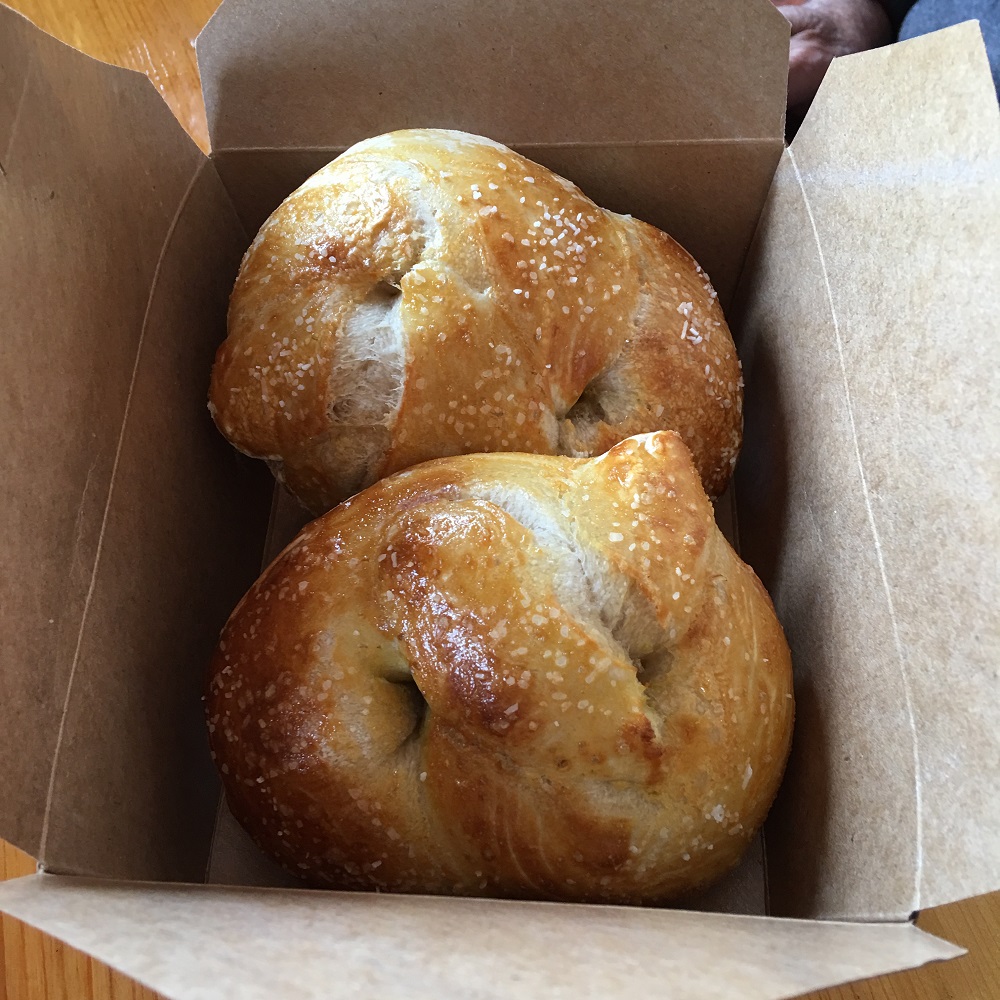 Crowd Pleaser, too
With Christmas coming, I can also attest Craft Corner Kitchen is a great place to host a group get together. For smaller groups, a private room is available, and larger groups can be accommodated in the main dining area.
We belong to an informal, public Facebook group called the Okanagan Burger Tour. Each month, a member organizes a group event at a restaurant in the Okanagan area and other members sign up to attend. Coincidentally, the Okanagan Burger Tour event for October was at Craft Corner Kitchen, which was a return engagement following up on a highly successful one there the year before with Chef James Holmes. (Chef Holmes is now wowing the folks in the Central Okanagan at Salted Brick, Kelowna, formerly owned and operated by Chef Jason Leizert.)
Craft Corner's team kept us well lubricated managing our varied drink orders and handled feeding the group seamlessly.
Chef Stilborn created a special burger for the Okanagan Burger Tour and you'll find a great Craft Burger on the regular menu.
Okanagan Burger Tour Umami Burger – Two 4-ounce all-beef Two Rivers burger patties. Aged cheddar and Parmesan cheese. Sun-dried tomato aioli. Prosciutto. Sautéed and pickled mushrooms and cured egg yolk on a sourdough bun. Choice of Fries or Salad. Plus, we ordered a Signature Mezcal Cocktail.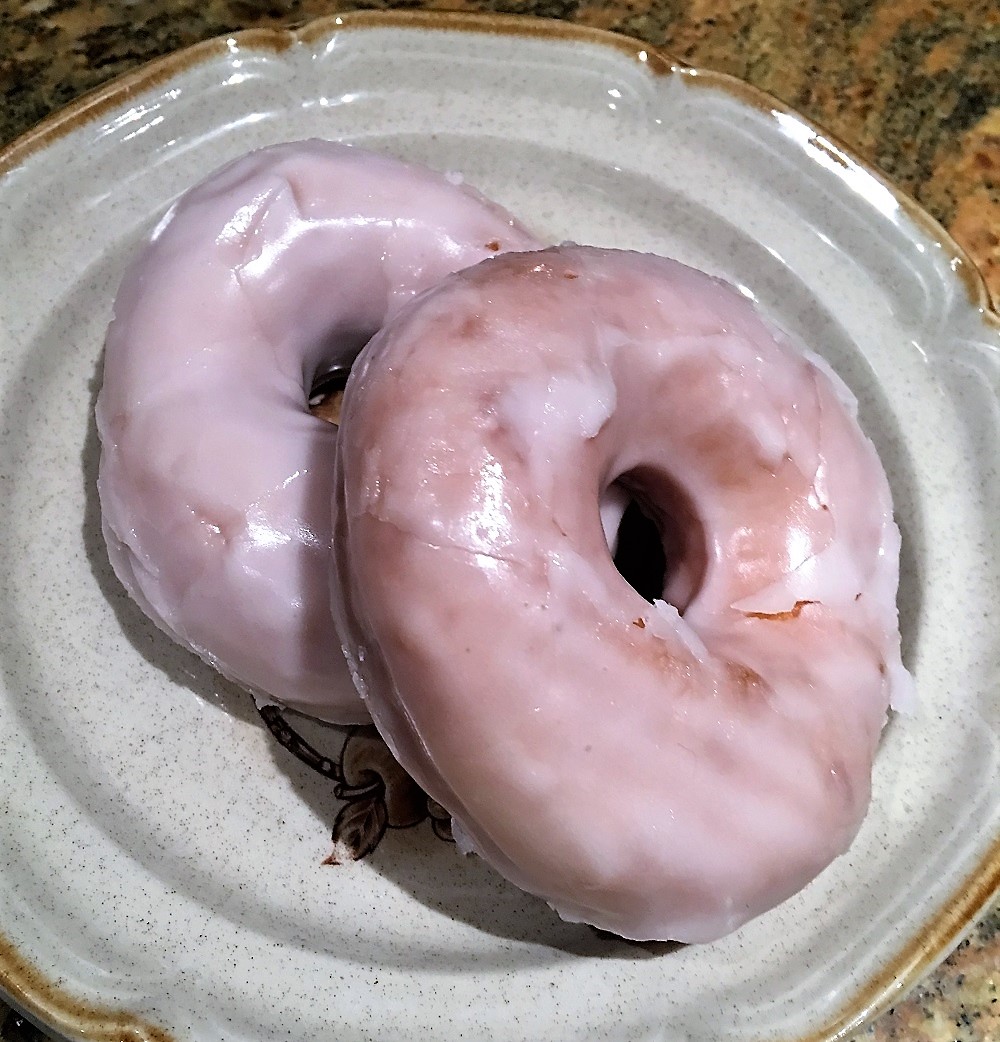 True Confession
For Mark and me, the double paddy was more than we could handle at one go. I packed away one of the paddies from each of ours to eat another day at home. After all, we didn't want to miss one morsel of Chef Stilborn's creation! Both meals proved delicious.
Be sure to check regularly for specials and hours at Craft Corner. It opens at noon, and from 3 – 6 pm, offers a $5 happy hour menu (food and drinks), Monday through Saturday.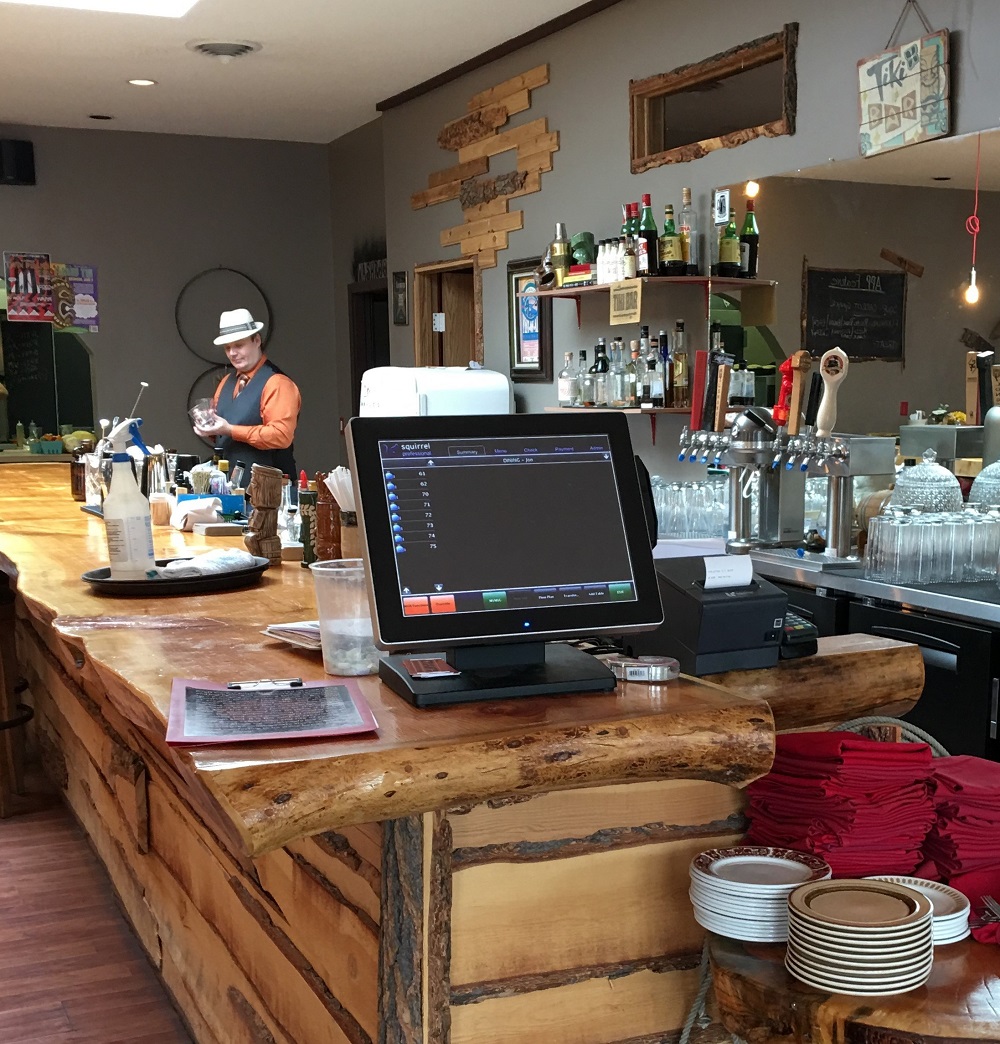 See you there!
– Roslyne Buchanan
*Jennifer Cockrall-King was awarded Gold by Taste Canada Awards in the Culinary Narrative category 2017 for her book, Food Artisans of the Okanagan.