April 22 to 25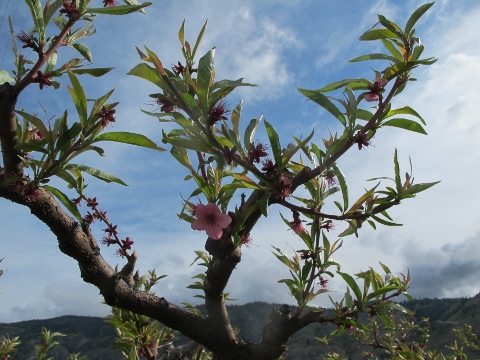 I love Spring and its palette of green and blushes of blossoms that paint the landscape against the Robin's-egg blue sky. I love the tangible sense of hope and anticipation as the Okanagan valley sweeps away the dust of the off-season. I love oysters, their salty smidgen of vast oceans and the possibility of a pearl at each popped shell. And so, with the same admiration and excitement of watching the first crocus push its way to announce the changing season, I look forward to the annual Osoyoos Oyster Festival.
It is an orgy of oysters and features West Coast oysters along with the Canadian wines and craft beers that pair best with them. Now in its fourth year, the Osoyoos Oyster Festival, April 22 to 25, has become an extravaganza not to be missed. The stunning scenery of the South Okanagan where Spring arrives earliest in Canada as a setting is a bonus, too. Each year the menu of delicious and oyster-centric events evolve.
New in 2015, is "Seaside to Greenside – Scotch & Oysters at the Osoyoos Golf Club," 6 to 9 pm, April 24, where you're invited to "Shuck any oyster, sip a scotch, share a gin with Grant Stevely from The Dubh Glas Distillery. Tickets are $50 plus tax and include food and two drink tasting tickets. Additional tasting tickets are available for purchase. Relax and have fun with shuttle service provided by Landsea Okanagan Tours, complimentary of Greenside Grill & The Osoyoos Golf Club. Also, new is Oysters in the Garden at Walnut Beach Resort, 1 to 2:30 pm, April 25. At this signature event enjoy freshly shucked oysters and wine tastings from the winning wineries of Canada's Oyster Wine Competition. Check out the chocolate station with a chocolate fountain and a variety of decadent, delicious chocolates by local chocolatier, Kyleburn Confectionary. Tickets $30 plus tax.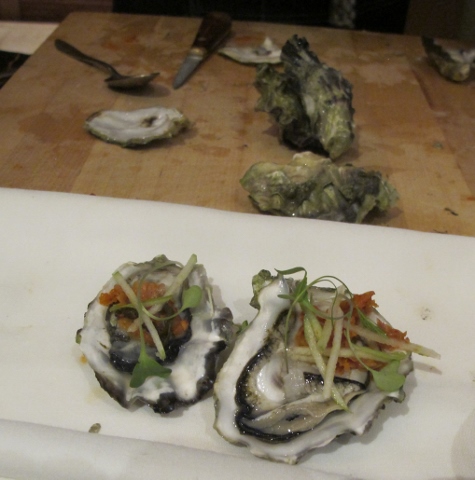 Art of the Oyster Pearl Gala at Watermark Beach Resort, April 25, is the signature event with tickets $48 plus tax. Enjoy oyster creations by South Okanagan chefs paired with wines of Oliver Osoyoos wineries from 7 to 9 pm, which is followed by live music, dancing and a cash bar until midnight. You'll get to meet local West Coast Oyster farmers as they shuck their oysters along with stations from the Okanagan's best fishmongers – Codfathers Seafood Market and Buy the Sea. For some added fun, guests are invited to dress up in the theme of fisherman/mermaid or with pearls. Food Stations include Artisan Culinary Concepts, Liquidity Bistro, Nk'Mip Cellars Patio, Terrafina at Hester Creek, The Sonora Room and Watermark Beach Resort. Wineries include Burrowing Owl, CC Jentsch, Cana Vines, Castoro de Oro, Covert Farms, Gehringer Brothers, Hester Creek, Intersection, Maverick, Moon Curser, Nk'Mip Cellars, Oliver Twist, Quinta Ferreira, Road 13, Stoneboat, TIME, and Tinhorn Creek. Complimentary shuttle pickup between 6 – 7 pm by OK Wine Shuttle from Osoyoos hotels to Watermark Beach Resort. For drop-offs, the shuttle will run continuously every half hour between 9 pm and 12:30 am.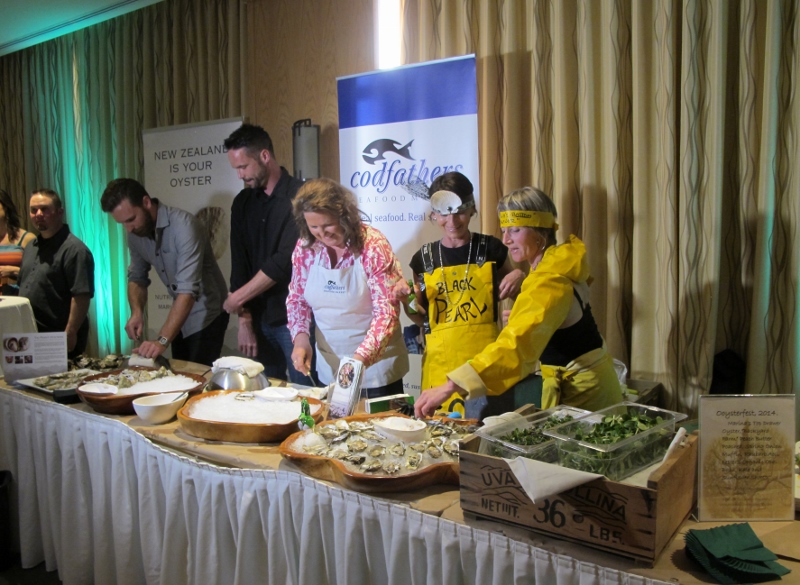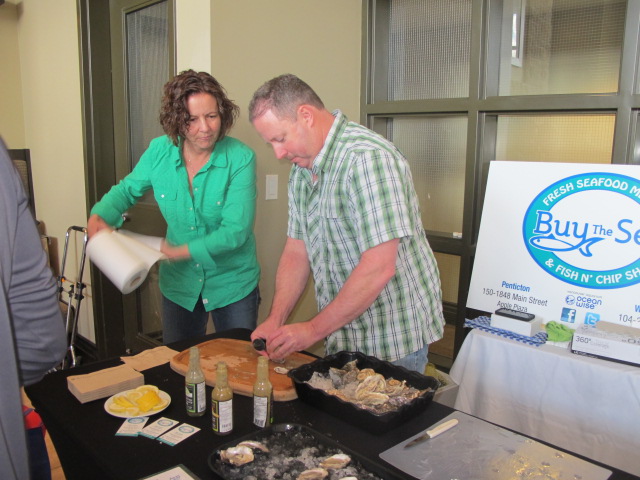 What Else is on the Menu of Events?
6:30 pm, April 22: Miradoro Long Table Dinner at Miradoro at Tinhorn Creek Winery, enjoy freshly shucked oysters followed by a three-course dinner dedicated to the oyster. Tickets $39 plus tax.
6:30 pm, April 23: Under the Tuscan Sea – Oysters, Bubbles & Pizza at Terrafina at Hester Creek Winery, graze your way sampling pizza and oyster pairings with some bubbly neighbours of the South. Tickets $45 plus tax and gratuity.
6 to 11 pm, April 24: Oyster Catch & Brew Bash at Spirit Ridge Vineyard Resort & Spa, and evening of oysters, culinary creations, local craft beer and cider with live entertainment and a cash bar. Tickets $32 plus tax and include three tasting tickets with more tasting tickets available for purchase. Complimentary transportation provided by OK Wine Shuttle starting at 6 pm for pick up from major Osoyoos hotels. Return will run continuously starting at 9 pm.
8 pm, April 25: Amateur Shuck 'N Suck Competition at the Sage Pub, compete or come to cheer at the 4th Amateur Shuck 'N Suck Competition. One team member shucks while the other sucks back the oysters with the team putting back the most before the clock runs out as the winner. Register in advance for $10 per team.
Be sure to check out the Oyster Pairing Competitions. It's always great to see the winners from the Oyster Wine Competition and the Oyster Craft Beer Competition.
For more details see www.osoyoosoysterfestival.com You'll also want to stay in Osoyoos. Spirit Ridge Vineyard Resort & Spa, Walnut Beach Resort and Watermark Beach Resort are offering Oyster Festival room rates. Special offer: For every two-night booking at any of the resorts, April 21 to 26, receive one complimentary ticket to the Oysters in the Garden event on April 25.