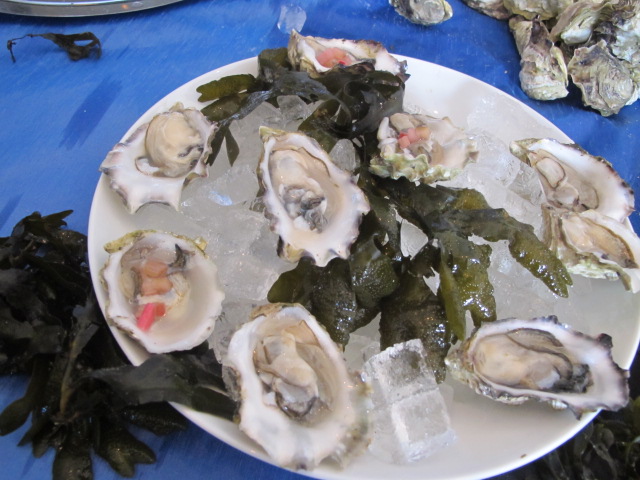 This year at the Osoyoos Oyster Festival the question of what pairs best with oysters will be addressed in the second annual Oyster Wine Competition and the first Canadian Craft Beer & Oyster Pairing Competition.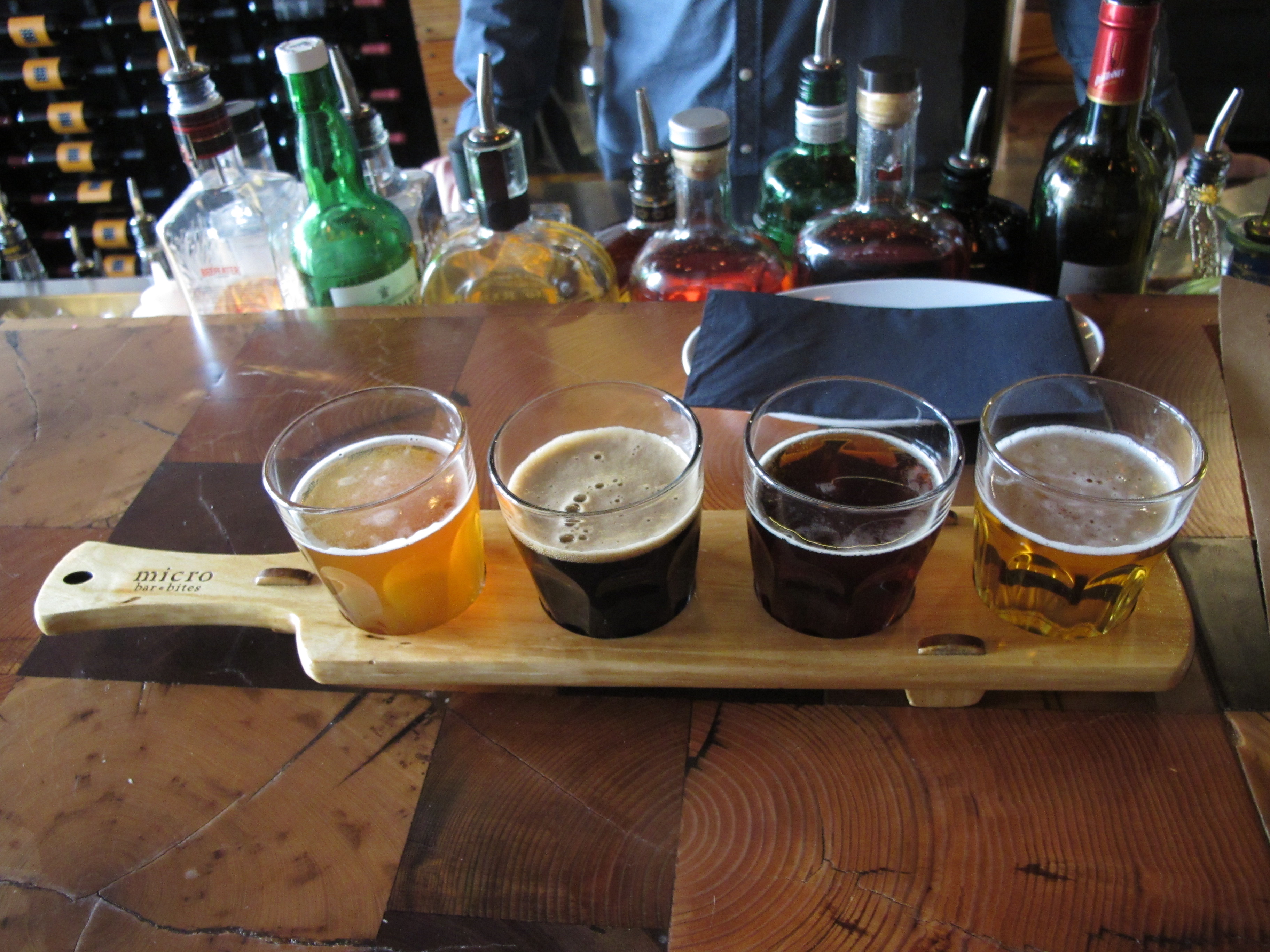 Winemakers and brewmasters have until April 17 to submit entries into the respective competitions that will be held at the third annual Osoyoos Oyster Festival. The craft beer competition is sponsored by Spirit Ridge Vineyard Resort and Spa, Flavours World, CAMRA Vancouver, BC Craft Brewers Guild and Codfathers Seafood Market. Canadian craft breweries have 11 categories in which they can enter including IPA, Stout, Porter, Lager, Ale, Wheat Beer, Pilsner, Bitter, Cider, Mead, and any other brewing style under the Wild Card category.
Judges include: Adam Chatburn, president of CAMRA Vancouver; Dan Clapson, Calgary based food writer and contributor to Food Network Canada, Avenue, and WestJet's Up! magazine; Martin Lewis, who is on the board of directors for the Okanagan Wine Society and currently working toward the Cicerone beer designation; and culinary power couple Chef Jonathan Chovancek and Bartender/Sommelier Lauren Mote owners of Bittered Sling Extracts. On April 25, they'll be choosing a winner in the 11 categories as well as best overall.
The Canadian Oyster Wine Competition had such impact last year in bringing recognition for great BC wines for oyster bars and fine establishments, no doubt winemakers will be anxious to put their best forward. Winners will be selected by choosing a Best in each variety category and one wine will be chosen as Best Oyster Wine Overall. Judges include: Rhys Pender, Master of Wine and owner of www.wineplus.ca; Tim Pawsey, a.k.a. The Hired Belly, food and wine critic; Audrey Surrao, WSET certified and co-owner RauDZ Creative Concepts including restaurants micro bar bites and RauDZ Regional Table; Bradley James Cooper, Okanagan winemaker and co-owner Black Cloud Winery; Jennifer Schell, author of bestselling cookbook The Butcher, The Baker, The Wine & Cheese Maker – An Okanagan Cookbook and editor of B.C. Food & Wine Trails Magazine; John Schreiner, prolific author of books on Canadian wines such as British Columbia Wine Country; and Katherine McEachnie, WSET certified, French Wine Scholar and Certified Specialist of Wine with the Society of Wine Educators.
Winners for 2013 were:
Best of Show: Winner: Blue Mountain Vineyards 2011
Pinot Blanc: Winner: Kraze Legz Estate Winery 2012;
Runner-Up: Lake Breeze Vineyards 2012
Un-Oaked Chardonnay: Winner: Poplar Grove Winery 2011;
Runner-Up: Meyer Family Vineyards 2011
Oaked Chardonnay: Winner: Upper Bench Estate Winery 2011;
Runner-Up: Dostana 2010
Riesling: Winner: Intrigue Wines, Focus Riesling 2012;
Runner-Up: Kalala Estate Winery 2010
Pinot Gris: Winner: Blue Mountain Vineyards 2011;
Runner-Up:  Tinhorn Creek Vineyards 2012
Sauvignon Blanc: Winner:  Bench 1775 2011;
Runner-Up: Clos du Soleil Fume Blanc 2012
Sparkling: Winner: Haywire The Bub 2011;
Runner-Up: Noble Ridge Winery The One 2009
Wild Card: Winner: Cherry Point Estate Winery Gewurztraminer 2011;
Runner-Up: Tinhorn Creek 2Bench White 2011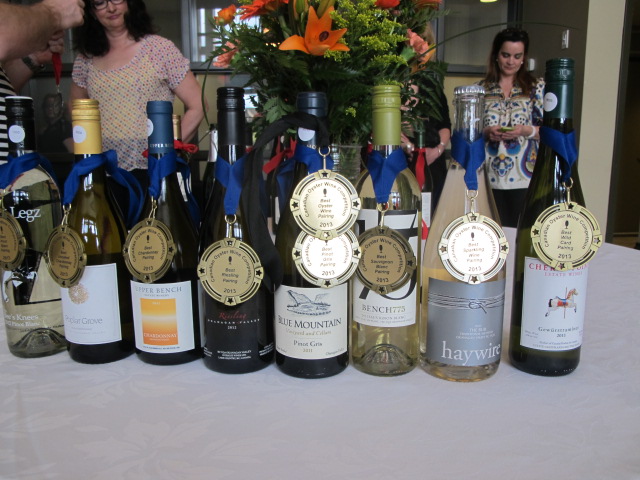 Choose from an Array of Oyster Festival Events
Once again there's a plethora of options to sate your oyster craving such as Fri. Apr. 25, 6 pm, SOCC Beach Brew Party at Spirit Ridge Resort; Sat. Apr. 26, 1 pm, Get Shucked Event at Spirit Ridge Resort and/or 7 pm, Art of the Oyster Pearl Gala at Watermark Beach Resort; and special restaurant features such as the Miradoro Long Table Dinner at Tinhorn Creek; "Under the Tuscan Sea" at Terrafina at Hester Creek; and Hester Creek Winery Cooking Class with Guest Chef Mark Filatow.
Check out the website for which events suit your fancy. You'll also find a list of other local restaurants engaged in the Festival. Be sure to check out the Accommodations tab for special room rates.
This festival showcases sustainable oysters produced by the farmers and guilds of the nearby West Coast such as the Outlandish Shellfish Guild together with the award-winning BC wines and craft beer.
Come, sample oyster-paired wines and craft beers, and slurp oysters with me! (When in doubt look for me near the banner for Codfathers Seafood Market.)
–          Roslyne Buchanan
Shucking Moments from the 2013 Oyster Festival