The kick-off of Vancouver's inaugural Chopstick Festival is 2 weeks away, starting on October 15 and running for two weeks.  A selection of lower mainland Chinese restaurants have been preparing their dishes for people to try during this event.  The event works similar to the highly successful Dine Out that happens in the Jan-Feb time-frame each year. I attended my second Chinese restaurant as a preview for Chopstick Festival.  This time it is New Starlet Seafood Restaurant in Burnaby, near Metrotown.  I've enjoyed dim sum here before, but never had dinner until this media preview.  I was very impressed with the quality of the dishes we received to taste and recommend making a reservation and trying these dishes during the Festival.
The dishes:
Pan Fried Tofu with Seafood and Spareribs in Special Sauce (琵琶豆腐乳香骨)
Baked Neptune Shell with Curry Sauce (For 5) ( 法式煱響螺 (5位) )
Fish Maw with Crab Meat Thick Soup ( 蟹肉魚肚羹 )
Smoked Tea Flavour Chicken (Half) ( 茶皇走地雞(半只) )
Pan Fried Prawns in Supreme Soy Sauce and Basil ( 香葉頭抽大蝦 )
Sautéed Pea Leaves with Minced Garlic ( 蒜茸豆苗 )
Deep Fried Cod Fillet with Sweet and Sour Sauce ( 菊花魚(泰式) )
Chef's Special Fried Rice ( 艇皇炒飯 )
Dessert ( 精美甜品 )
Enjoy the following pictures and my comments about the dishes.
Fish Maw with Crab Meat Thick Soup started off our meal.  The soup was full of crab meat and felt very substantial.  It came with a side dish of red vinegar that you can add to add a sour edge to the soup.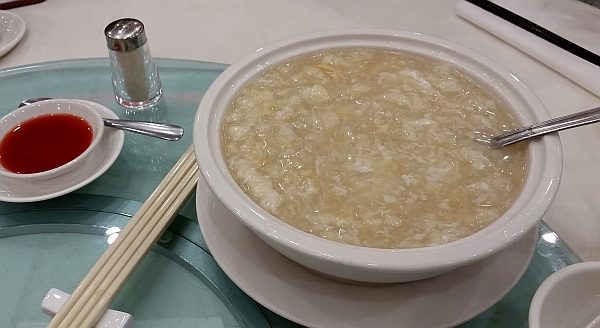 A very nice dish was the Baked Neptune Shell with Curry Sauce.  We each had our own shell, stuffed with cubed snail pieces that were cooked in a light Chinese curry sauce.  In the sauce I picked up some 5 spice powder.  I loved the flavour of this dish and the tenderness of the snails.  I paired this dish with a glass of Gewurztraminer white wine (or blend) that the restaurant graciously poured for me.  Sorry I did not see the label of the wine.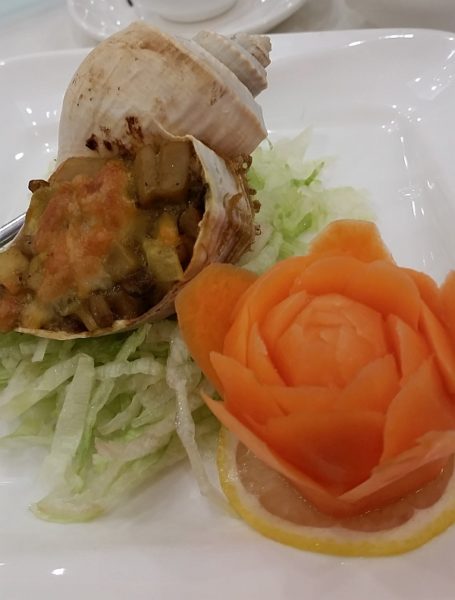 The Deep Fried Cod Fillet with Sweet and Sour Sauce was the surprise dish in its presentation. Expecting to see a cod fillet, this fish was cut into strips, then deep fried.  The result looked more like very large deep fried calamari tentacles, that was coated with a light sweet and sour sauce.  The fish was delicious and had a hint of spice from the sauce.  It also paired very nicely with the wine.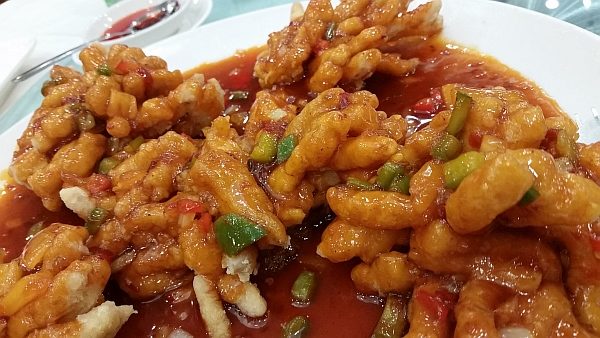 My favourite dish was the Pan Fried Prawns in Supreme Soy Sauce and Basil.  The prawns were cooked with their shells still on till the shells were crispy.  Being crispy you can eat the prawn and its shell.  I liked the black pepper in the sauce, and couldn't stop eating this dish.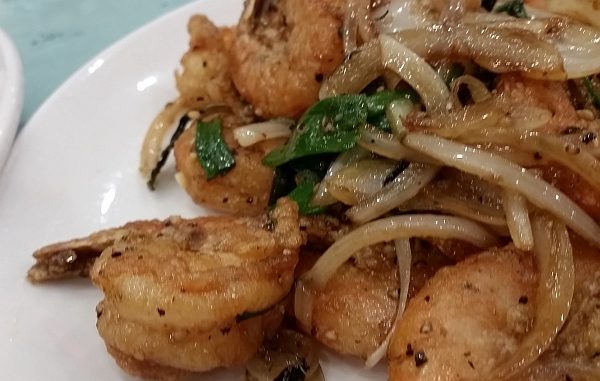 We all need some vegetables to go with our meals, and the Sautéed Pea Leaves with Minced Garlic made us love our veggies.  The pea leaves were still young and fresh, and cooked till they were tender.  Not stringy like older pea leaves can be.  The garlic was light, and not overpowering.  It was nice to alternate a fork, or chopstick, full of this dish and alternate with the prawns.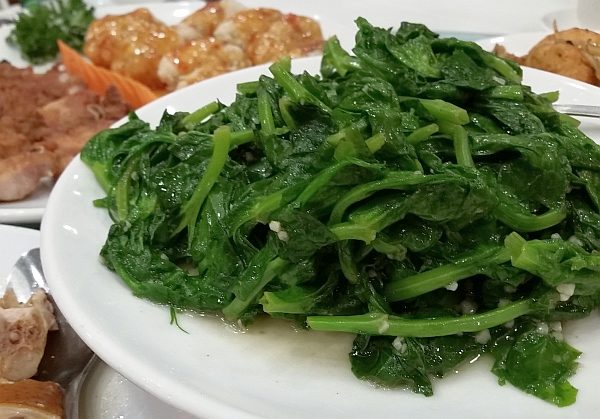 The Chef's Special Fried Rice came to the table covered by a scrambled egg.  You have to use your fork and spoon to open up this creation, showing the rice, asparagus, shrimp and scallops inside.  Lightly flavoured; not greasy or salty.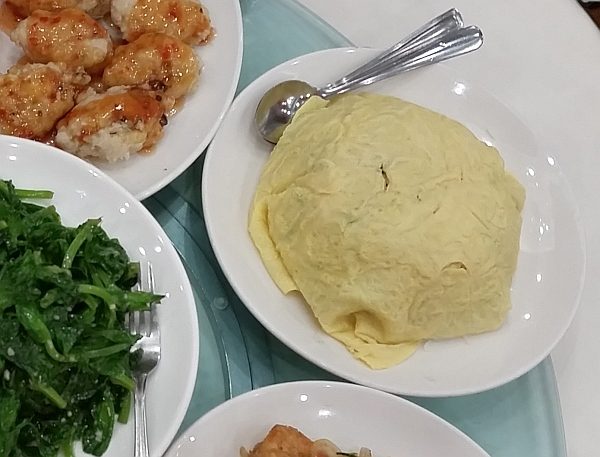 The Pan Fried Tofu with Seafood and Spareribs in Special Sauce were two different dishes served together.  The spareribs were OK, and did have some pork belly skin on the edge which I like.  But more interesting to me was the pan fried tofu with seafood.  It showed up as a ball, which when you bite it, you get the flavour of fish paste inside along with the texture of the tofu.  If you are not a person that enjoys a stronger fish taste, you may want to pass on this dish, but if it is something you enjoy, give it a try.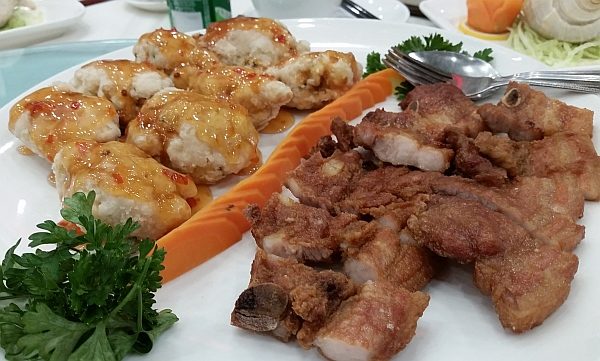 The last main course dish was the Smoked Tea Flavour Chicken, served chopped into chopstick sized pieces, and served cold.  Other media people attending the event appreciated this dish the most as they noted how difficult it is to have this style of chicken cooked just till soft and not overly salted.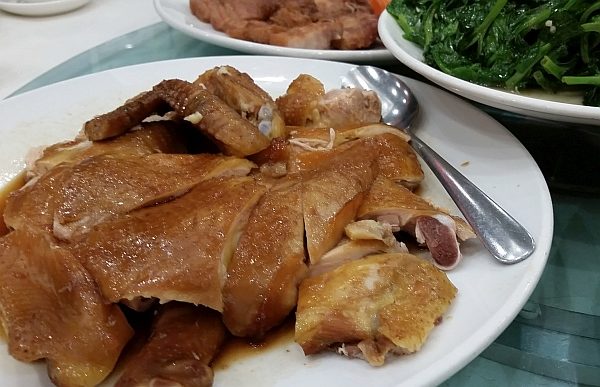 Dessert was quite interesting and tasty.  Although the menu said "Dessert" with no explanation, we determined it was Osmanthus flower in jelly dessert through the use of Google Translate on the Chinese characters from our menu.  The jelly itself does not really have a taste.  You get a floral flavour from the Osmanthus flower, and lychee from the small pieces of lychee that are in this dessert.  Definitely something you do not see every day. Try it.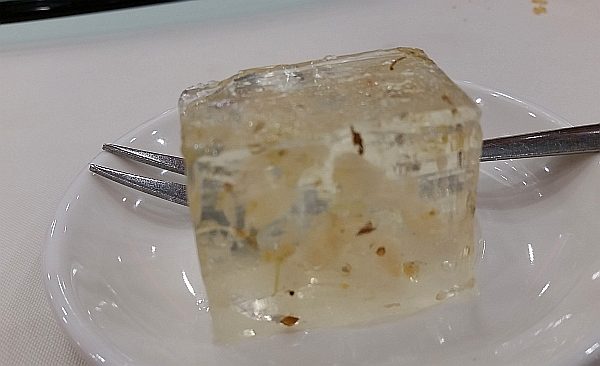 Thanks to the Chopstick Festival for arranging this media dinner and I hope you give this restaurant a try.