The Brockmann family has been creating delicious chocolate recipes for over 80 years, and is now celebrating 30 of those years of chocolate making in Canada with the recent release of two brand new truffle flavours, salted caramel and dark sea salt truffles, just in time for the holidays. The tradition began in the 1930's in Munich, Germany with Willy Brockmann, a master confectioner, and his son Norbert followed in his footsteps and brought Brockmann's Chocolates to Canada in 1986.  The family run business now includes a third generation of chocolatiers is still guided by Willy's faithful commitment to quality, using only the freshest, tastiest ingredients in everything they produce. Brockmann's Chocolates produces both their Truffini truffles and their Crunchetti snacking chocolate in Delta, BC, making their chocolate a brand in line with many's commitment to buying local.
Truffini
Premium dark, milk and white truffles available in gift boxes and foil wrapped bulk chocolates in 11 flavours that appeal to the choosiest chocolate fans. Pick your favourites from the bulk section of your local fine foods retailer.
Traditional Flavours: Cappuccino, Canadian Maple, Hazelnut Praline, Classic Milk, Lime Coconut, English Mint, Double Dark, Orange and Raspberry.
Newest flavours this year: Salted Caramel and Dark Sea Salt truffles
Find Truffini at Save on Foods, Urban Fare, Fresh St Market, London Drugs, Safeway, IGA, Price Smart, Fairway Market, Thrifty Foods, and Nesters.
∑       Made in BC
∑       Natural ingredients
∑       Preservative free
∑       No artificial colours or flavours
∑       Gluten free
∑       Certified Kosher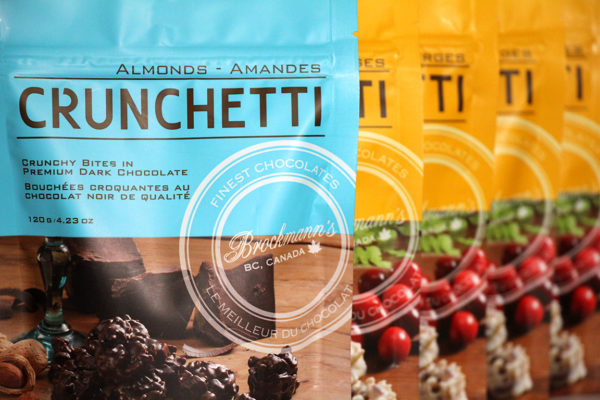 Crunchetti
The Brockmann's latest creation, 'Crunchetti' is a line of premium snacking chocolate. These crunchy, bite-size clusters are made in small batches with toasted almonds and blended with fine-quality chocolate.
Crunchetti flavours are available in Dark, Milk and White Chocolate with Cranberries – each one designed to be the perfect snacking chocolate for your daily indulgence
Find them at Save on Foods, Urban Fare, Fresh St Market, Choices, IGA, Price Smart, Fairway Market, and Nesters.
∑       Made in BC
∑       Natural ingredients
∑       Preservative free
∑       No artificial colours or flavours
∑       Gluten free
∑       Certified Kosher
Learn more at: www.brockmannchocolate.com
#Brockmanns30yrs #BCBuyLocal
https://www.facebook.com/BrockmannsChoc
https://www.instagram.com/brockmannschoc/
https://twitter.com/brockmannschoc