The holiday period is a time of imbibing indulgence with all the eggnog, hot spiced cider and mulled wine adding to the conviviality of the season.
Paul Belsito, manager of the Neil Macrae Bar & Lounge at Vancouver TheatreSports™ League's (VTSL)  The Improv Centre, has been getting into the festive spirits and designing special cocktails to complement VTSL's holiday show Christmas Queen 3 – The Bachelorette Edition which previews November 23 and runs through December 23.
This year's edition of the Christmas Queen saga finds our favourite blue-haired 'Dame' as the star of her own reality show. Her suitors are the 'Who's Who' of the holiday season – Frosty the Snowman, Elf on a Shelf, Scrooge, the Grinch and Santa Claus to name a few of the possible contenders for the coveted rose.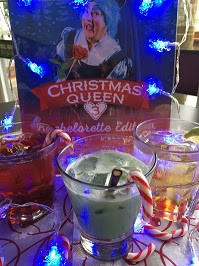 "I've tried to design the drinks to represent some of the show's key themes," says Belsito. "I think I've created ones that convey its 'spirit' – fun and a little naughty."
• ALL THE QUEEN'S MEN: "Pale gold in colour (like an engagement ring), the name is a takeoff on All the King's Men and refers to all the Christmas Queen's suitors. It's got a lovely butterscotch flavor, like the Mackintosh toffees you often find in a Christmas stocking." Ingredients: Zubrowka Vodka, organic apple juice and a splash of Butterscotch liqueur.
•
• AFTER-EIGHT ELF: "This cocktail tastes just like a delicious creamy after-eight chocolate mint. It's a frothy Christmassy green so very festive looking." Ingredients: Baileys Irish Cream, Dark Crème de Cacao, and a splash of Crème de Menthe, shaken and served over ice.
•
• CHRISTMAS ROMANCE: "This cocktail is a nod to the romance in the show. It's a passionate ruby red colour which is reminiscent of the Bachelorette's rose as well as being appropriate for the holiday season." Ingredients: Spiced Rum, Amaretto and Cranberry Juice.
Value-priced at $8 (Scrooge would approve), and as jewel-toned as a string of Christmas lights, VTSL's holiday cocktails are available only through the run of Christmas Queen 3 and are sure to delight even the Grinch.
Join us for a little holiday cheer and festive spirits Wednesday through Sunday evenings from 6:30 pm, November 23 through December 23 in the Neil Macrae Bar & Lounge at The Improv Centre, 1502 Duranleau Street on Granville Island. The fully-licensed Neil Macrae Bar & Lounge is a convenient place for theatre patrons to meet for pre or post-show drinks. Patrons can also take their beverages into the theatre with them to enjoy during the performance.
About Vancouver TheatreSports™ League
Voted Vancouver's #1 Improv Comedy Company (2016 Best of Vancouver Awards), Vancouver TheatreSports™ League (VTSL) is a well-respected international leader in the art form. VTSL entertains more than 60,000 people per year through 11 shows a week, 52 weeks a year at its own theatre, the fully-licensed The Improv Centre, located on Granville Island. In addition, VTSL owns and operates The Improv Comedy Institute – an improv school offering classes from beginner through professional level and a corporate training division, Improv for Business. Vancouver TheatreSports™ appreciates the support of show sponsors: City of Vancouver, CMHC Granville Island, The Georgia Straight, The Granville Island Hotel, and Lamar Transit Advertising. vtsl.com