​
Vancouver Cantata Singers' 15th annual holiday tradition
The BC Alliance for Arts + Culture is British Columbia's leading arts information aggregator and a resource to the arts, culture and heritage community. Since 1986 we have advocated for our sector by monitoring public policy, synthesizing issues for the public, supporting and developing research, and representing the interests of artists and cultural workers.
On

Saturday, December 23rd

, Vancouver Cantata Singers continue their 60th anniversary season with a traditionally-styled concert celebrating the spirit of Christmas. The national award-winning choir will present Christmas Reprise XV at the Holy Rosary Cathedral in downtown Vancouver. In this matinee concert, the warmth and beauty of the holiday season will envelop performance-goers, providing a refuge amidst a mix of traditional carols and a few contemporary holiday compositions. The unaccompanied choir, guided by Vancouver Cantata Singers Artistic Director, Paula Kremer, welcomes lovers of choral music and revelers of the season to join them in celebrating through song.

Vancouver Cantata Singers' 15th annual Christmas Reprise brings true comfort and joy during the bustle of the holiday season in one of the city's most beautiful spaces. Get tickets early to avoid disappointment – this concert consistently sells out year to year!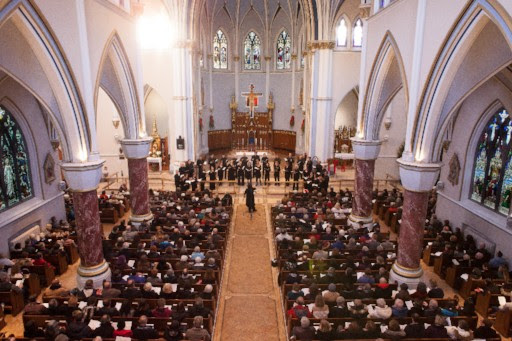 BIOGRAPHIES
ABOUT ARTISTIC DIRECTOR, PAULA KREMER
Paula Kremer, a native of Vancouver, studied music at Vancouver Community College and the University of British Columbia. Since 1997, she has been on faculty at VCC, where she teaches choir, voice and aural skills. She has been conducting the Vancouver Bach Choir's Sarabande ensemble and the Vancouver Bach Youth Choir since 2009. A seasoned soloist and ensemble singer, Ms. Kremer has sung in this capacity locally and abroad with high-level ensembles, including her 19 years in VCS under James Fankhauser (conducted 1973-2000) and Eric Hannan (2002-2012). Kremer was the VCS' Guest Conductor for four concerts, which included the acclaimed performance of Brahms' German Requiem in 2011. She became the Artistic Director of VCS in the summer of 2013.
ABOUT VANCOUVER CANTATA SINGERS
Vancouver Cantata Singers celebrates its 60 anniversary this season and has become one of Canada's preeminent, award-winning choral ensembles. Vancouver Cantata Singers is known for technical virtuosity, fine blend and exceptionally high performance standards encompassing 500 years of choral repertoire. The Cantata Singers have been awarded the Canada Council's top prize in choral singing, the Healey Willan Grand Prize, more than any other choir in the country. VCS also commissions new works from critically acclaimed composers which have led to extremely successful and innovative collaborations with regional and international artists and ensembles.