Drawing on extensive research, world premiere aims to enhance understanding of First Nations' contributions to Canadian efforts during World War I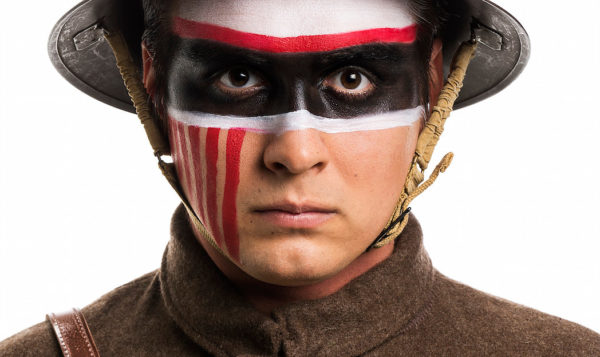 Hardline Productions presents the world premiere of its historical drama REDPATCH, March 29 – April 9, 2017 at Presentation House Theatre and April 12 – 16, 2017 at Studio 16. Opening on the 100-year anniversary of the Battle of Vimy Ridge, the moving production follows the story of a young Métis volunteer solider from the Nuu-chah-nulth nation of Vancouver Island deployed to fight in the First World War. Set in both Canada and the battlefields of France, REDPATCH traces the journey of this young solider as he endures trench warfare and discrimination as a result of his aboriginal heritage.
"The initial idea for REDPATCH came when I saw my co-writer and Artistic Director of Hardline Productions, Sean Harris Oliver, in a production of Vern Thiessen's Vimy. There was a First Nations character in the work – and my imagination was captured by what his story must have been," says Raes Calvert, who also produced and performs in the piece. "At the time, I had only recently become aware of my own aboriginal ancestry. The process of researching the play therefore coincided with my own period of self-discovery. I think the results will be eye-opening for many audiences; we're excited to share what we've learned in such a dynamic, engaging medium."
The creation of REDPATCH necessitated extensive research into a number of niches, including the history of WWI, First Nations cultural practices, and the obscured history of aboriginal volunteering and enlistment in the war efforts. To ensure the story was faithfully told, Calvert and Oliver – who also directs the work – spent as many hours in libraries as they did travelling out to remote First Nations communities, including Nootka Island, which their fictional protagonist calls home.
The narrative follows a young Métis named Jonathon Woodrow, who volunteers to fight as a member of the Canadian forces. We chronicle his journey from his Vancouver Island home, through the trials of training, to the bloody chaos of battle – including turning points at Ypres, the Somme, and Vimy Ridge. Ultimately, the story takes him home again, where he must now attempt to return to his life.
In its world premiere production, an entirely First Nations cast will perform REDPATCH. In addition to Calvert, the work will feature Reneltta Arluk, Emilie Leclerc, Joel D. Montgrand, Chelsea Rose Tucker, and Deneh Thompson.
The creative team includes Assistant Director and Cultural Consultant Nyla Carpentier, set & prop design by Pam Johnson, lighting design by Brad Trenaman, and sound design by James Coomber. The production also features original masks by Jenn Stewart and costumes by Christopher David Gauthier.
Close to four thousand Native men (Aboriginal, First Nations, Métis) served in the Canadian Forces in the Great War, an extraordinary number given the limited civil rights accorded to these people at the time. Canadian Federal policy extended many post-war benefits to First Nations veterans, however since many men had given up their status in order to enlist, these veterans were denied any benefits upon their return to Canada.
The title of this work, REDPATCH, is drawn from an incident at the Battle of Somme. Canada was still part of the British Empire in 1916, and British officers were having difficulty distinguishing their men from the colonial armies who fought alongside them. To distinguish the Canadian First Division, who wore similar uniforms to British, a single red patch was applied to their left shoulders.
In honour of the 100th Anniversary of the Battle of Vimy Ridge this April 9, 2017, Hardline Productions will host three ceremonial presentations prior to their performance of REDPATCH on April 7, 8, and 9 at 8pm. The ceremonies will consist of blessings by Bob Baker, First Nations Cultural Advisor, Performer and Co-founder of Eagle Song Dancers; Captain Robert MacDonald, CD FSA Scot, Curator Seaforth Highlanders of Canada Museum and Archives; and Nyla Carpentier, Assistant Director and Cultural Consultant of REDPATCH. These 3-5 minute ceremonial presentations will occur prior to the April 7, 8, and 9 evening performances. The presentations will draw attention to and honour the sacrifice that both First Nations veterans and European veterans made for Canada in the Great War.
To take audiences deeper into REDPATCH's world, and provide informative historic and cultural context around its narrative, an educational website (supported by Canadian Heritage) was developed around the work. The platform can be located online at redpatch.ca.
Tickets and further information at hardlineproductions.ca/redpatch.
About Hardline Productions (hardlineproductions.ca)
Hardline Productions is a professional theatre producing company based out of Vancouver. The company serves Vancouver audiences by producing theatre that is emotionally charged, intellectually engaging, and which elicit creative conversations that contribute to the moral fabric of the Vancouver community.
Hardline's major productions to-date include Bright Blue Future (nominated for three Jessie Richardson Theatre Awards), Bug (nominated for two Jessie Awards), Of Mice and Men (nominated for five Jessie Awards), as well presenting nine productions at its now-closed Hardline Studios space on Water St.
LISTING INFORMATION
Hardline Productions presents REDPATCH
By Raes Calvert and Sean Harris Oliver
Dates:
March 29 – April 9, 2017
Presentation House Theatre
333 Chesterfield Ave, North Vancouver, BC, V7M 3G9
Pre-Show Ceremonial Presentations: April 7, 8, 9, 2017 at 8pm
Post-Show Talkback hosted by Sean Harris Oliver: April 7, 2017
April 12 – 16, 2017
Studio 16
1555 7th Ave. West Vancouver, BC, V6J 1S1
Post-Show Talkback hosted by Sean Harris Oliver: April 13, 2017
Ticket prices:
$15 to $33
Student & Senior Pricing Available
Box Office:
Presentation House Theatre: phtheatre.org/box-office/tickets
Studio 16: theatrewire.com
Website: