Tagline: "Two backyard wrestlers decide to go pro. Unfortunately for them… they suck."
Budget: $70,000+ (shot for just $40,000)
Cast: Danny Mac, Chris Wilcox, Cooper Bibaud, Matthew Graham, Pam Kearns, Naiah Cummins
Producers: Danny Mac, Paul Jacob, Cooper Bibaud, Greg Miller (co-producer) Written by: Danny Mac
Directed by: Danny Mac & Ian MacDougall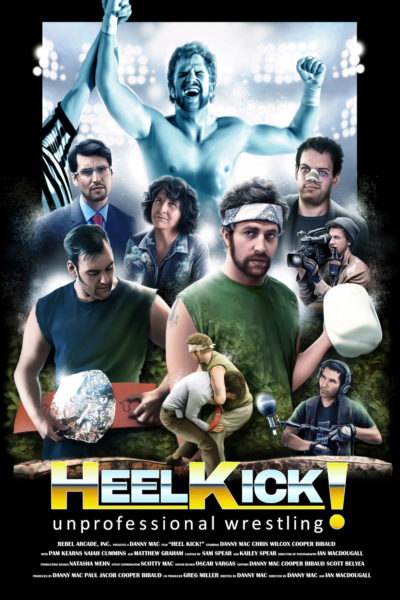 Synopsis: 
This "documentary" chronicles the journey of wannabe pro-wrestlers, Reggie (Danny Mac) and Maurice (Chris Wilcox). Despite lacking any trace of athleticism, intelligence or drive, these backyard wrestlers are certain they'll become the next big thing in the business— no matter how many years they waste boozing or mooching off their parents.
But after watching them procrastinate for a decade, Reggie's brother, Jared (Matthew Graham) has had enough of their tough-talk. He issues a challenge: join a wrestling school and prove they have what it takes. If they fail? Move out of mom's house, get a real job, and let the dream of squared- circle stardom die forever.
Reggie can't wait to prove to his loving mother (Pam Kearns) and on-again/ mostly-off-again girlfriend (Naiah Cummins) that his backyard "training" wasn't for nothing. But it won't be as easy as he thought… They'll find no sympathy from their trainers at the ECCW, and even less from Roger (Cooper Bibaud), the jaded filmmaker hired to document their journey.
For the first time in their lives, Reggie and Maurice are actually going for their dream… but can they handle the gut-busting, side-splitting pain along the way?
Cast & Crew Bios: 
DANNY MAC (Reggie)
co-director/ writer/ producer/ lead
In his hometown of Edmonton, Alberta, Danny took advantage of the strong theatre scene, performing in the Edmonton Fringe Festival and perfecting his improv chops in various classes and troupes. In 2009, his lifelong passion for writing and performing found him penning, producing, and starring in a feature- length comedy (Love/Hate) which was nominated for Best Picture at the AMPIA Awards. The film was purchased by SuperChannel in 2012 and played across Canada for 18 months.
Danny moved to Vancouver, BC in 2011 and hit the ground running, booking roles in various commercials and MOWs. His numerous television credits include: Wayward Pines, Bates Motel, and the upcoming Hulu series, Shut Eye. In 2016, Danny played the lead in the jury-selected short film, Meet Cute, which premiered at the Crazy8's Film Gala to a sold-out crowd of over 2000 people. Notable directors Danny has worked with include Chris Haddock, Amanda Tapping, and M. Night Shyamalan, while collaborating with dynamic, emerging talent, like LGBTQ- filmmaker, G. Patrick Currie.
As a writer, Danny seamlessly contributes to a variety of genres and formats, including sketch comedy, television, and video games. His talents recently found him recruited by Continuum creator Simon Barry, to help develop an original series for television. Danny continues to focus on writing features, both for third-parties and his own future productions.
HEEL KICK! is Danny's directorial debut (co-directing with Ian MacDougall). The film is playing in Edmonton, Vancouver, and Toronto, then touring the US in Summer of 2017.
COOPER BIBAUD (Roger)
producer/ editor/ supporting lead
It was after winning his high school's one act play festival that Cooper began entertaining the idea of a career in the arts. After graduating, his play, Mike And Russ, was turned into a full production for the 2005 Edmonton International Fringe Festival, which he wrote and starred in.
For the next several years, Cooper performed live comedy around his hometown of Edmonton, Alberta, with the improv troupe, Liquid Trout. Cooper's goal was to
eventually make a feature film when the time was right, even without having any formal training whatsoever.
That turned out to be right around the corner. In 2009 he shot his first feature, and after a long post-production period, the film saw success, and was eventually sold in 2012. It would go on to play at various film festivals, and pick up a few awards along the way.
Shortly after, Cooper moved from his hometown to beautiful Vancouver, BC, to pursue his dreams of acting and writing on a grander scale. That fall, he began working as a writer, editor, and host for the Emmy winning EP Media, for their television show, The Electric Playground (or EP Daily) which aired every day across the globe. The show focused on video games, movies, and tech, and featured interviews with Hollywood actors, directors, and creators. After years of working for EP, Cooper decided to leave the show, and utilize the many connections he made there to start writing and directing his very own video game.
His game, Billy Saves the World, has already received international coverage, and has caught the eyes of several popular video game journalists despite not yet being released. The game features big talent, including composer, John McMillan (Iron Man 3, Thor: The Dark World); sound designer, Jonathan Beres (Game of Thrones); professional animators from Dreamworks Studios, and of course, a script written and directed by Cooper.
Thanks to the success of previous projects, and the early hype for Billy Saves the World, Cooper has secured investment funds for two additional projects that he will write, direct, and produce; one of which being a cutting edge virtual reality experience.
Currently, Cooper is putting the final touches on his video game, and continues to audition for top television and film roles, while eagerly anticipating the release of HEEL KICK!.
CHRIS WILCOX (Maurice)
Hailing from Edmonton, Chris grew up playing hockey until his love of acting eventually took over. Focusing on dramatic and improvisational studies in his early-teens, he eventually landed a role in the short film Life In Deathtown. A few years later, he would play one of the leads in the feature-length comedy Love/ Hate, which went on to win Best Feature at the FAVA Awards For Excellence.
Stretching his funny bone, Chris began dabbling in open-mic-nights at various comedy clubs around the city, before ultimately moving to Vancouver, BC, to
further pursue his acting dreams. There, he quickly began auditioning for major network shows while creating and editing short films and sketches for YouTube with fellow actors.
An action star at heart, Chris has nearly a decade of training in martial arts, specializing in karate and MMA. He now adds professional wrestling to the list for his starring role in HEEL KICK!, for which he trained 6 months to prepare.
MATTHEW GRAHAM (Jared)
Matthew started his acting career in theatre school over 10 years ago. After graduating with a BFA from Simon Fraser University, he started performing in theatre productions and musicals across western Canada, including the first ever Vancouver production of Evil Dead: The Musical.
Matthew got his feet wet in the world of television with national and international commercials for Nissan, Metamucil, Gerber, and most recently Stoli. His growing list of television credits include this season of Motive, working with Tommy Flanagan of Sons Of Anarchy fame. Additionally, Matthew has numerous Hallmark productions under his belt, starring alongside Dan Payne and Alison Sweeney, and working under talented directors like Monika Mitchell, Kristoffer Tabori, and Kevin Fair.
Matthew can be seen in the upcoming films Candiland and Residue, where he had the pleasure of working with Gary Busy and Chelah Horsdal, respectively. Matthew plays the supporting lead in HEEL KICK! and has become a frequent collaborator with writer/producer Danny Mac.
PAM KEARNS (Liza/ Reggie's mom)
After studying at a small independent theatre school in Montreal, where she performed in over 40 plays (including both classical and modern), Pam took a long break to focus on her family. In recent years she has returned to theatre, as well as performed in a number of short films. She has continued to study extensively with Matthew Harrison at Foundry; Jeb Beach; The Practical Set Workout; and Actorium. HEEL KICK! is her feature comedy debut.
NAIAH CUMMINS (Mona)
Naiah Cummins is a Canadian film, television, and commercial actress. She was born in Etobicoke, Ontario (a suburb of Toronto) and raised in an academic household. She developed a love for the Arts at an early age but was encourage by her parents to follow a more traditional calling.
In 2010, Naiah was randomly cast as the lead in a local theatre production I'll Do Me without auditioning and without any prior acting experience. Shortly after the run, she was encouraged by her peers to sign with a local talent agent and begin pursuing acting more seriously. Three years later Naiah relocated to Vancouver, British Columbia. Under the artistic direction of Michael Coleman, she graduated from Vancouver Acting School. Since graduation, she has worked on a select handful of projects ranging from indie film to international commercials. Some of her small screen credits include R.L. Stine's The Haunting Hour, Untold Stories of the ER, CW's The Flash and, most recently, Supernatural.
IAN MACDOUGALL
co-director/ cinematographer
Hailing from Yellowknife, NT, where long, dark winters leave much to the imagination, Ian's film career began in the world of stop motion animation after unwrapping a LEGO Movie Maker's Kit at age 12. Frustrated by the yellow miniatures' paltry range of emotion, he began recruiting humans to fill roles in his high school film festival's annual productions. After graduating, he decided a move to Vancouver, hoping it would provide access to a larger pool of talent and like- mindedness.
Years later, following the completion of his Bachelor of Fine Arts from Simon Fraser University, Ian has served as the cinematographer on three feature films to date, one of which received international and domestic theatrical distribution. As a full-time freelance cinematographer and still photographer, he has shot for companies like Bayer Health Care, Conde Nast Entertainment, Tides Canada and more.
In the festival circuit, working on a variety of short films, his images have screened at TIFF, VIFF the Berlinale Talent Campus, Cannes Court Metrage and as a part of Air-Canada's En-route programming.
Having recently branched into writing and directing, with two feature scripts in development, he has helmed commercial shoots for companies like LAN Airlines. HEEL KICK! is his first feature-length, co-directorial effort.
PAUL JACOB
producer
Paul Jacob is a Canadian independent film producer, born and raised on the west coast.
With a background in performing, Paul eventually realized his calling was in helping create film and television. He began networking in the Vancouver film scene, making short films and collaborating with local talent. In 2014, he stumbled
across the script for HEEL KICK! and knew he had to be involved. It marks his feature debut as a producer.
Now residing in Toronto, Canada, Paul continues educating himself on the in-and- outs of film production with a passion to create original content.
SCOTTY MAC (himself)
stunt coordinator/ associate producer
The most decorated wrestler in the history of the Pacific Northwest, Scotty Mac is the owner/operator of Elite Canadian Championship Wrestling.
ECCW has reached its greatest heights of success with Scotty Mac at the helm, most notably selling out Vancouver's legendary Commodore Ballroom twice a year. Scotty has been active in the ring for 16 years and teaches at ECCW's training facility, where he's had a hand in training international wrestling stars like Kyle O'Reilly (ROH, NJPW) and the Bollywood Boyz (GFW, WWE Cruiserweight Classic). Scotty appeared on WWE Smackdown in 2008 and has wrestled former World Champions Daniel Bryan, Seth Rollins, and the Great Khali. Legends of the wrestling world grace his resume as well, having worked with the likes of The Honky Tonk Man, Brutus "The Barber" Beefcake, and the iconic Rowdy Roddy Piper.
Scotty was an integral part of a South American upstart wrestling promotion in Paraguay, called Luchando. He spent 5 months overseas involved in the writing and producing of 40 television episodes of the show, as well as performing and training other wrestlers. Scotty Mac's wrestling career has also provided opportunities in film and television, including commercials and stunt work on movies such as To The Mat and Date & Switch. Most recently Scotty, worked on Candiland starring Gary Busey, and its follow-up, Residue.
Based in Vancouver, Scotty provided vital behind-the-scenes training and stunt coordination for HEEL KICK!. He can be seen on-camera as well, starring as himself, along with fellow members of the ECCW roster.
Additional Details: 
In order to authentically show the progression of two trainees, the film's leads (Danny Mac and Chris Wilcox) were placed in a 6 month training program with ECCW, one of the leading names in the world of independent professional wrestling. Production had to break for 3 months so they could continue training for the film's final match.
2016 Trending Gamer Of The Year recipient, and Kinda Funny Games co-founder, Greg Miller, joined the HEEL KICK! team as a co-producer to help spread the word about the film. Using his various social media platforms, the film's trailer was viewed over 30,000 times in just a few days, spurring wrestling fans all over the world to request screenings in their city.
Fans of mockumentaries like Spinal Tap, Best in Show, and FUBAR were drawn to the film's style as well, giving this would-be-niché comedy a larger spotlight than anticipated. The film has also peaked the interest of TNA's Impact Wrestling roster, Former WWE World Champion Mick Foley, as well as actor (and huge wrestling fan himself), David Arquette.
HEEL KICK! was shot in Vancouver, BC, and is the first film under Danny Mac's Rebel Arcade production company.