2017 Bloom! Exhibition
March 28 – April 9, 2017
Federation of Canadian Artists
1241 Cartwright Street
Granville Island, Vancouver
This year's spring exhibition at the Federation of Canadian Artists gallery is a most joyous and colourful tribute to the long awaited season. The show pairs beautiful Sogetsu School of Ikebana flower arrangements with dozens of paintings of blossoms and blooms; the two compliment one another perfectly.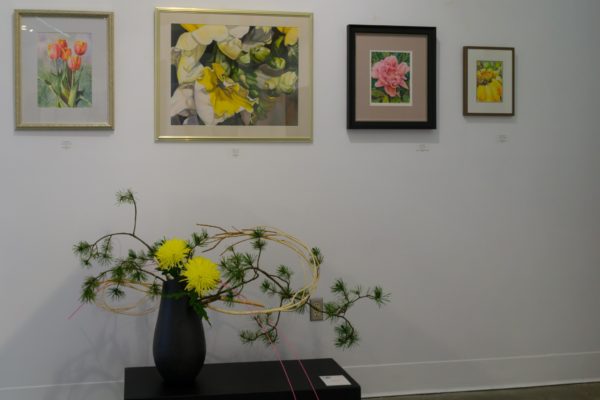 Ikebana, the Japanese art of flower arranging, has a rich history in Japan and is based on a deep awareness of nature and the relationship between man and nature. According to Hollis Ho, a Vancouver Ikebana sensei, the Sogetsu School embraces a more modern approach to Ikebana and encourages infusing traditional styles with contemporary elements of creativity. The installations on display at the gallery include a wide variety of flowers, branches, vases, shapes and sizes, each a celebration of nature's bounty.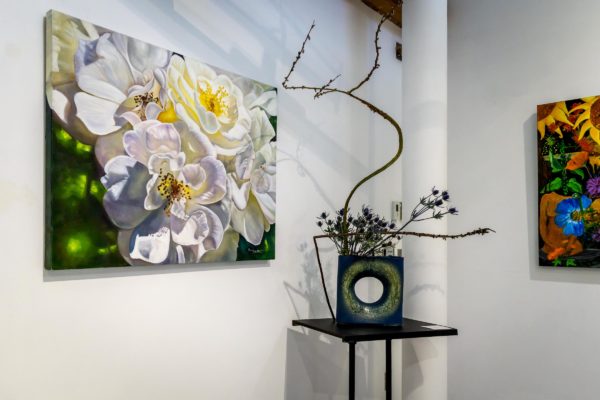 The paintings adorning the walls illuminate the range of the artists' abilities to interpret the simple word 'blooms'. Working with watercolour, oils and acrylics, each artist has successfully captured the essence of spring. The process of creating each of the finished products is fascinating; some of the artists were present and shared their insights.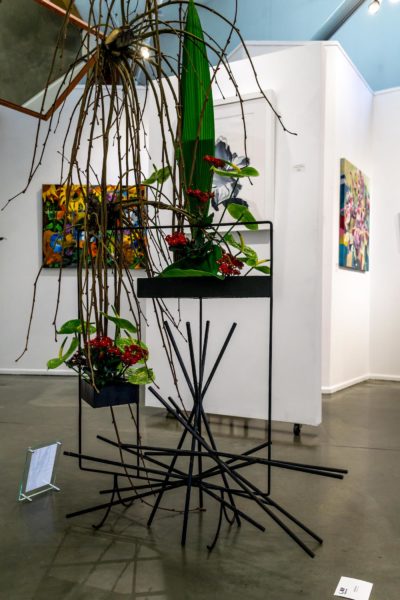 Sabine Simons, painter of "Window Into My Secret Garden" used a layering process with acrylics as she created her piece. She underpainted a background colour and then began layering other colours on top of it. Patterns developed during the process and the full painting revealed itself as she worked.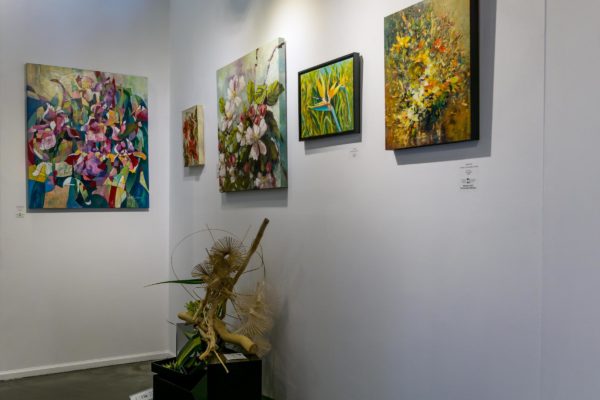 Claire Sower's "Amazing Day" is also painted with acrylics, achieving its unique look through painting with knives, rather than brushes. She used a large knife for the underpainting, then employed a number of smaller knives to texture and sculpt the next layers. When she used the smallest brushes, "every stroke was a happy accident". The work was finished with a water based varnish. She said that she "aims to lead people to what they'll see and leave the rest to their imagination".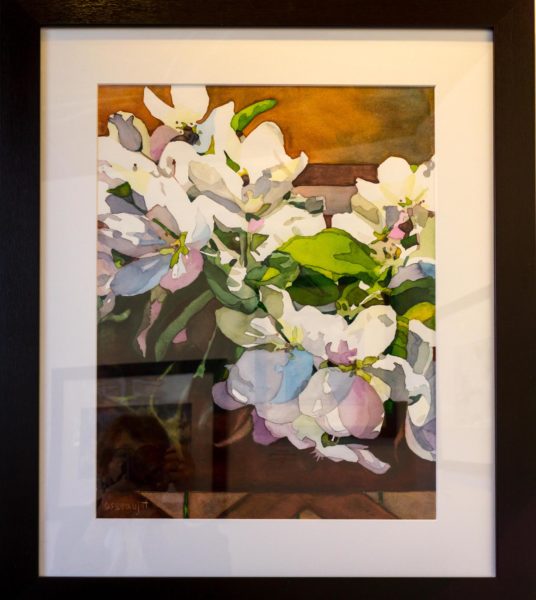 Deanne Beaujot's "Spring Graduates", won third place in the "Blooms" show. A watercolour composition, she began with a white canvas, and chose to paint the negative spaces, allowing the petals – the remaining white canvas – to emerge at the end. She said that she particularly loves working with colours, shapes and the values of colour. A resident of Calgary, the painting is based on the spring flowers that bloomed near her deck at the times her daughters each graduated from school.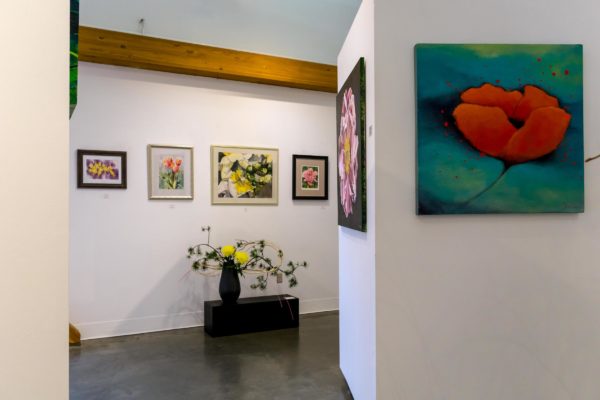 The 2017 Bloom! Exhibition runs at the Federation of Canadian Artists Gallery through April 9, 2017. A new display Ikebana arrangements, provided by another Vancouver Sogetsu school, will adorn the gallery during the second week. The Gallery, at 1241 Cartwright Street on Granville Island, is open Tuesday – Sunday from 10 am – 4 pm.
For more information on the Sogetsu School of Ikebana, contact www.sogetsuvancouver.com