Music & Community Return to Alexandra Park
Event: Summer Sounds Community Gathering
Venue: Haywood Bandstand in Alexandra Park (1755 Beach Avenue)
Date: Saturday, June 10, 2017 Time: 12 to 8 p.m.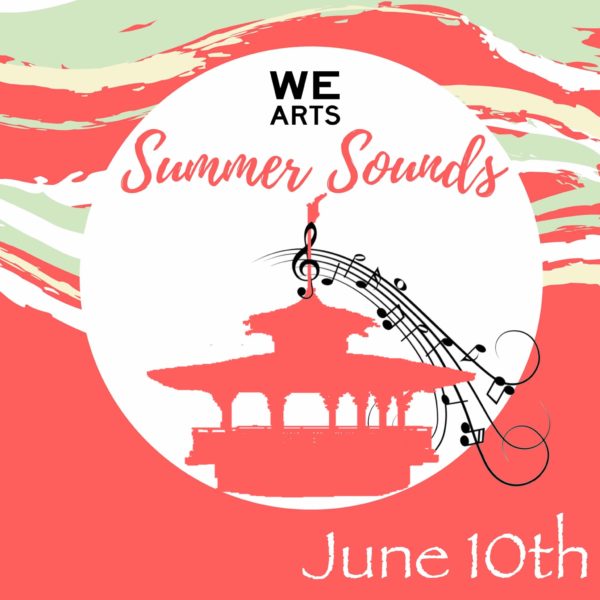 The Event: English Bay's historic Haywood Bandstand will once again ring
with music as the West End Arts Society (WE Arts) presents the second
annual Summer Sounds Community Gathering from 12 to 8 p.m. Saturday June
10th, in Alexandra Park (Beach & Bidwell).
Come on down to Alexandra Park this Saturday for a good opportunity to spend some
time getting to know your neighbours, while enjoying great live music and other fun
family friendly activities. Eight solid hours of rocking musical performances from a
wide variety of great local bands will make for an unforgettable afternoon and evening
by the sea in a spectacular setting. WE Arts' Art Market will be setup on Bidwell Street
at Davie – peruse work by local artists, get your face painted and continue on in to the
park for some great tunes. There will also be a large roster of Buskers at the Beach,
near the Inukshuk on English Bay.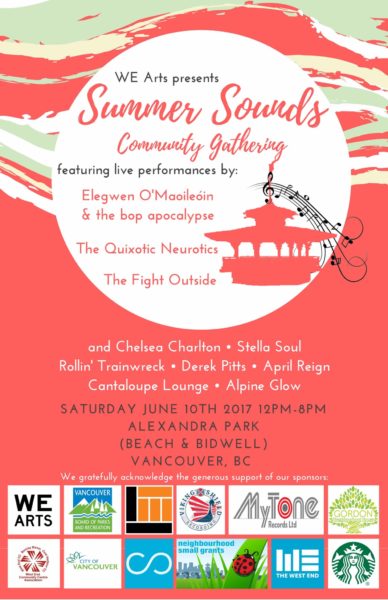 The Organization: "WEArts is a grassroots volunteer organization working to
create community with arts and culture in a neighbourhood struggling with
social isolation, with very limited performance venues and places to gather,"
according to WE Arts Director Chris Hyndman. "The Summer Sounds Community
Gathering is an incredible neighbourhood initiative that will bring together people of all ages and
backgrounds  – a celebration of the diversity of our community in the West End."
Partners & Supporters: This event has been created with the support of the
Vancouver Foundation's Neighbourhood Small Grants program, the West End BIA,
and the West End Community Centre Association, and MyTone Records, together with many
other sponsors and community partners.
Performers: Live local entertainment will feature: Elegwen O'Maoileoin & The
Bop Apocalypse; The Quixotic Neurotics; The Fight Outside; Chelsea Charlton; Stella
Soul; Rollin' Trainwreck; Derek Pitts; April Reign; Alpine Glow
 (f) facebook.com/SummerSoundsCommunity Gathering
Other links: WEArts.ca