Music & Community Return to Haywood Bandstand
Event: Summer Sounds Community Picnic
Venue: Haywood Bandstand in Alexandra Park (1755 Beach Avenue)
Date: Saturday, June 4, 2016 Time: 1 to 8 p.m.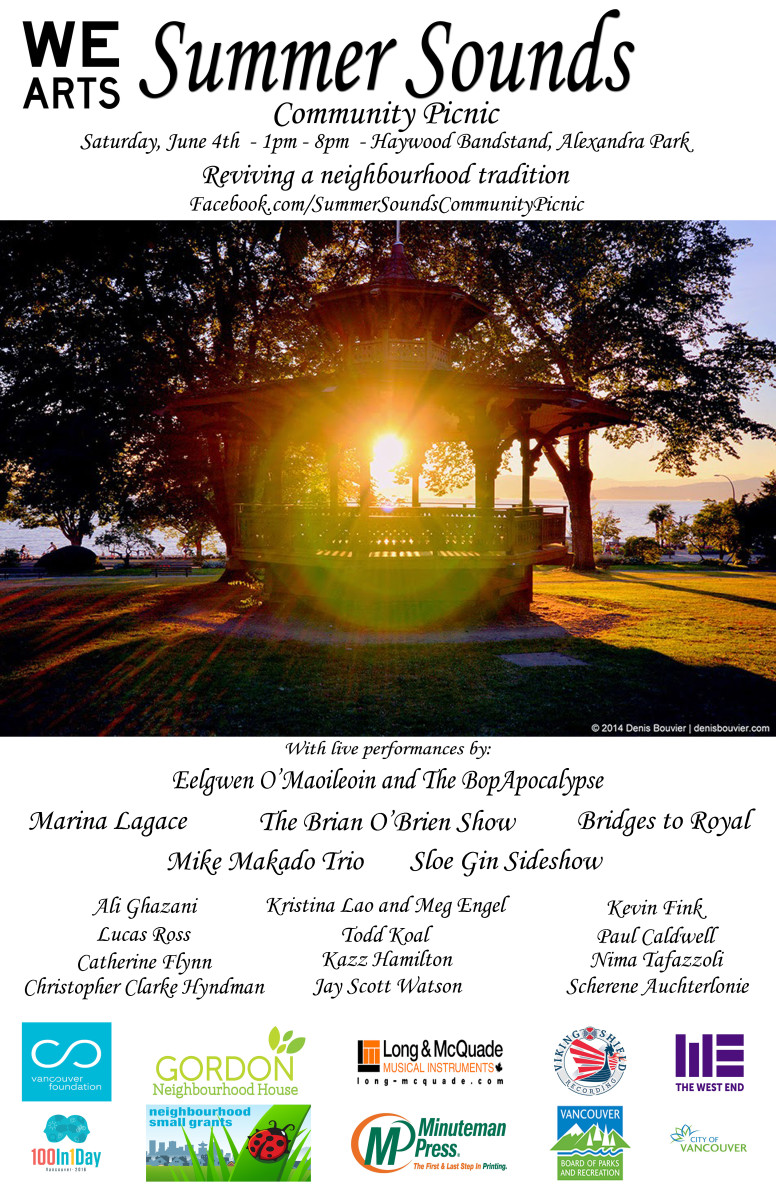 The Event: English Bay's historic Haywood Bandstand will once again ring with music as the West End Arts Society (WE Arts) presents Summer Sounds Community Picnic from 1 to 8 p.m. Saturday June 4, in Alexandra Park. Bring your beach towels, lawn chairs, picnic baskets, and the whole family for all or any portion of the festivities. Seven solid hours of great music, song, and a singer-songwriter circle will make for an unforgettable afternoon and evening by the sea in a spectacular setting.
The Organization: "WEArts is a grassroots volunteer organization working to create community with arts and culture in a neighbourhood struggling with social isolation," according to WE Arts Director Chris Hyndman. "The West End community is coming together to collaborate and create a family fun neighbourhood event, and celebrate the sounds of summer in the West End."
Partners & Supporters: This event has been created with the support of the Vancouver Foundation's Neighbourhood Small Grants program and 100In1Day Vancouver, together with many other sponsors and organizations.
Performers: Live local entertainment will feature: Elegwen O'Maoileoin & The Bop Apocalypse; Marina Lagace; The Brian O'Brien Show; Bridges to Royal; Mike Makado Trio; Sloe Gin Sideshow; Kristina Lao & Meg Engel; Kazz Hamilton; Todd Koal; Ali Ghazani; Jay Scott Watson; Nima Tafazolli;
100In1Day: is a global festival returning to Vancouver for its third year on June 4th, giving residents a chance to demonstrate their people power across the city. The whole region will be transformed by awesome urban interventions that showcase the change people want to see in their cities, neighbourhoods, and streets. Summer Sounds Community Picnic is one of the West End's 100in1Day events produced by WE Arts members and West End Art Jam. Come join in the fun…
(f) facebook.com/SummerSoundsCommunityPicnic
Other links: WEArts.ca and 100In1Day.ca