The entire team at Noble Ridge Vineyard & Winery in Okanagan Falls, BC is thrilled to accept this award at the 2017 All Canadian Wine Championships.
"We are so excited to receive this recognition! Creating a beautiful, full-bodied Sparkling wine has been our plan from the first day we saw our property, Jan 1, 2001. "The One" is, in fact, a nod to that first day!" Leslie D'Andrea, Co-Owner & CEO, Noble Ridge.
"The One" is a 2012 vintage Brut Sparkling wine produced from grapes grown entirely from the Noble Ridge vineyard in Okanagan Falls, BC. It is a blend of 81% Chardonnay and 19% Pinot Noir. Using methode traditionelle, yeast is added to each individual bottle for secondary fermentation, with the wine en tirage (resting on the yeast) for 41 months.
Other vintages of "The One" Sparkling Wine have been recognized, including
BC Lt Governor's Award for Excellence in Wine (2015)
Best of Class/Gold, Pacific Rim International Wine Competition (2014)
Overall Winner, Canadian Oyster Wine Competition (2014)
Best Sparkling in BC, Okanagan Spring Wine Festival Competition (2017)
Noble Ridge appreciates all those who have made this possible including the tremendous Noble Ridge team, led by Winemaker Benoit Gauthier and DTC Sales Manager Megan Pigeon. They invite you to taste "The One" for yourself! "The One" is available on-line at www.nobleridge.com, in the Tasting Room in Okanagan Falls (2320 Oliver Ranch Rd) or at selected VQA or private retail liquor stores in your area.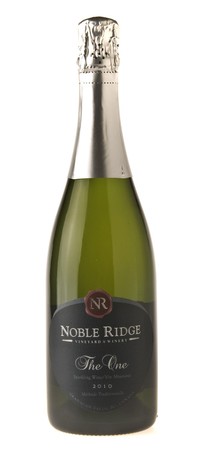 2012 "The One" Sparkling
Noble Ridge is an estate vineyard and winery located in the Okanagan Valley. All work is done by hand, on- site by a team of dedicated workers who strive to create an exceptional wine that reflects its noble namesake.
TASTING NOTES
2012 Sparkling
Elegant aromas of Granny Smith apple and refreshing pink grapefruit are complimented by hints of fresh biscuit and caramelized stone fruit. This medium bodied, traditional French style brut highlights our single vineyard estate grown Pinot Noir and Chardonnay.
FOOD PAIRING
Freshly shucked oysters Soft cheeses
Creamy pasta dishes White fish and shellfish
WINEMAKING
Traditional French method En tirage 41 months
STATS
Varietal: 81% Chardonnay, 19% Pinot Noir
Alcohol: 12%
Residual Sugar: 6 g/l
pH: 3.06
TA: 8.3 g/l
Brix: 19
Harvest Date: September 20-21 Cases: 234
Instagram: @noble_ridge Facebook Noble Ridge Vineyard & Winery and Twitter: @Noble_Ridge  #benoble #NobleRidgewines